Ultimate guide to three exclusive Geothermal Spa Resorts in Iceland
Have you ever wondered how come Icelanders get through the cold, dark and often stormy winter season? The true answer lies just around the corner in every Icelandic city, village and town – and it is called of course "sundlaug" which translates to geothermal swimming pool or hot tub! There is nothing more traditional than soaking into a steaming hot bath while surrounding yourself with happy locals and fellow travelers.

Famous Geothermal Pools
As a general note, there are public swimming pools everywhere you go in Iceland. Everyone has probably also heard about the famous Blue Lagoon. But there are few more options which you might not know yet. In this article we give you an insight to three different geothermal bathing resorts. These places give you the perfect chance to get an exclusive bathing experience when you are visiting Iceland. All of the spas come with stunning views and well-equipped facilities. They are located conveniently all around the country to make your travel planning easy.
These three perfect spots to visit are
Good thing is, that you may access all these three places easily with your own car! All of the three resorts provide good parking facilities. Just type the address on your navigator or other device and enjoy the views on your way! You can also ask your tour provider to take you on a trip to these bathing resorts if you are on an adventure without your own vehicle. As a reminder, you are always welcome to contact Getlocal on these kinds of inquiries!
Next we will look into every of these places separately. On the way we will give you our best tips for enjoying your visit to the fullest!
Visiting North Iceland ­– Myvatn Nature Baths
We start the geothermal adventure from the North with the Myvatn Nature Baths. Mývatn is located about one hour from Akureyri. The lake and the surrounding area is famous for it's natural beauty. It's already an experience to arrive to this glorious bathing facility. Outside the spa you get to enjoy an authentic moon-like view. The bathing resort is surrounded by the most spectacular geothermal ground with a steaming landscape. Once you get in, Myvatn baths provide unforgettable swimming experience in a beautiful lagoon with hot water. To make it even better, the water contains natural minerals good for your skin. The visitor gets to enjoy an authentic "moon-like" view when arriving to this glorious bathing facility. Myvatn baths provide unforgettable swimming experience in a lagoon with hot water which contains natural minerals good for your skin.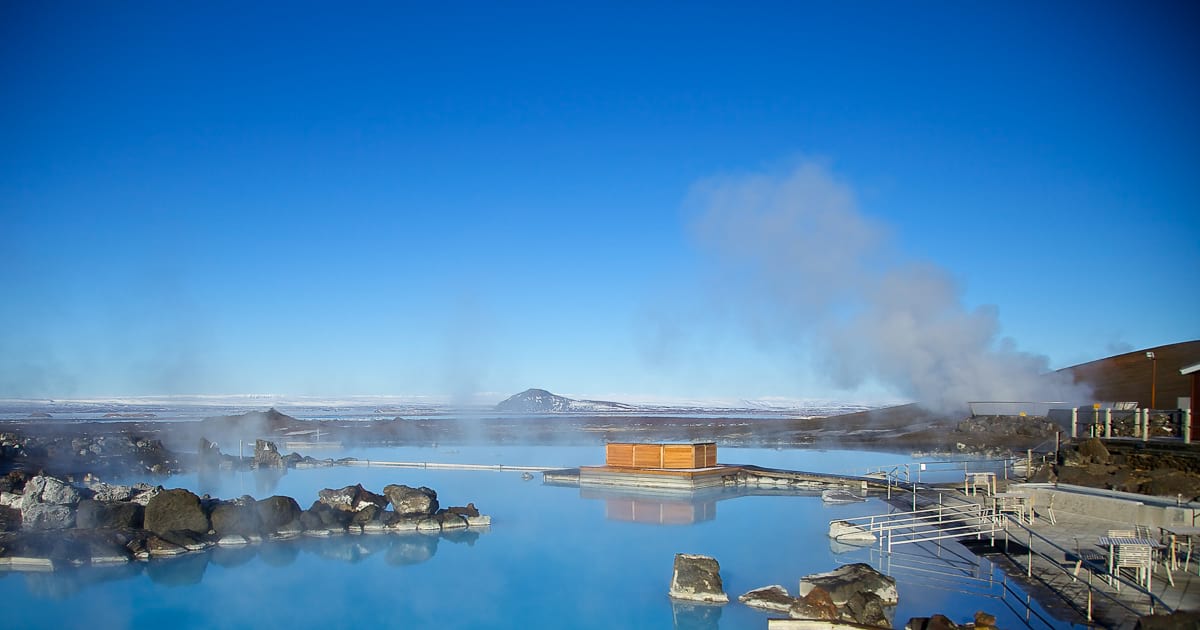 You can visit Myvatn baths without a reservation and just purchase your tickets from the cashier on the front desk when you enter the facility. The bathing resort also provides rental towels, swimsuits and bathrobes for a little fee for those who don't care carrying them around while traveling. How convenient! There is also a nice restaurant, Kvika serving lunch and dinner menu for those hungry adventurers.
When you have got your ticket, you're ready to enter the changing areas which are separated for men and women. There is a separate locker for every guest. You should be able to fit even your thickest winter gear and other belongings into the closet. It's important to have courtesy for the next visitors, so remember to place your shoes appropriately to the shelves or to your personal locker without wearing them in the changing room area. By the way, this is a general rule in all the swimming facilities in Iceland!
When you have secured your belongings into your locker, you're ready to place your towel on to a shelf by the wall and enjoy a hot shower. You should take a notice that all the Icelandic public pools require a good hygiene. You are asked to shower properly without any swimming gear before you enter the pools. Otherwise you might get weird looks from the locals. This is done to secure a nice and clean experience for all the guests visiting the pools.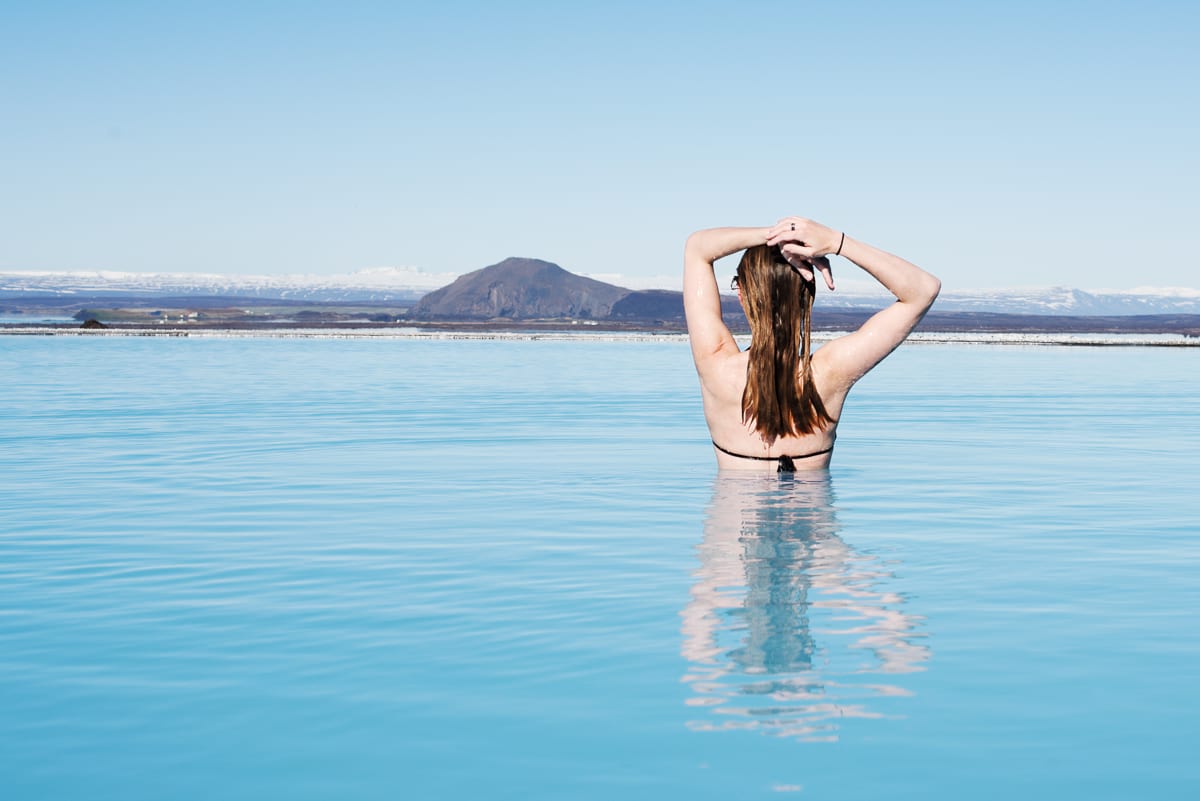 When you are ready, you can put on your best Speedos and bikinis and grab your towel and enter the outside pool area. In Myvatn you have one separate geothermal pool mostly for sitting and relaxing. The main point though is the big bathing lagoon! There you can wander around and enjoy the changing heat of the natural waters. Myvatn is especially enjoyable bathing resort because you can find the best water temperature to your own taste. It's possible because the water runs in at different temperatures all around the lagoon.
When you get thirsty, it's time to move back inside. Just go and grab yourself a refreshing hand crafted Icelandic beer or perhaps a glass of sparkling wine! You can purchase the refreshments in your swimming gear with your key bracelet. Payment is done when you exit the facility. In these Icelandic spas where you have the access to the bar it is okay to carry your drinks to the poolside and enjoy them while relaxing in the hot baths. That's a perfect holiday treat for sure!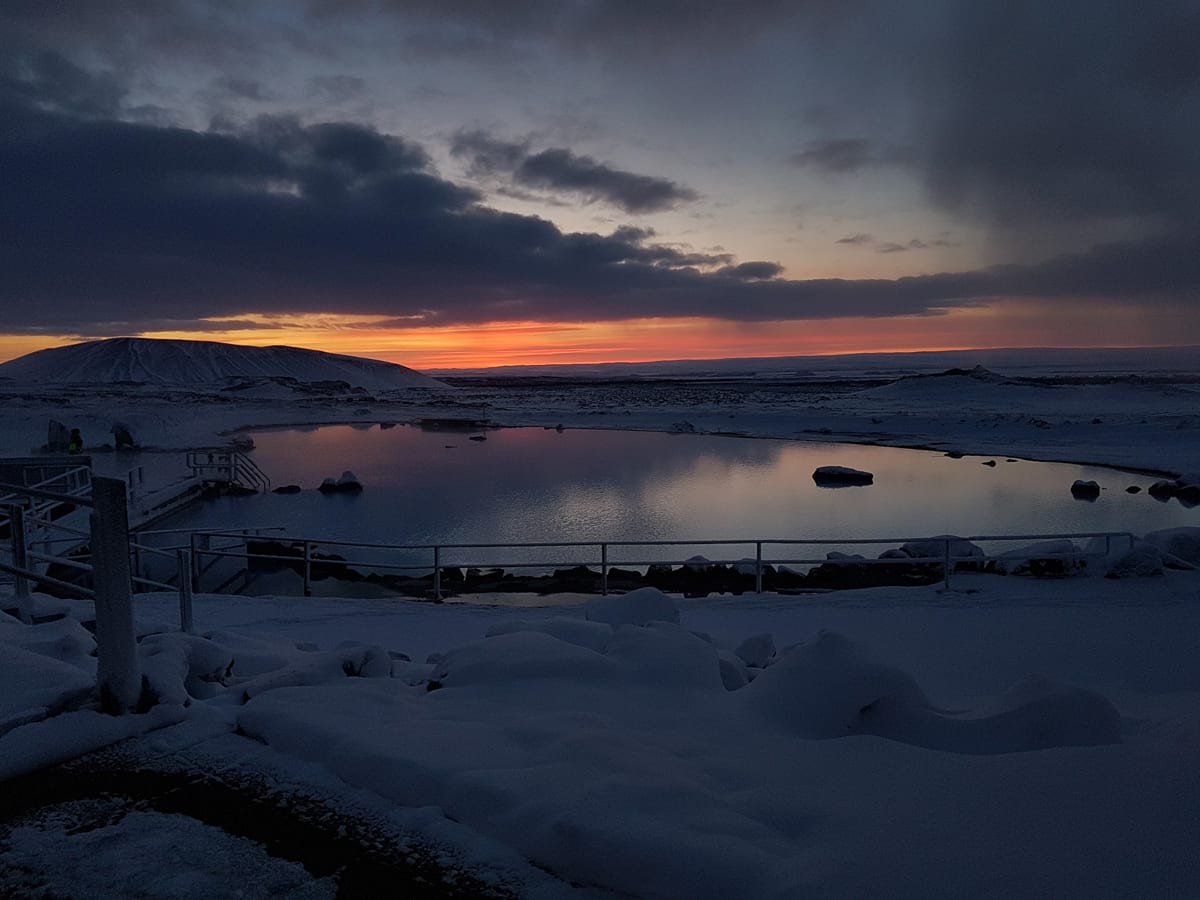 Of these three spots we are representing in this article, Myvatn bathing lagoon is probably the closest option to the famous Blue Lagoon. Like in the Blue Lagoon the water in Myvatn lagoon is not completely see-through either. Instead it has a beautiful, steaming white shade to match the surrounding nature. The colour comes from the minerals of the natural water and is said to be extra good for your skin!
Mývatn is open for guest all year around but opening hours vary between summer and winter season.
Entrance fees also vary a bit between seasons but teens get a great discount and kids unde 12 go for free:
Krauma Geothermal Bath Resort in Borgarfjörður
Even if you are mostly traveling in the capital area, you still might want to take a day trip to the beautiful West Iceland. There you should pay a visit to the brand-new bathing center called Krauma!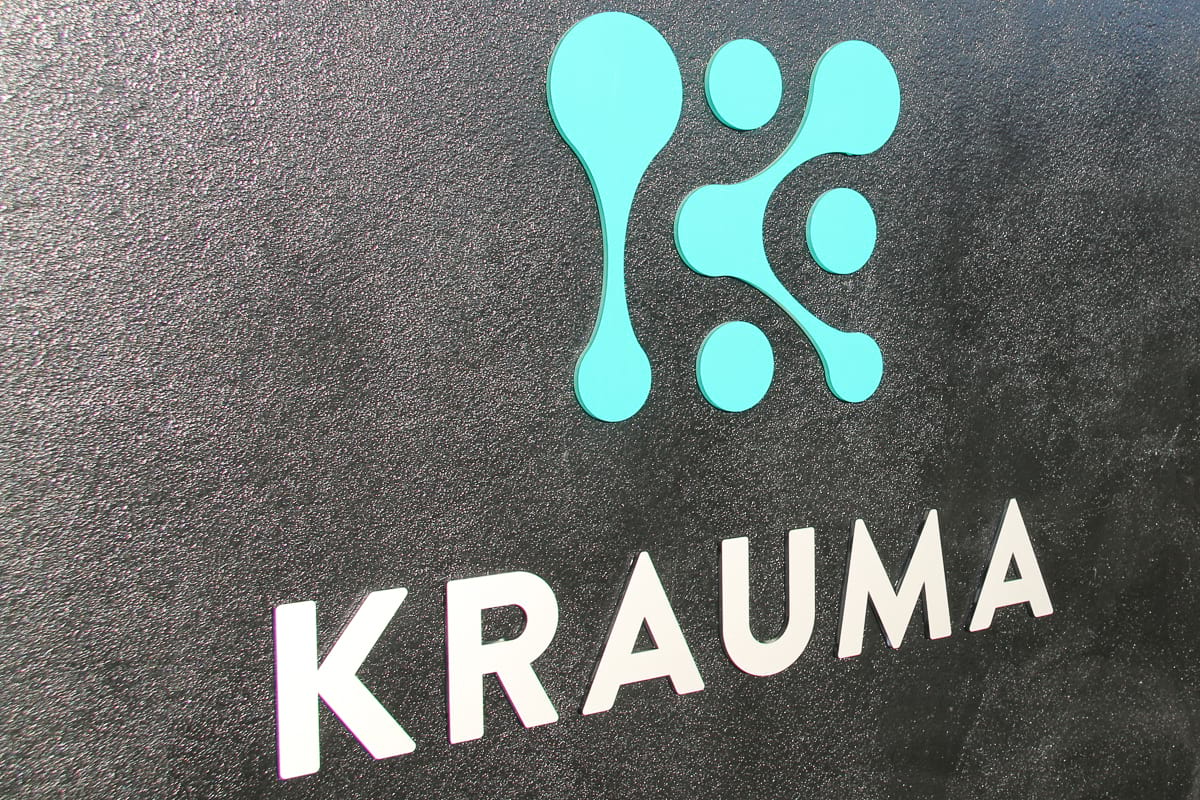 Krauma was opened just in the end of the year 2017. It is the newest spa experience you can get in Iceland. The geothermal bath resort is located basically in the middle of nowhere. To be more precise, it's situated in an authentic Icelandic mountain landscape middle of famous Deildartunguhver hot spring area. The area is famous for its natural hot springs which are the most powerful you can find in Europe. It might be quite tricky to find your way from the road to the spa itself, but you will be just fine if you just follow the "Deildartunguhver" signs from the road. When you arrive to the parking area, it feels almost unreal to find such a luxurious spa resort in a such remote location.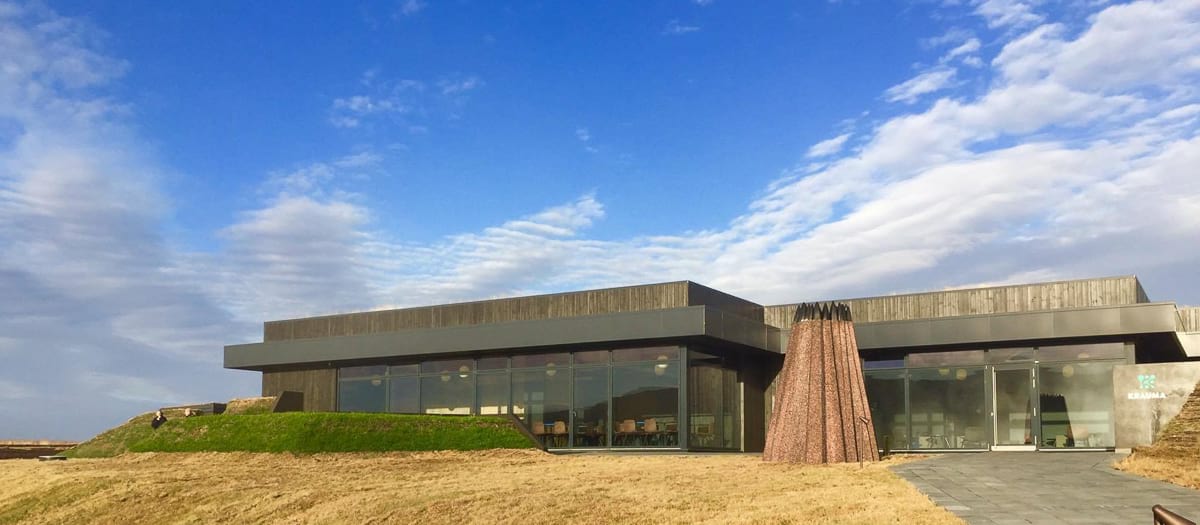 To visit Krauma, we recommend booking your tickets in advance. You can also enter this spa without booking and pay the entrance fee in the reception. But in high season, it's definitely better to be safe than sorry with pre-ordered tickets! In Krauma bathing resort you find a restaurant which provides an excellent local menu. Most ingredients are gathered from the farms close by so you can seriously taste the freshness. We will give a warm recommendation for the fish dishes and fresh meat delicacy!
In Krauma everything is as fresh and new as you can expect. The brand-new spa provides a peaceful and relaxing atmosphere for anyone looking for quiet and comfort. The same swimming pool rules apply here as stated before. You are supposed to put your shoes aside while entering the changing area. Here you will find also personal lockers with numbered key bracelets to secure your personal belongings. Again, if you forgot your towel or swimsuit home, you are welcome to rent it from the front cashier for a little fee.
Krauma's well-equipped showering areas provide you a truly Icelandic bathing experience. You are warmly welcome to try Icelandic world-famous natural cosmetics during your visit. You find these exclusive Sóley Organics beauty products in the showers. You have a perfect chance to treat yourself with the most exclusive shampoo, conditioner and soap made of Icelandic natural herbs. We personally love this option to try these products in action because it makes it easier to choose and stock on them at Keflavik airport Duty-free on your way back home!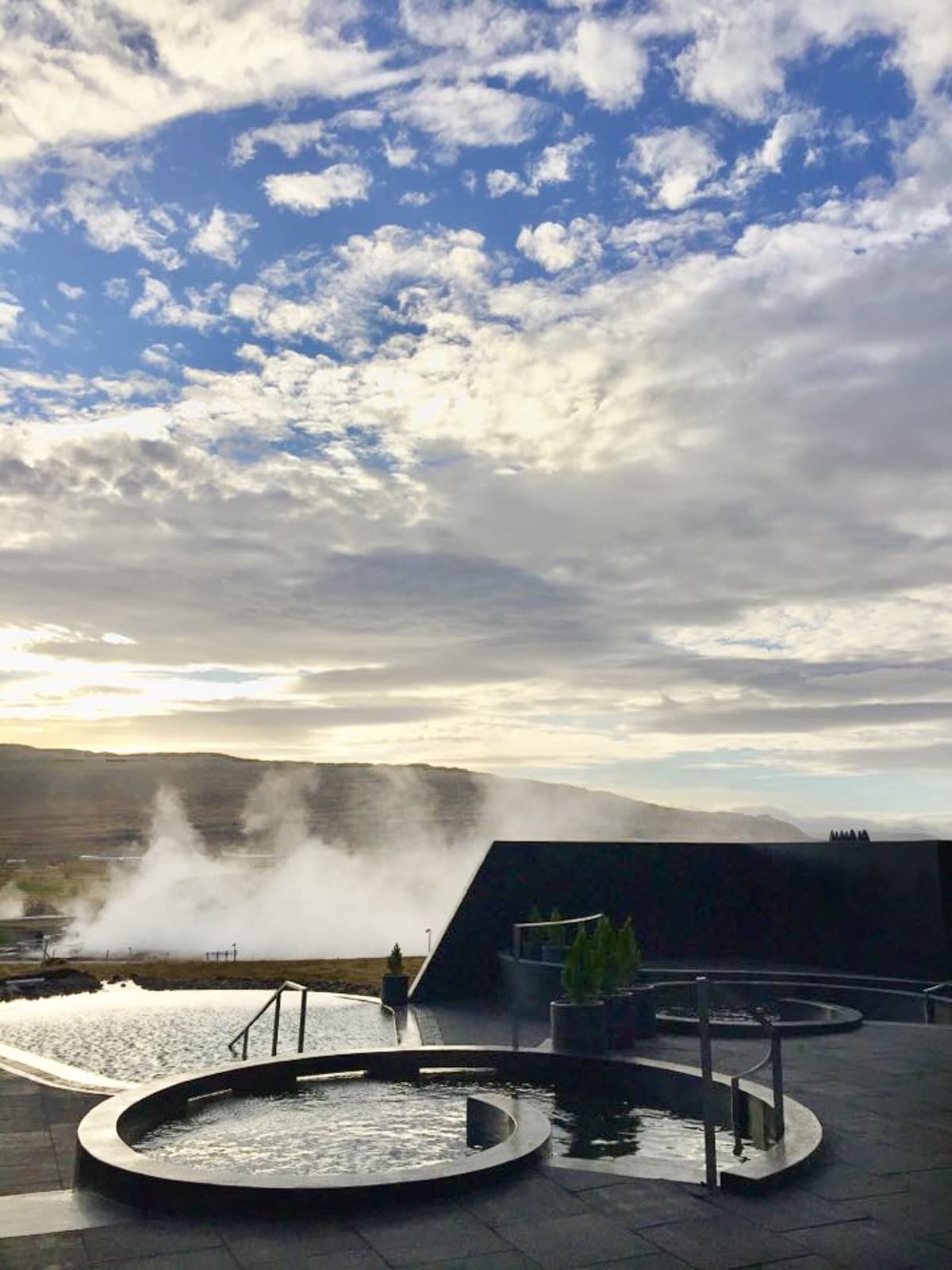 Finally, it's time to enter the outside pool area! In Krauma you find six differently shaped baths, which are all facing to the breath-taking mountain view. Like in the most of Icelandic swimming pools, you can also choose the best temperature to your comfort. Just try which hot bath suits you the best! There is a wide selection to choose from, whether you like to lay on your back, or just sit comfortably in different depths of the warming waters. Krauma also has two poolside steam rooms. There you can warm yourself up if the outside temperature is getting too cold or windy for your cheeks and ears. Or if you feel like you are getting too warm, you can take a dip into the cold bath starting from only 5°C!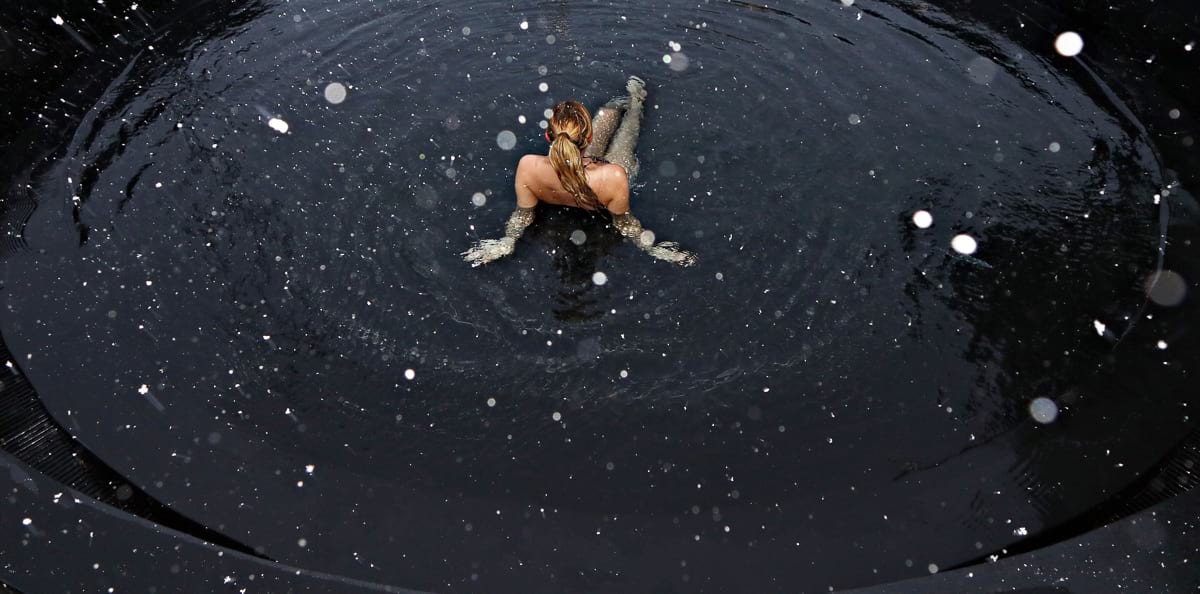 Krauma´s bathing area also has a sophisticated relaxation lounge with seating. There you find a cozy and comfortable place to rest your back and enjoy the wood heated fireplace. You can also admire the surrounding landscapes from this lounge. The whole relaxation room is surrounded with complete glass windows.
To get most out of your time here, you might again want to grab a drink for your relaxation. In Krauma the waiters serve you directly to the baths. You don't even need to get up from the warm water to the harsh weather outside the pools. Just sit back, relax and place your order from the pool. Soon you'll be enjoying a refreshment! Payments can be done when exiting the spa.
Krauma is open for guests all year around and opens it's doors at 11 AM. Due to the guest capacity booking in advance is recommended.
Entrance fees is 3800 ISK but teens pay half and kids under 12 go in for free.
Laugarvatn Fontana - the Perfect ending to the Golden Circle
The last but not least is the beautiful Laugarvatn geothermal Spa. The spa is located just a 50 minutes drive from Reykjavik. Laugarvatn Fontana makes the perfect spot for being so close to the famous Golden Circle. So remember if you are planning the go on a Golden Circle tour, that you might want to include this perfect lakeside spa treat!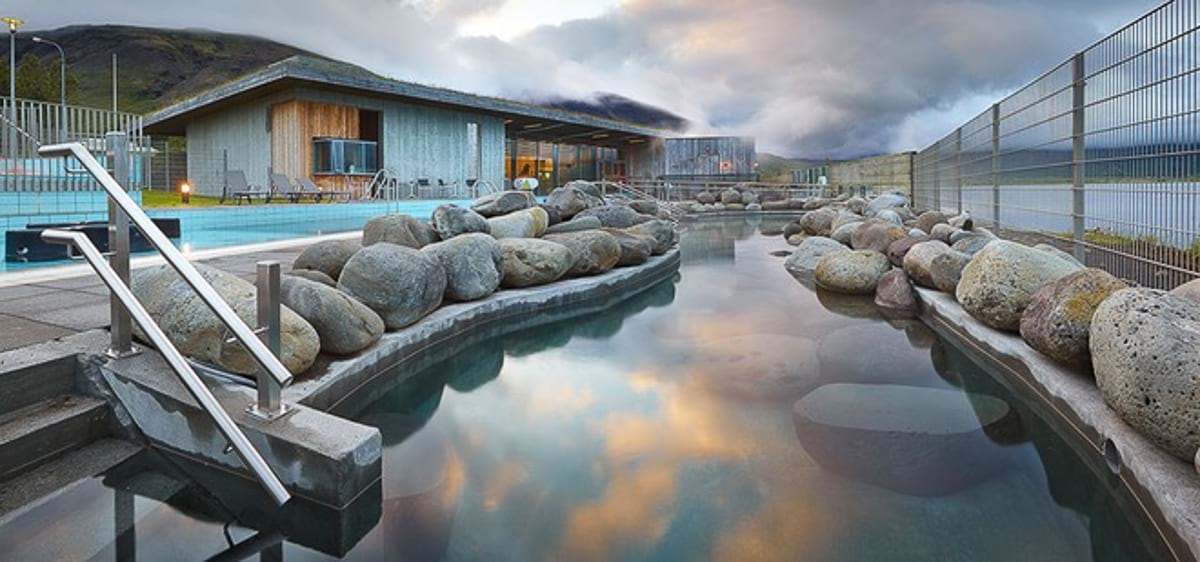 As its Icelandic name indicates, the Laugarvatn Fontana geothermal spa is located by the shore of lake Laugarvatn. This makes the spa surely a unique spot. It stands right by the natural lake, and you even have access to the chilly lake from the pier if you wish. Dipping into a freezing cold lake from the sauna is truly a Scandinavian thing. It's a must try for those adrenaline junkies out there!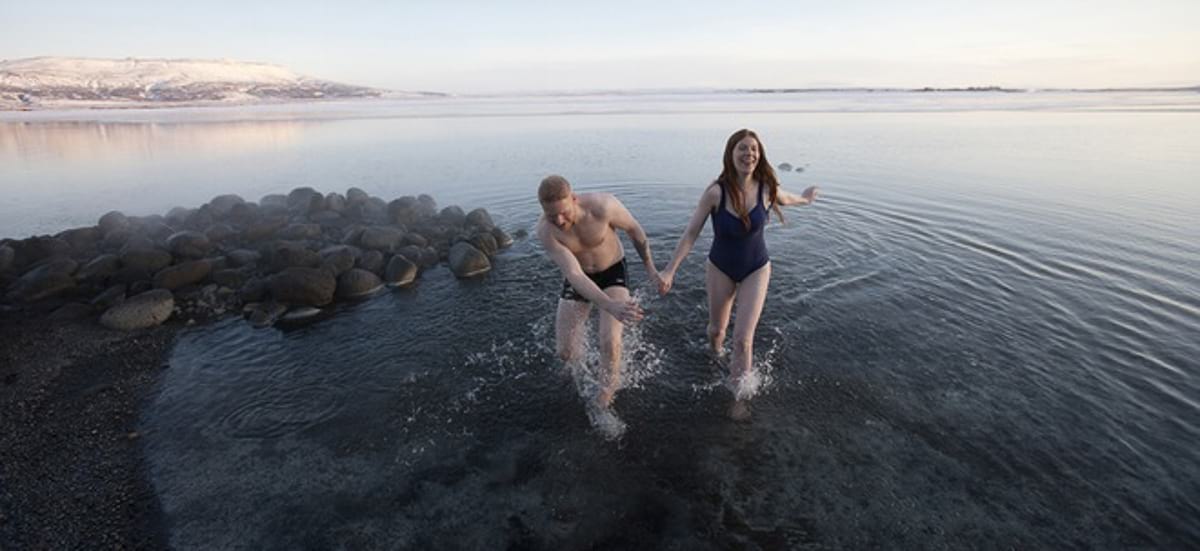 Laugarvatn spa serves you also without a reservation. You can complete your visit here with a meal in the restaurant in the lobby area. Rental swimsuits and towels are available on the cashier. This lakeside jewel also serves one specialty, which is worth mentioning. In their geothermal bakery you can enjoy traditional Icelandic pot-baked lava bread. It is cooked with geothermal heat. To experience this, you have to pay an additional fee of 1.500- ISK. That gives you access to the bakery tour to see the traditional baking process and allows you to taste this delicious Icelandic rye bread specialty!
In this spa, you also find comfortable changing area with plenty of space and nice shower facilities. Here you have also access to the Sóley Organics natural cosmetic products. After bathing, you can pamper your skin with rich body lotion, which is made of the best natural herbs straight from the Icelandic nature.
Laugarvatn spa has three outdoor mineral baths, a beautiful wooden Finnish-style sauna and three natural steam rooms. There is one deeper pool for those willing to take few swimming moves but mostly the spa is built to fit your relaxation needs. You can lay or sit in the shallow pool or hot tub, or you can go to the long mineral pool surrounded by natural stone decorations.
As all of the spas mentioned in this article, Laugarvatn also makes a great option for travelers who are seeking for the Northern Lights. It's an unforgettable experience to see the sky dancing from a pool perspective! The pool area is absolutely gorgeous in the evening in any case. Just enjoy the heat while the soft atmosphere lights are sparking up your spa experience. Don't forget to visit their roof top viewpoint for spectacular landscape photographs!
Laugarvatn is open for guests all year around opening around 11 AM but during the summer they open at 10 AM.
Entrance fees are 3800 for adults but teens get a good discount and kids under 12 enter for free.
Which nature spa do you want to visit?
We promise that these three geothermal bath resorts (and basically all of the swimming facilities in Iceland) are worth paying a visit, so be sure to pack your swimming gear when coming to Iceland and complete your trip with a genuine Icelandic experience by soaking into a hot tub of your choice!