The south coast of Iceland is a popular destination with many different sights that top everyone's bucket list. In a single day you can see the famous waterfalls Seljalandsfoss & Skógafoss, visit Reynisfjara, the dramatic black sand beach near Vík.
Make the most of your experience by adding a glacier hike or snowmobiling on a glacier to an amazing day full of natural wonders.
What is on the south coast of Iceland
Seljalandsfoss - walk behind a waterfall
Seljalandsfoss is one of the most popular waterfalls in Iceland and for a good reason. Being able to admire it from the outside is great but what makes Seljalandsfoss unique is that you can walk behind it. This 60 meter (200 ft) tall waterfall has a walking path that is accessible by most people. Just be careful as it might get slippery. As you get closer to the waterfall you start feeling the mist coming from it as it falls into a small lagoon. Once you are behind it you really feel the powerful force of the glacier river as it falls down right in front of you. The waterfall originates in Eyjafjallajökull glacier, Icelands most famous volcano.
Standing behind this waterfall is a magnificent experience and has made it a popular spot for proposals. Some say that the waterfall is even more beautiful during night time as strong beacons of light highlight it's beauty. We encourage people to wear waterproof clothing as it's highly likely that the water will get you a bit wet. During winter months the walking path isn't always open as there is risk of ice falling down.
Driving to Seljalandsfoss from Reykjavik takes little under 2 hours. At Seljalandsfoss you will find facilities as well as a cafe and a small gift shop. You would spend around 45 minutes in this stop giving you enough time to explore the area and take photos.
In under 10 minutes walk from Seljalandsfoss you will find a hidden treasure known as Gljúfrabúi (e. canyon dweller). This beautiful waterfall is hidden in a small canyon that can be a bit hard to reach. But once you are there it feels out of this world.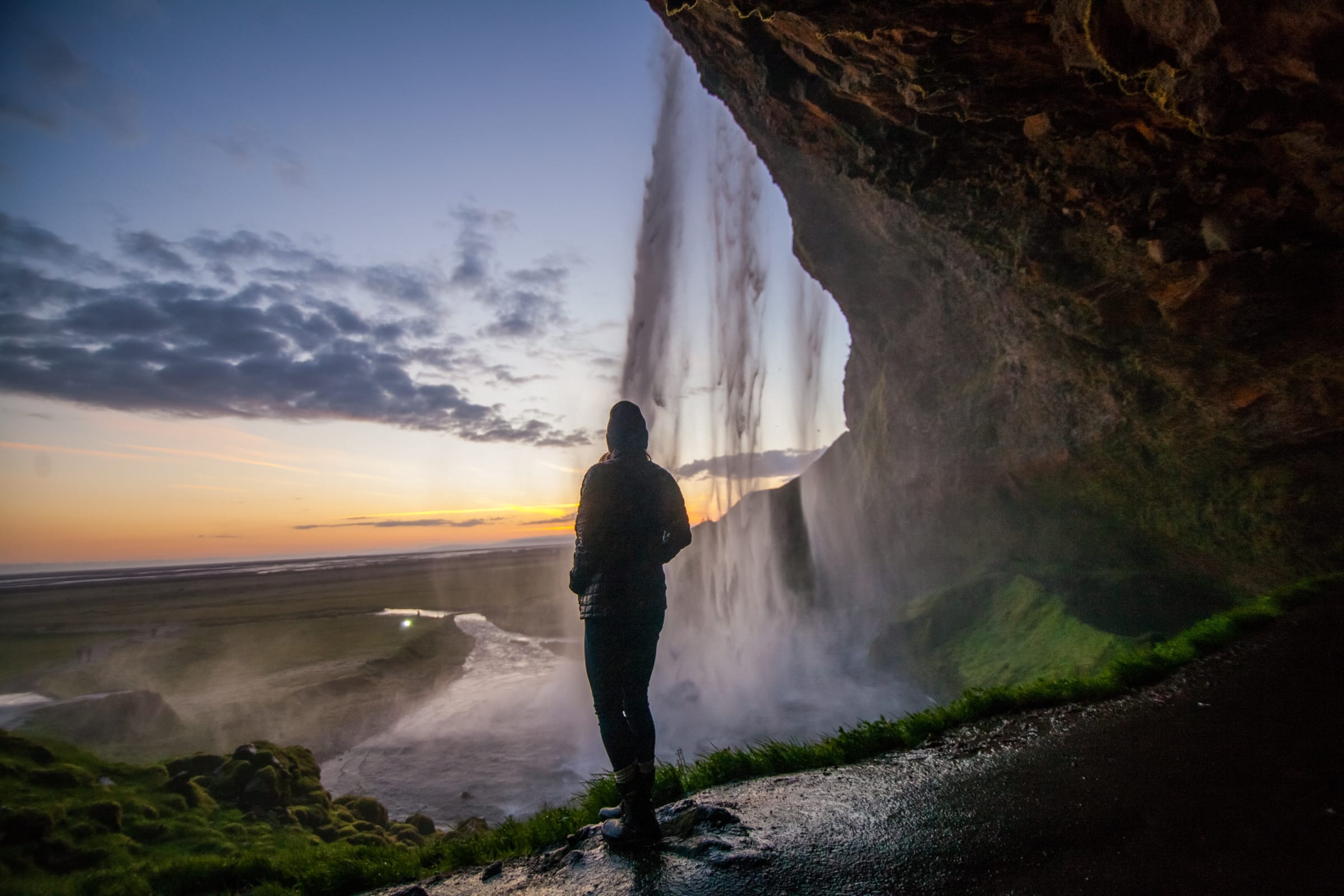 Skógafoss - a classic beauty
Skógafoss is one of the largest waterfalls in Iceland standing at 60 meters high (200 ft) and 25 meters wide. It's a classic waterfall that falls directly down from the highlands before the river leads to the ocean. Skógafoss is frequently home to a magical double rainbow due to the amount of mist that rises up from this powerful beauty.
You can walk quite close to the waterfall, as you get closer you feel the mist all around you and your camera lens start to get a bit blurred. The power and magnitude as this close range makes you feel quite close to the Icelandic nature.
Next to the waterfall is a staircase that takes you to the top of the waterfall where a great scenic deck gives you a birds eye view of the waterfall. Take a moment to enjoy the soothing sounds of the glacier river and enjoy the view of mountains and the neighbouring country side.
From the top is also the starting point to the famous Fimmvörðuháls treck that leads to Þórsmörk. This is probably Icelands most popular hiking destinations known for it's nature and beauty.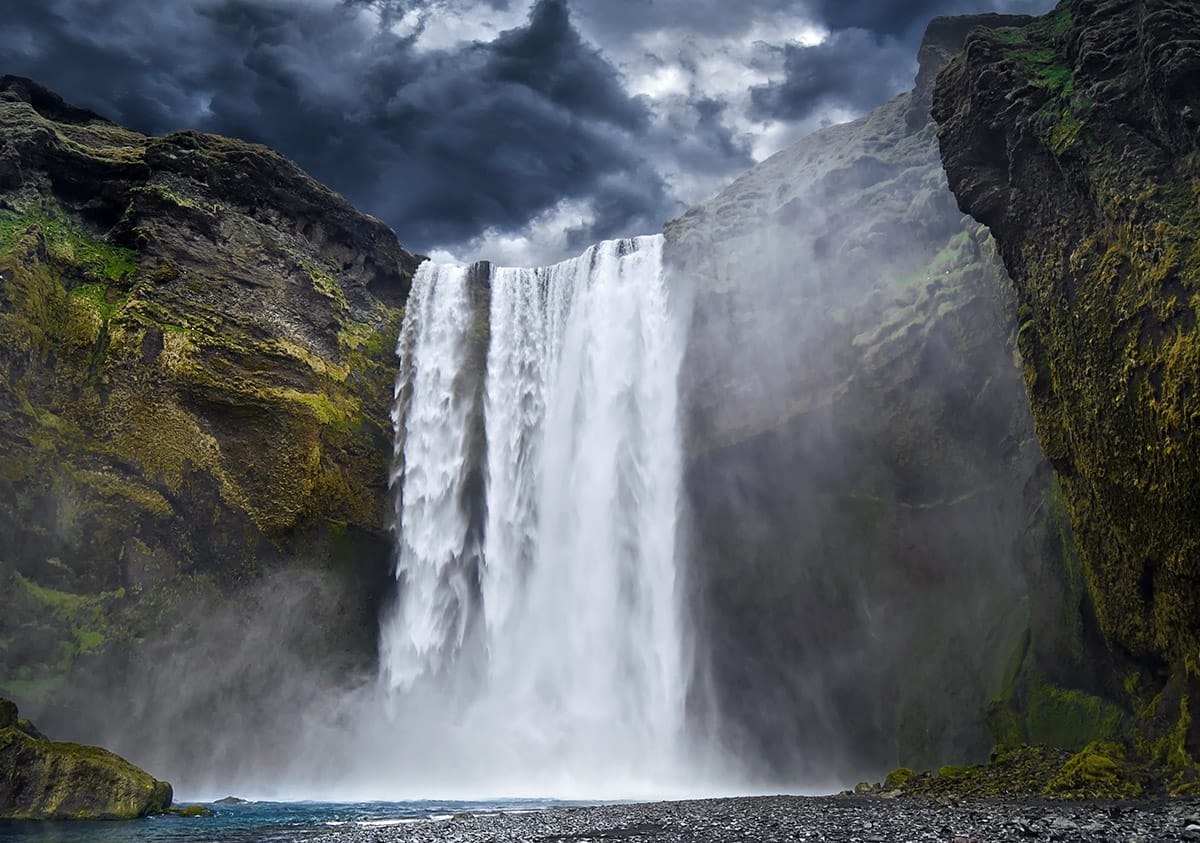 Sólheimajökull - the coolest glacier
The Sólheimajökull glacier is a glacier tongue that extends from the great Mýrdalsjökull glacier located almost directly above the town of Vík. The surroundings of the glacier are marked by rugged rock formations that have been shaped by the glacier for centuries.
Sólheimajökull is a popular destination for glacier walks and hikes as well as ice climbing. The hike is quite easy as there isn't much incline and plenty of stops are made to enjoy the view and learn about these wonderful natural wonders. An excursion on the glacier is only recommended with a glacier guide and proper glacier gear like crampons. Without the gear you can still enjoy the view and walk all the way up to the glacier from the base camp.
At the basecamp you will find a small coffeeshop where you can use the facilities. The Sólheimajökull glacier is a popular stop on the south coast as it's one of the most accessible glaciers in Iceland.
Snowmobiling on Sólheimajökull can also be done and just like the hike can be included on South Coast tours.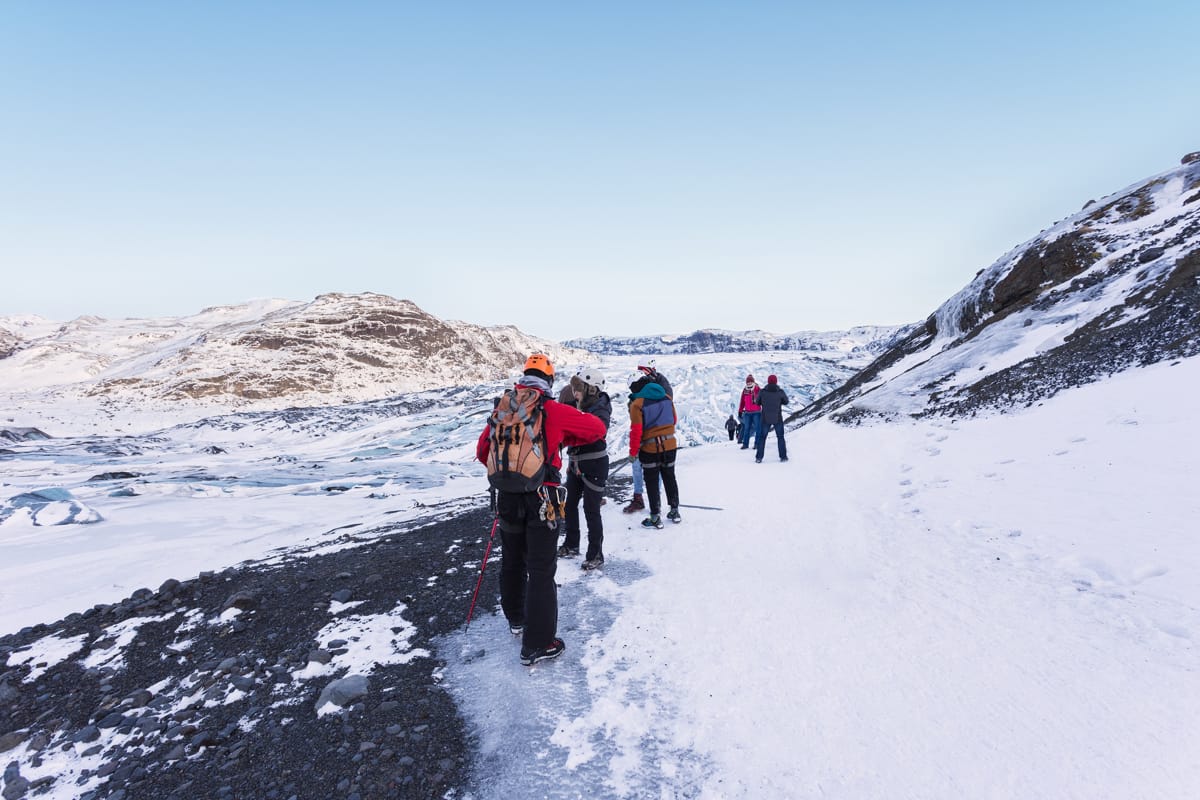 Reynisfjara - the black sand beach
There are few places in Iceland that are quite as popular and picturesque as the black sand beach Reynisfjara. There is a good reason why this spot is popular with newlyweds taking their bridal photos.
This dramatic beach contains large pillars of basalt columns on the side of Reynisfjall. These stacks are popular amongst young and the old to climb and play around in. A little but further up you might see puffins flying around as they nest in the mountainside.
Out on the shoreline you will see Reynisdrangar, these rocky sea stacks were thought be trolls that were out in the ocean hunting for ships. Once dawn arose they were caught off guard and turned into solid stone.
Upon visiting the beach, travellers will immediately observe rocky sea stacks sitting off the shoreline, known as Reynisdrangar. According to local Icelandic folklore, these large basalt columns were once trolls engaged in trying to pull ships from the ocean. However, as bad luck would have it, the dawn quickly arose, turning the trolls into solid stone.
Just a few steps behind the basalt columns you will find a small cave, a great retreat if the waves comes too close or if it starts to rain. Be careful of the tide (sneaky waves) and mind warnings around the beach, since the ocean has been known to sweep people away if they aren't too careful.
Reynisfjara is popular with paragliders flying off from the mountain top. At Reynisfjara beach you will find a good restaurant serving local delicacies. You can expect to spend close to an hour at this popular stop.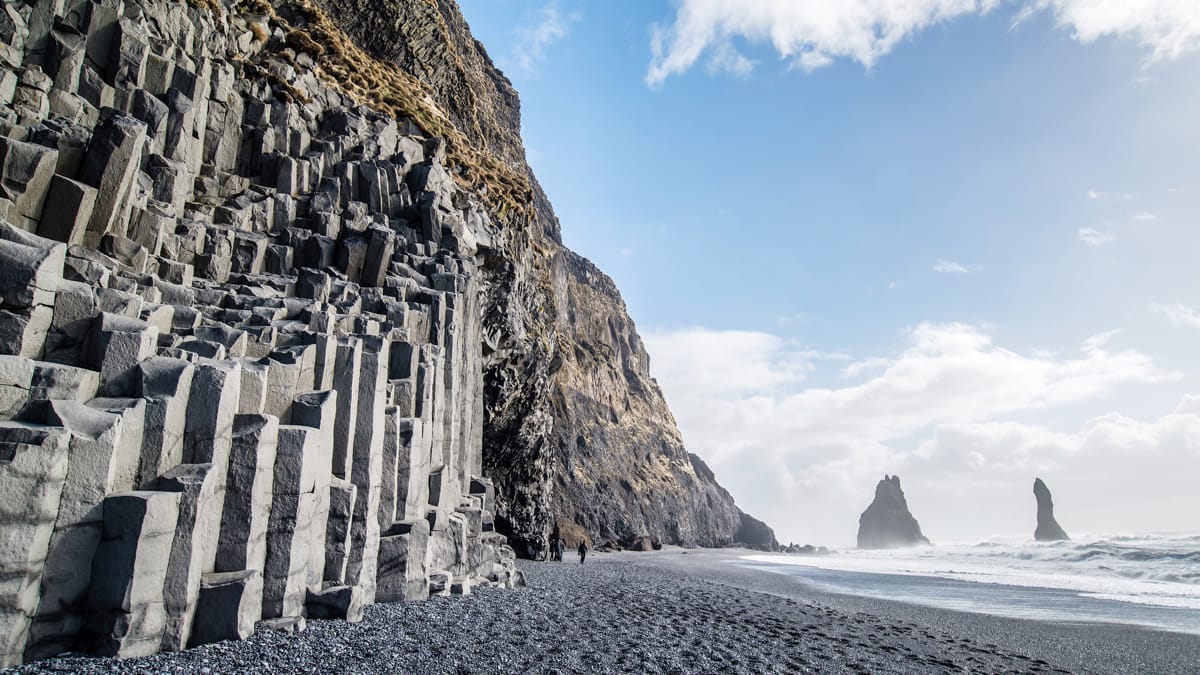 Vík í Mýrdal - a cute little town
Vík is Iceland southernmost town located about 3 hours from Reykjavik. Even though Vík only inhabits a few hundred people it's one of the busiest tourist locations in Iceland. It's located on the east side of Reynisfjall so the Reynisdrangar pillars are easily seen from the black sand shore. In Vík you will find full service gas stations, restaurants, coffee shops, gift stores, grocery stores and a nice small swimming pool.