The natural ice caves are only accessible during the winter. The natural ice caves fill with water or melt during the summer and become inaccessible. The best time to visit them is between November and March.
The natural ice caves are not easy to access and in most cases you will need to ride in a super jeep to get close to the entrance. The glacier guides will provide you with crampons and cover all safety requirements. Visiting the ice caves is very safe and a fabulous photography opportunity.
The glaciers change quite fast so each year new ice caves are discovered and old ones melt away. The natural ice caves are located in a few different areas in Iceland.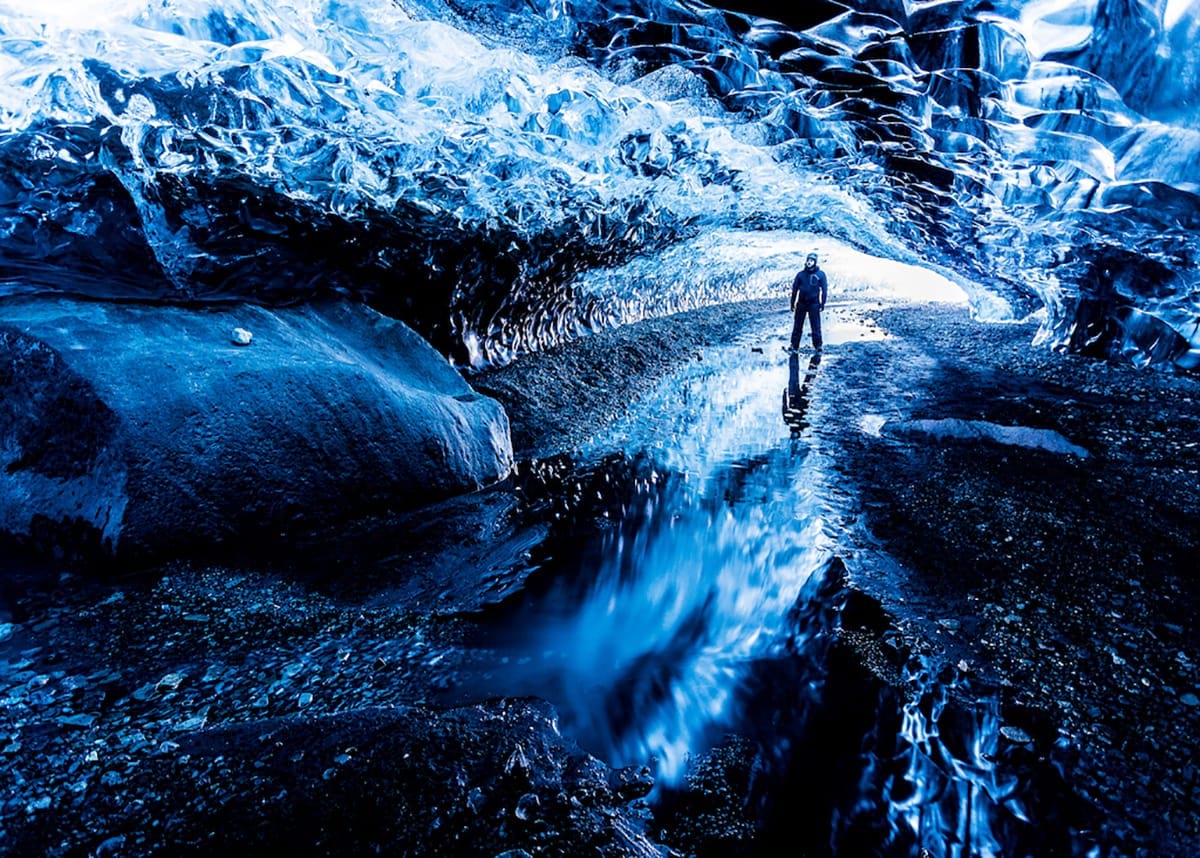 Ice caves in Vatnajökull
Probably the most famous natural ice caves are in Vatnajökull, not too far from the Jökulsárlón glacier lagoon. The most famous ice cave is the Crystal Ice cave, an ice cave so large it can fit close to 100 people.
In the same area you can find the ice cave Dark Rubin, a smaller ice cave that only fits about 30 people.
Both caves are located roughly 5 hours away from Reykjavik and every day multiple tours depart to visit them. Usually taking about 3 hours. If you wish to visit the ice caves in Vatnajökull we do recommend staying in the area or preparing for a very long day.
The natural ice caves in Vatnajökull are only accessible during winter time.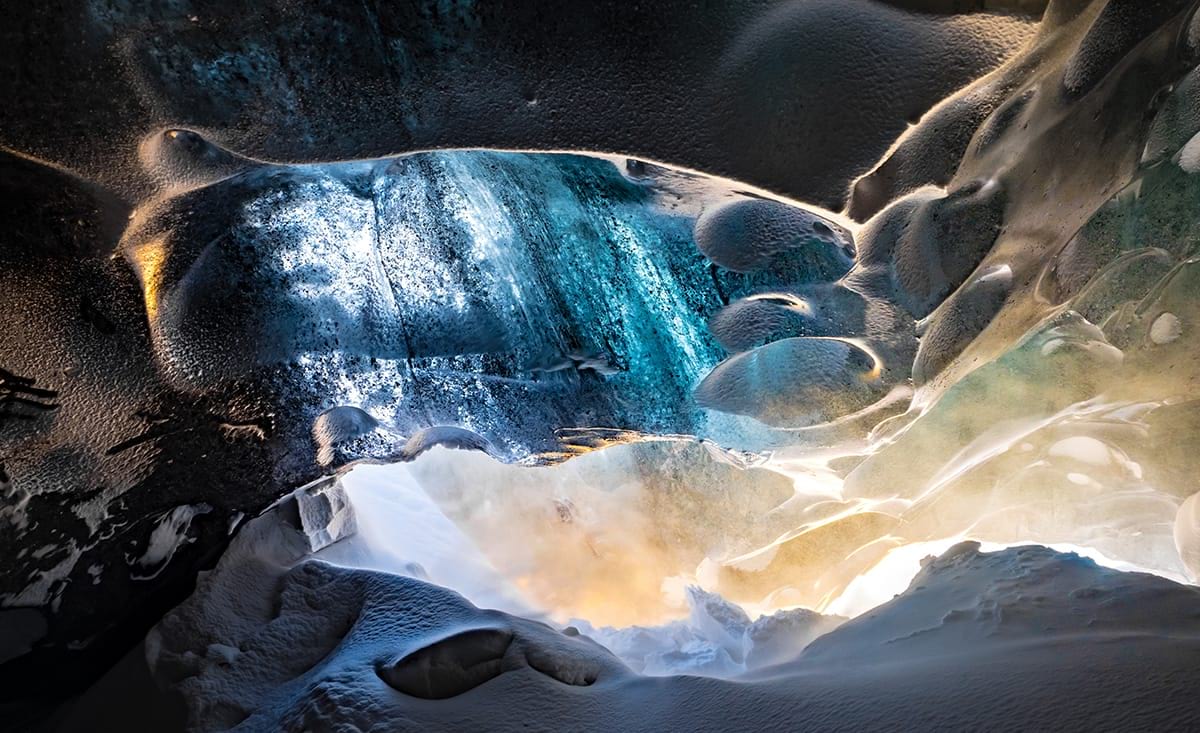 Ice caves in Mýrdalsjökull
Near the infamous volcano Katla is a beautiful ice cave, this ice cave is easier to get to as it's much closer to Reykjavik. Travel time only takes about 3 hours with departures starting from Vík. This ice cave is generally accessible during the summer as well as winter.
Ice caves in Langjökull
The natural ice cave in Langjökull is a recent addition to the ice caves in Iceland. It's fairly small but the great part is in order to visit it you get to ride a snowmobile. Departure for this experience leave on a super jeep from Gullfoss.
Into the Glacier - a man made Ice Tunnel
Into the glacier is a remarkable marvel. This man made tunnel are available all year round and was formed by large drilling equipment. This makes this 500m long tunnel easy to access and easy to walk around in. Even though it's man made you still get a real glacier experience as there are large crevices and the guide will tell all about the nature of glaciers.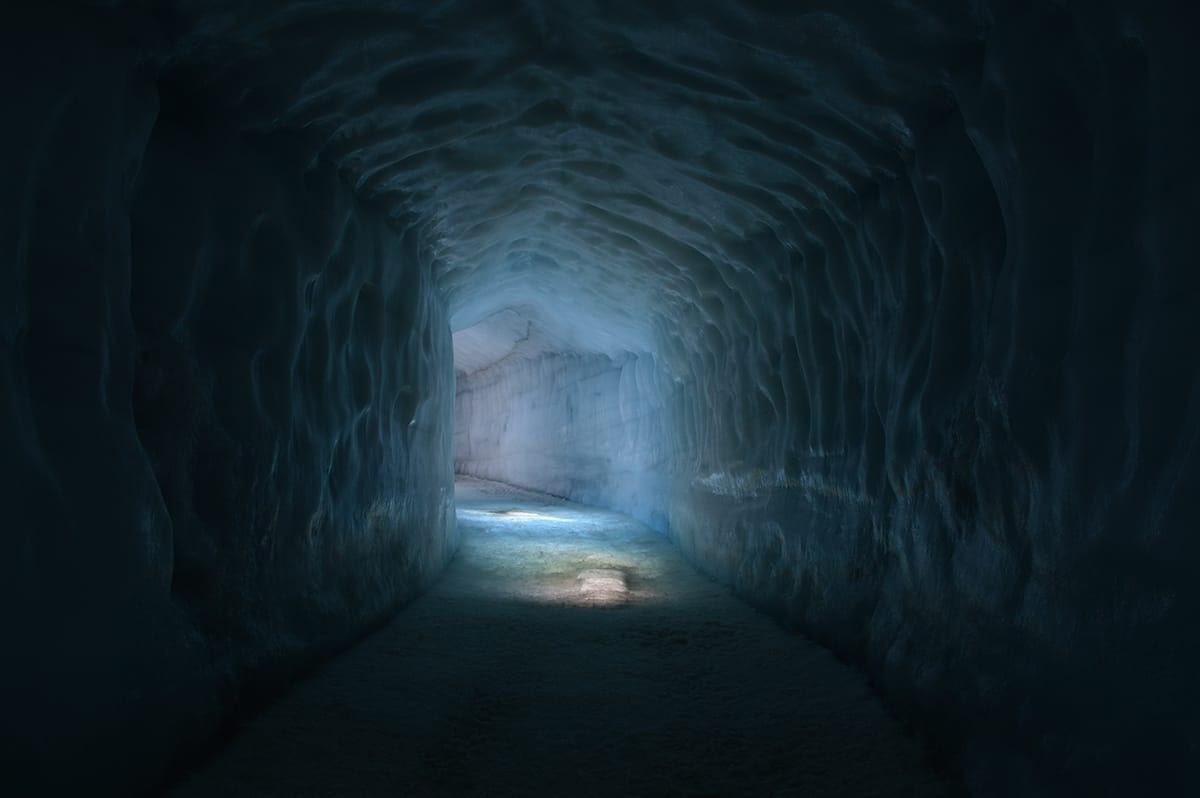 Into the glacier is located in Langjökull glacier and the basecamp for that is in Húsafell. . Húsafell is located in the beautiful Borgarfjörður only about 2 hours from Reykjavik. On your way you can see waterfalls such as Hraunfossar and the geothermal hotspring Deildartunguhver. You can either drive up to the ice tunnel in a modified rocket launcher or ride up there in a snowmobile.