The South Coast - the one and only
The southern coast of Iceland is by far one of the most popular destinations that Iceland has to offer. It's easy to access and many breathtaking sights to see. It's actually such a big deal over here that we tend to refer to it exclusively as "The South Coast". Sometimes forgetting that many countries do in fact also have their own south coasts.
The coast line, made up of black sand beaches, is constantly under siege from the onslaughts of the North Atlantic waves. It makes a perfect frame for a landscape of volcanoes, glaciers, lava fields and more.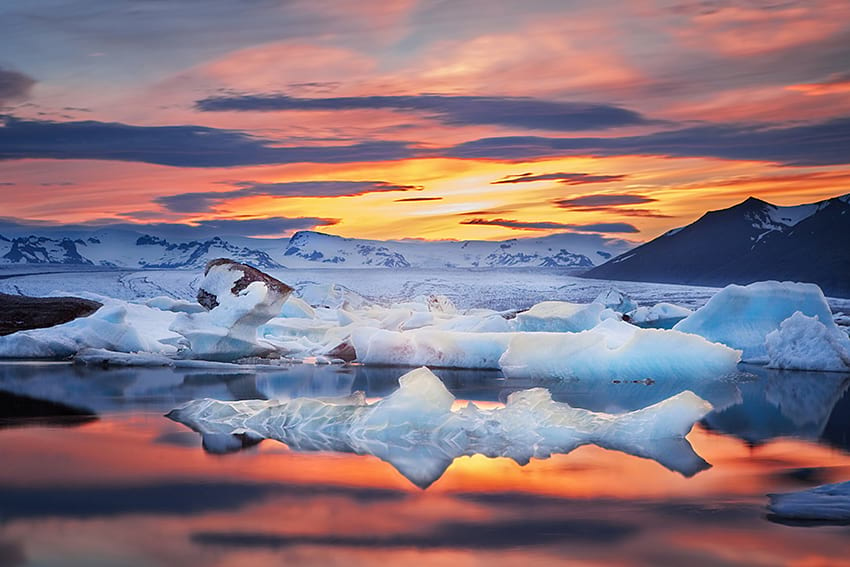 Particular highlights are two waterfalls, Skógafoss and Seljalandsfoss and the black sand beaches at Reynisfjara. The glacier lagoon Jökulsárlón, sand deserts with volcanoes and glaciers dominating the skyline.
A typical day tour to the south of Iceland will take around 10-11 hours. It will feature all these highlights with some small itinerary variations, depending on tours and companies. There is much more to the south coast though than the day tours that go out there. The area is a hotspot for fantastic experiences that are unlike any you might find in other parts of the country. Glacier hiking, ice climbing, zip lining, paragliding, ATV driving and more all await those brave enough to step up to the plate and grab life by the horns!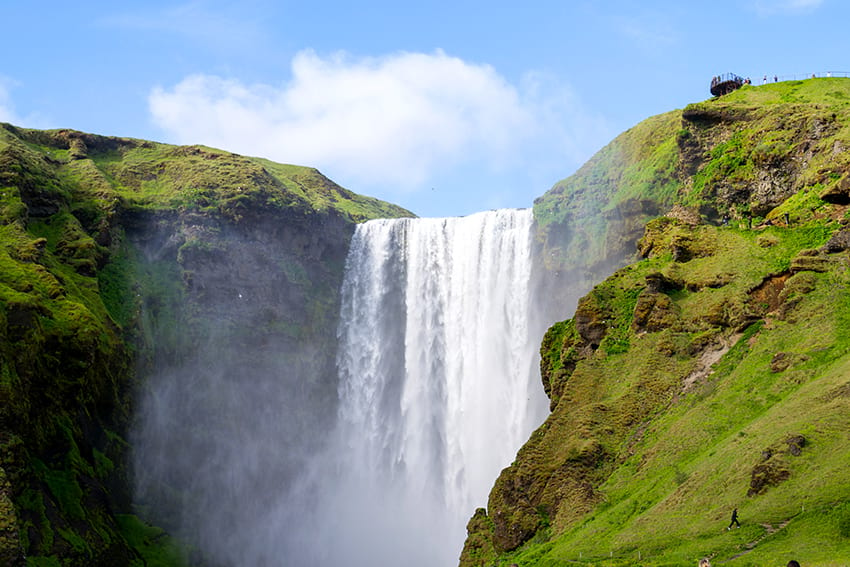 For those who prefer to keep away from the tour busses, self driving is a great way to see the sights at your own pace. While also giving yourself time to partake in a some of these experiences. The driving is quite simple since most of the southern coast highlights are situated a short distance from the famous highway 1. In other words called the "Ring road" which encircles the island. You can drive it easily in any type of car but do be careful that you stick to the main roads as many of the side roads are for 4x4 cars only.
As you can see the south coast has something to offer every kind of adventurer. Whether you prefer a more laid back browsing of the sights or whether you want to get your adrenaline pumping. So come along with us as we take a deep dive into this highly popular destination and help you to get local so that you can get the most out of it.
Who knows? Perhaps, like us, you will also forget that other countries also have a south coast?
What to expect from a typical tour of the south coast
Many companies in Iceland offer up tours that go to the south coast of Iceland. They offer varying experiences based on that companies particular set of skills or expertise. You may have south coast tours that simply focus on getting you out to see the basics or other tours that go for a more luxury feel. While others may choose to focus on other aspects of the south coast such as Glacier hiking or snowmobiling. Whichever way you decide to do the south coast you are guaranteed to have a great day out experiencing a wealth of Icelandic nature.
A typical south coast tour should be expected to last around 10 - 11 hours and will take you to the popular sights. In a single day you can see the famous waterfalls Seljalandsfoss & Skógafoss and visit Reynisfjara, the dramatic black sand beach near Vík. While some tours may elect to add in some extra stops, such as a stop off at farm Holt. These are the areas that we would say are essential to a south coast tour.
The bus, or whichever vehicle you are in, will stop at each point and give you time to stretch your legs and get a closer look at the area. There will also be stops for bathroom breaks and lunch so just listen to your driver or guide who will let you know when to be back on the bus.
What will you see during your day tour?
Seljalandsfoss - walk behind a waterfall
Seljalandsfoss is one of the most popular waterfalls in Iceland and for a good reason. Being able to admire it from the outside is great but what makes Seljalandsfoss unique is that you can walk behind it. This 60 meter (200 ft) tall waterfall has a walking path that is accessible by most people. Be careful as it might get slippery.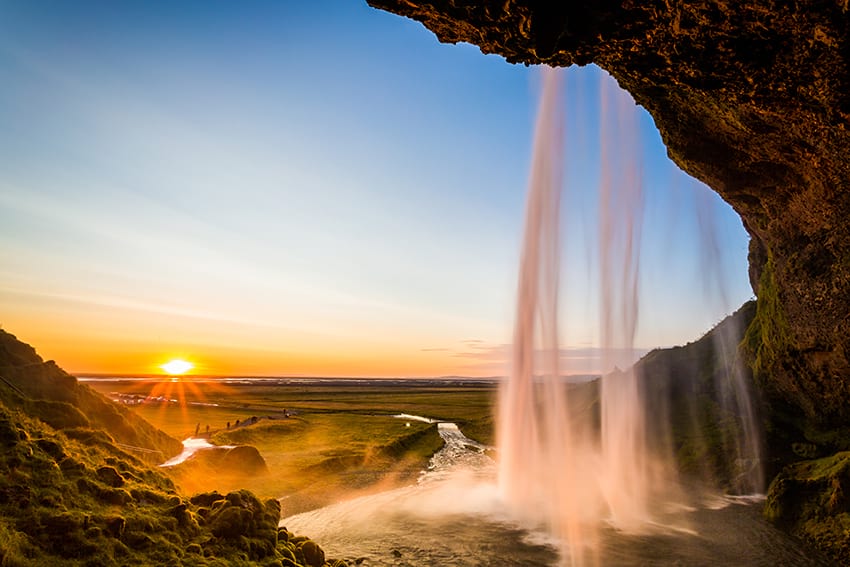 Some say that the waterfall is even more beautiful during night time as strong beacons of light highlight it's beauty. We encourage people to wear waterproof clothing as it's highly likely that the water will get you a bit wet. During winter months the walking path isn't always open as there is risk of ice falling down. The waterfall originates in Eyjafjallajökull glacier, Iceland's most famous volcano.
Skógafoss - a classic beauty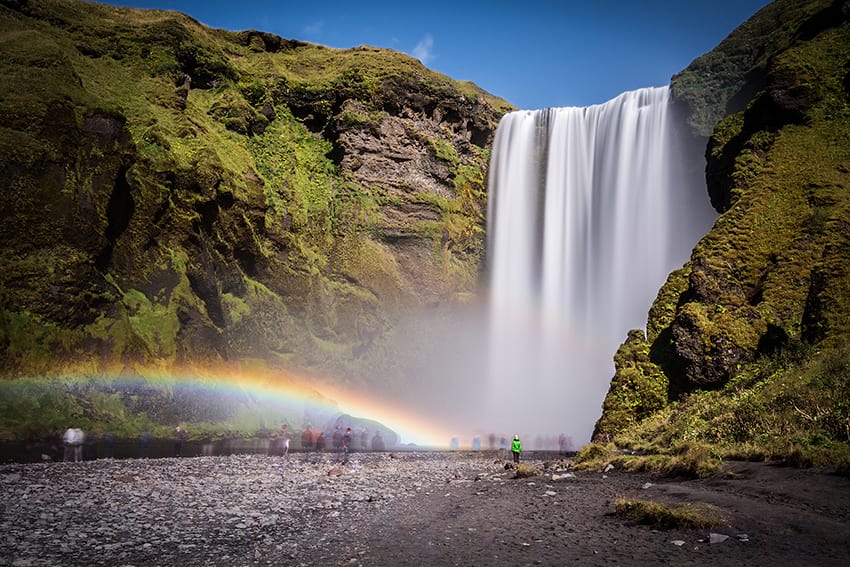 Skógafoss is one of the biggest waterfalls in Iceland 15 meters wide and standing at 60 meters high (200 ft). It's a powerful waterfall that falls directly down from the highlands before the river leads to the ocean. Skógafoss is frequently home to a magical double rainbow due to the amount of mist that rises up from this powerful beauty. You can walk quite close to the waterfall and the energy and magnitude of this close range makes you feel really close to Icelandic nature.
You can also walk to the top of the waterfall. You will find a staircase next to the waterfall which takes you to a great scenic deck where you can admire amazing views. Take a moment to enjoy the soothing sounds of the glacier river and enjoy the view of mountains and the neighbouring country side.
From the top is also the starting point to the famous Fimmvörðuháls trek that leads to Þórsmörk. This is probably one of Iceland's most popular hiking destination known for its nature and beauty.
Sólheimajökull - the coolest glacier
The Sólheimajökull glacier is a glacier tongue that extends from the great Mýrdalsjökull glacier located directly above the town of Vík. The surroundings of the glacier are marked by rugged rock formations that have been shaped by the glacier for centuries. The sandy deserts surrounding are a result of glacier floods from volcanic eruptions in Katla.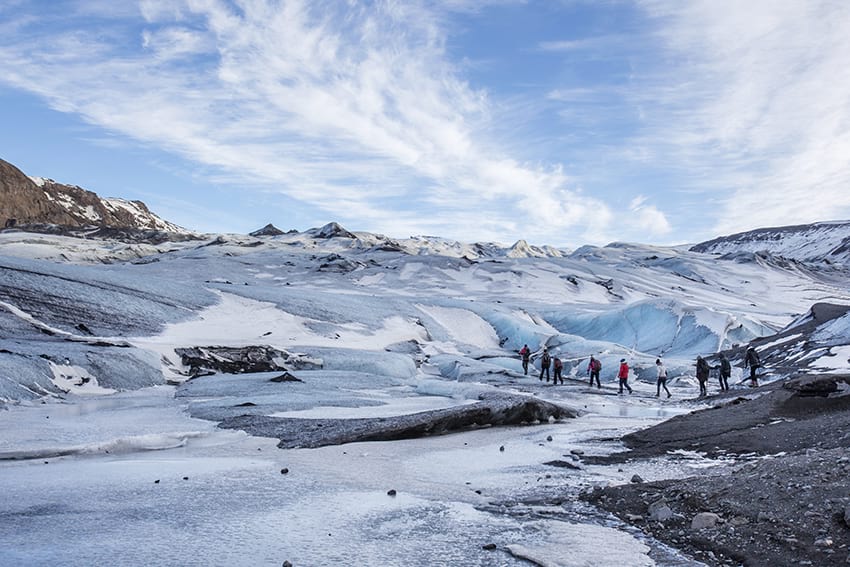 Sólheimajökull is a popular destination for glacier walks and hikes as well as ice climbing. The hike is quite easy as there isn't much incline and plenty of stops are made to enjoy the view and learn about these wonderful natural wonders. An excursion on the glacier is only recommended with a glacier guide and proper glacier gear like crampons. Without the gear you can still enjoy the view and walk all the way up to the glacier from the base camp.
At the base camp you will find a small coffee shop where you can use the facilities. The Sólheimajökull glacier is a popular stop on the south coast as it's one of the most accessible glaciers in Iceland.
Snowmobiling on Sólheimajökull can also be done and just like the hike can be included on South Coast tours.
Reynisfjara - the black sand beach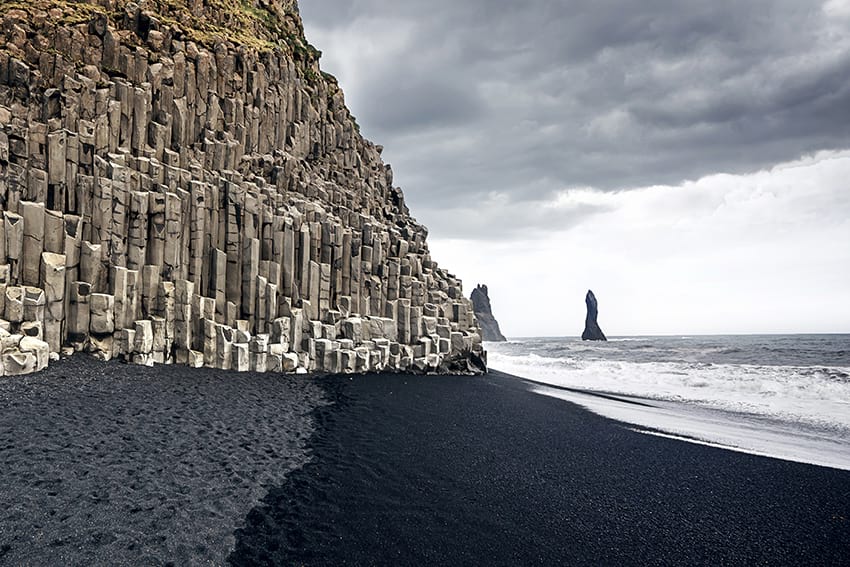 There are few places in Iceland that are quite as popular and picturesque as the black sand beach Reynisfjara. There is a good reason why this spot is popular with newlyweds taking their bridal photos. The beach is located at the base of the mountain Reynisfjall. The side of the mountain is covered partly in large hexagonal pillars of basalt columns. These stacks are popular amongst young and the old to climb and play around in. A little bit further up you might see puffins flying around as they nest in the mountainside. Reynisfjara is also popular with paragliders flying off from the mountain top.
Out on the shoreline you will see large basalt columns called Reynisdrangar. And a few steps behind the basalt columns you will find a small cave, a great retreat if it starts to rain.
Be careful of the tide (sneaky waves) and take warnings around the beach seriously. These waves have been known to sweep people away and have claimed lives.
At Reynisfjara beach you will find a good restaurant serving local delicacies. You can expect to spend close to an hour at this popular stop.
Vík í Mýrdal - a cute little town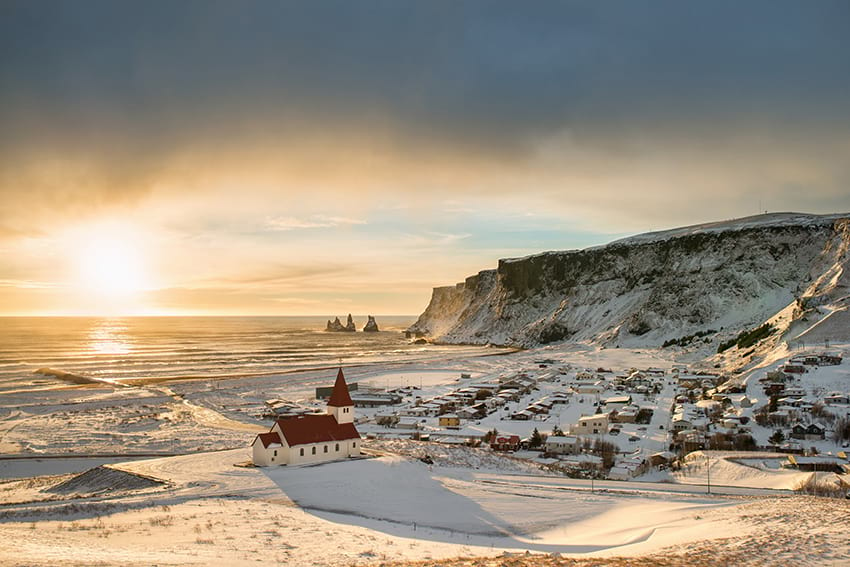 Vík is Iceland's southern most town located about 3 hours from Reykjavík. Even though Vík only inhabits a few hundred people it's one of the busiest tourist locations in Iceland. It's located on the east side of Reynisfjall so the Reynisdrangar pillars are easily seen from the town's black sand shore. In Vík you will find full service gas stations, restaurants, coffee shops, hotels, gift stores, grocery stores and a nice small swimming pool.
Self Drive Tips and Tricks
Guided day tours are not for everybody. Many people that come to Iceland prefer to try to explore what the country has to offer at their own speed. Seeing the sights of the South Coast is one of our top candidates for "Day tours that are perfect for self driving". And what makes it even better is that a majority of the sights are accessible from the route 1 "Ring road".
What type of car do I need?
For an average drive along the southern coast of Iceland, any type of car will be fine. You will typically be sticking to the ring road which is well maintained. A smaller car with good fuel efficiency like a Toyota Aygo or a VW Golf should be your go to choice. They will get you where you need to go without requiring constant fuel ups which can be costly.
For those who want to go beyond the standard route and explore a bit more, you'll have to do a little research. Many of the roads that go off the main ring road can quickly turn into "F roads". F roads are inaccessible to anything other than 4X4 vehicles. You'll need to be able to handle off road driving.
A good rule of thumb would be that if you plan to stick to the basics of the south coast tour then a standard car will be fine. But if you intend to turn off route 1 at all then go with the beefier 4X4. Thankfully both types of car are easy to find in the many car rental agencies in Iceland. We'll be happy to find you something that will best suit your needs.
Summer vs Winter
Another consideration to make when planning to drive along the south coast will of course be the weather. The weather varies tremendously between seasons. So take into account what time of year your journey will be taking place. The south coast tends to get some of the most extreme weather that hits Iceland. So it is very important to frequently observe the warnings and notices regarding weather and road conditions. This information is offered on sites such as vedur.is (the Icelandic Met Office website) and safetravel.is. They will inform you of any hazards that you might face.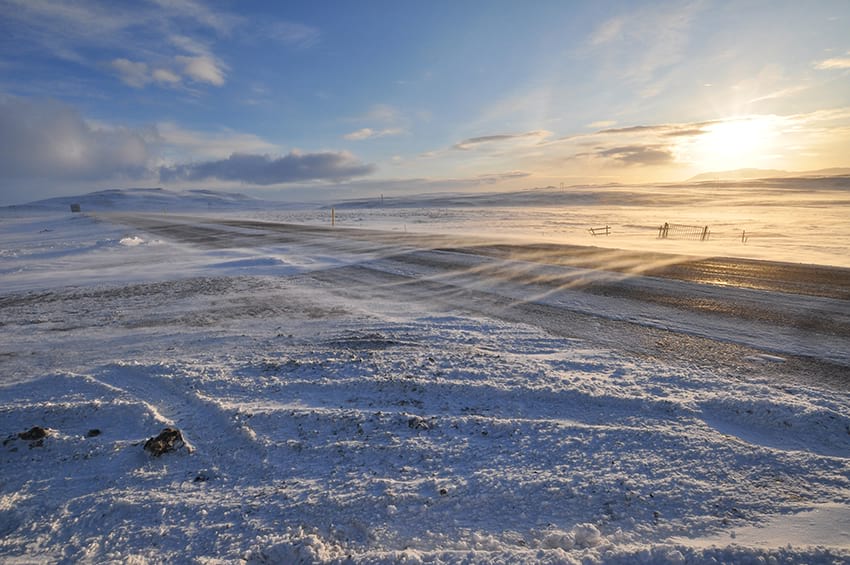 During the winter Iceland tends to get a lot of snow and rain which can cause some slippery conditions along the roads. While the country is very diligent in ensuring the connecting roads between towns are plowed and salted, bear in mind that weather conditions can change rapidly and frequently. With this in mind if you are planning on driving during the winter time you may want to get a larger car with a bit more grip. All cars should come equipped with winter tires.
What facilities does the South Coast offer?
This is a common question that many people who intend on driving through Iceland ask.
Gas stations are easy to come across with many N1 and Olís gas stations dotted across the south coast. Most of these gas stations are situated within the many towns on the south coast. Hvolsvöllur and Selfoss being of particular note because of their positions more or less in the center of the Reykjavik to Vík drive. You can also buy food and use the restroom at these gas stations. Note that sometimes it can cost to use the toilet, so it might come in handy to have some coins with you. Selfoss, Vík and Kirkjubæjarklaustur also have grocery stores where you can fill up on snacks. We recommend doing that to save some money.
You might find that your south coast adventure ends up lasting much longer than you thought. So if you find yourself needing a place to stay for the night then again your best place to head towards are the towns. Many of the towns in Iceland have hotels and Bed & Breakfast facilities that you will be able to make use of. To maximise your chances of finding a room for the night we recommend heading to one of the bigger towns such as Selfoss, Hvolsvöllur, Vík or Kirkjubæjarklaustur. But there are many options to choose from between these towns as well.
Selfoss
Selfoss is one of the first large towns that you will come across as you drive along the south coast and is in fact the largest town in the south of Iceland.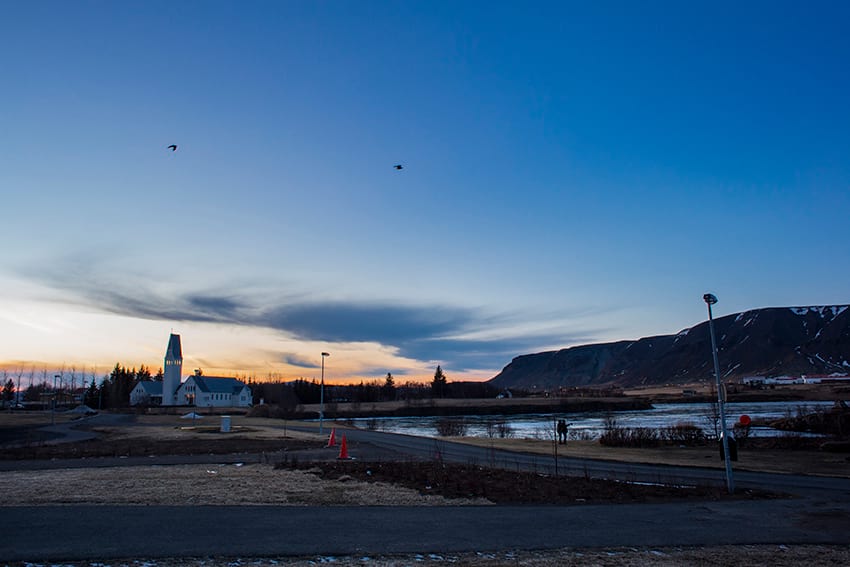 Selfoss a town has approximately 7000 inhabitants, with many of these people only settling in the area in the last 100 years or so. Data from early 1900 suggested that only 40 people were settled in the town showing remarkable growth in recent history. A large part of how this growth was made possible comes from the construction of bridges. Selfoss is sat on the banks of the Ölfus river and it was difficult to reach and access. In 1891 a member of the Icelandic parliament (The alþingi) campaigned to have a bridge built that would allow for easier crossing of the river and better connect Selfoss to Reykjavík. His voice was heard and a suspension bridge was built there, which was at the time a major deal for the country. This made the town a natural fit as the location that could provide the needed resources to the rich agricultural land in the surrounding area. The original bridge collapsed in 1945 but was quickly replaced with the bridge that still stands there today. (Plans for a new bridge is underway).
Once the bridge was built Selfoss quickly became an attractive option as a place to settle and live. Leading us to the present day where low property prices and an attractive setting mixed with a relatively close proximity to Reykjavík is leading many people to move to the town.
Those wanting to visit Selfoss will find some great reasons to do so. The town is surrounded by some truly awe inspiring nature. From the Ölfus river to the nearby Ingólfsfjall mountain (where our first viking settler Ingólfur Arnarsson lived). And of course all of the rich agricultural land in the area. Selfoss is also home to a number of historical buildings such as the Selfosskirkja church.
For those who happen to come through town during the summer you may be greeted by the "Sumar á Selfossi" or 'Summer in Selfoss' festival. The residents decorate their gardens with beautiful ribbons to celebrate the beauty of the town. Each neighbourhood gets their own assigned colour for these decorations. The town hosts a fete where many stalls sell locally made foods, drinks and gifts. During the event there is also live music for guests to enjoy all leading up to a bonfire and fireworks display to round off the festivities.
Another summer festival is the "Kótilettan" event. Translated as 'The Pork Chop'. This event takes place at the start of June each year. It sees residents of Selfoss celebrating summer by bbq-ing up some tasty treats and ends with a concert.
The area has numerous other claims to fame that will make it an interesting place for many to visit. The most notable of which being that is was the town where famous singer Björk lived as a child. It is also the final resting place of world chess champion Bobby Fischer. To commemorate his life a small museum called the 'Bobby Fischer Center' opened in Selfoss in 2013. It features photos, score sheets, replicas and memorabilia from his life.
During WW2 the British army occupied the area with soldiers often seen guarding the Ölfus bridge as a key strategic location in the area. In 1940 the British army constructed the RAF Kaldaðarnes air base near Selfoss which was used by the Royal Air Force from 1941. The British army's presence in Iceland was considered an invasion deemed necessary after the German Army took Denmark. It was believed that the German army might descend on the island and we would be unable to defend ourselves. The British government assured the Icelandic government that they'd withdraw immediately at the end of the war. And that their main concern was allowing Iceland to retain its independence. Something that German army would likely not afford us. In order to smooth over the deal they also included trade negotiations that provided a material benefit to the people of Iceland. The British army kept their word. At the end of the war they handed over ownership of the airbase to the Icelandic Civil Aviation Administration. It was only briefly used before it was permanently closed. Today the area is in ruins and is slowly falling apart due to a lack of maintenance.
For those in the area who need a place to stay, Selfoss is a great rest stop. The town is home to a large number of Guest Houses, Apartments and Hotels. Most of these accommodation options come highly rated and recommended. They'll provide all the essential services needed for a comfortable stay. Once you are settled in you will also be happy to hear that Selfoss has a number of great restaurants. You'll be able to refuel before tackling the next part of your Icelandic adventure.
Vestmannaeyjar - The Westman Islands
"The Westman Islands are one of Iceland's best kept secrets"
"You haven't seen Iceland until you have been to the Westman Islands"
"If you are in Iceland you just can't skip out on visiting the Westman Islands"
The quotes truly speak for themselves. They really hammer home one simple point about this little archipelago off of the south coast of Iceland. It is something really special.
The Westman Islands are relatively young geologically speaking. Having only been formed in the last 10,000 to 12,000 years as a result of eruptions from the undersea volcanoes in the area.
In total the Westman Islands are comprised of 15 islands and 30 rock stacks. The most recent addition, Surtsey which is the 15th island, was formed after a four year eruption in 1963. The names of the islands are as follows:
1. Heimaey
2. Surtsey
3. Elliðaey
4. Bjarnarey
5. Álsey
6. Suðurey
7. Brandur
8. Hellisey
9. Súlnasker
10. Geldungur
11. Geirfuglasker
12. Hani
13. Hæna
14. Hrauney
15. Grasleysa
Heimaey is the main island and is also the oldest. It has a population of just over 4000 people and is the only one of the Westman Islands to house a significant population. Although some of the other islands do feature some basic hunting structures.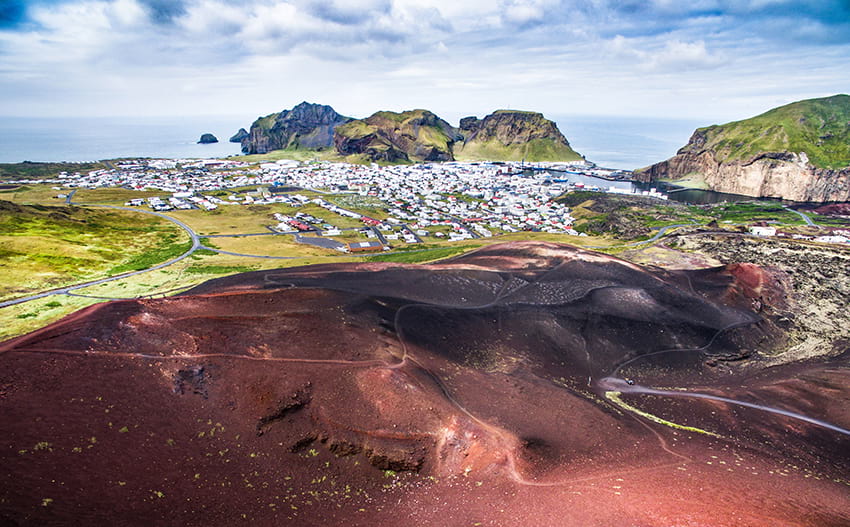 Getting to the Westman Islands is relatively easy with regular ferry trips departing from Landeyjahöfn harbour. Landeyjarhöfn is a 2 hour drive from Reykjavík. The ferry trip takes about 35 minutes. If you tend to get sea sick or want to get there more quickly, you can catch a flight to the islands from Reykjavík. You can bring your car over on the ferry to aid in your transport. However the general consensus is that you can quite happily leave the car behind as the area is small. Most major attractions are only ever a 5-25 minute walk.
The biggest event of the year in the islands is the yearly Þjóðhátíð music festival. It is in fact held to commemorate and celebrate that Iceland got its own constitution in 1874. It takes place in the first weekend of August and it is the thing that attracts the most mainland visitors to the area throughout the year.
Typically the event goes from Thursday to Sunday. The locals will pitch up special white tents in the main valley with guitar sing along parties or joyous family gatherings. If you are lucky enough to be invited into one of these tents you will be in for a real treat! People from out of town rent houses or stay at the campsite. Some of the locals might even let you pitch a tent in their garden (but make sure to get permission first!)
As big names in Icelandic music take to the various stages to play concerts for the crowds a massive bonfire is lit. Food tents will also come and go serving up local delicacies like smoked puffin with butter. The festival ends on high notes with a massive sing along on the sunday where a singer will sing traditional songs for everyone to join in. Topped off with fireworks, more bonfires and all kinds of light shows! It's one hell of a party and well worth checking out if you happen to be in Iceland during this time.
Birdlife in the Westman Islands is diverse. Almost all seabirds nest there and 3 of them are very rare, the Manx Shearwater, Leach's Storm-petrel and the European Storm-petrel. But the islanders are especially known for their connections with the Puffins. Vestmannaeyjar is a hotspot for prime puffin spotting as many of the birds that fly out to Iceland choose this spot for burrowing their nests. The arrival and subsequent departure of the puffins are highly regarded events on the islands and are celebrated every year.
In particular the young children form special relationships with the puffins. Each August the young pufflings head out of their nests. Many of them get lost and fly into town as the lights attract their attention. Children are allowed to stay up late and go looking for these pufflings. They usually put them in boxes and take them home for the night. The next day they are set free in a safe place to swim or fly away for new adventures.
The islands have a very dramatic history with a number of unfortunate events occuring during its history. One of the worst events to hit Iceland occured in 1627 when North African pirates from Algier landed on the Westman Islands. They kidnapped 242 people, burned buildings, raped women and killed 34 people. The people they took were sold into slavery and most of them never managed to return home.
In 1963 a few fishermen noticed smoke coming from the ocean. They thought it was a burning boat but soon realized it was an underwater volcanic eruption. It turned out to be at a 130 m depth. The day after an island had risen from the sea, called Surtsey. The eruption lasted for almost 4 years. Surtsey is Iceland's southern most part and is named after Surtur the fire giant from Norse mythology. It was declared a World Heritage Site by UNESCO because of its unique scientific value. Only a few scientists are allowed on the island because it's a rare opportunity to study biocolonisation f.ex. birds, plants, marine life and insects.
A volcanic eruption occurred again 10 years later in 1973, except now in the town in Heimaey. It lasted 6 months. This eruption required a quick mass evacuation of the Island in the middle of the night. About 5300 inhabitants were evacuated the first night, mostly by boat. In a few days search and rescue teams and all kinds of people came from the mainland and worked day and night to try to save people's belongings and houses. About half of the houses had gone under the lava flow, the others were covered in ash. To save what was left of the houses the teams set up 43 pumps by the ocean and pumped sea water onto the lava to try to stop the lava flow and cool it down. It worked although the damage was immense.
When the eruption ended, 6 months later, many of the evacuated people chose to return to the islands. A lot of hard work awaited those people but it united the islanders and their bond is strong, even those born after the eruption. Some didn't return, reasons differ. Some had lost their houses, some couldn't fathom living there any more and some had gotten a good job on the mainland. The eruption added 2,2 km² to Heimaey. In the end the islanders used this tragedy to their advantage. They still use the heat from the eruption to heat their houses and it gave them great opportunities in tourism.
Visiting the Westman Islands today is highly recommended. The area is full of all kinds of natural beauty, history and culture that is not to be missed out on.
Football fans may also be interested to hear that the coach of the famous Icelandic football team who took the world by storm in the 2018 World cup is a practising dentist there!
Seljalandsfoss
Iceland is a country where the nature is quite often wild, unpredictable and in many cases incredibly unique. Seljalandsfoss is one of those rare occasions where a natural installation ticks all three of those boxes. It creates something incredibly special that is not to be missed by anyone visiting the country.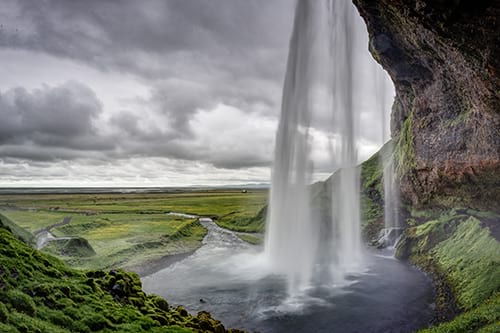 Seljalandsfoss is a waterfall located on the south coast. It is easily accessible from the famous highway 1 Ring road by turning off onto road 249. There you will find car parking facilities. When driving from Reykjavík you will first pass through the town of Hvolsvöllur. Continue on the Ring road, cross a bridged river and then road 249 will be the first major left turn you come across. The defining feature of this particular waterfall is the small path that you can follow which will take you behind the cascade of water. It will offer you a stunning view from a perspective rarely seen with waterfalls. Once you are behind it you really feel the powerful force of the glacier river as it falls down right in front of you. Standing behind this waterfall is a magnificent experience and is a popular spot for proposals.
The waterfall itself is 60 meters (or 200 feet) tall and is fed by the Seljalands river. The river has its origins in the famous Eyjafjallajökull volcano that erupted in 2010 and caused somewhat of a stir across Europe.
Seljalandsfoss waterfall offers up some truly phenomenal sights any time of the year. During the summer the 24 hour sunlight provides an amazing backdrop for the waterfall. Often creating rainbows in the water vapour that gets kicked up as the water crashes down. During the winter the scenery is bathed in a blanket of white that makes the whole area seem much more gentle and tranquil. For those concerned that a trip to the waterfall during the winter may not be as enjoyable, need not worry. Although the daylight hours are few you will be pleased to hear that floodlights have been set up. They illuminate the area behind the waterfall so you will be able to enjoy this amazing nature throughout the year.
One thing you need to prepare for is the possibility of getting wet. With the amount of water that gets kicked up by the cascade the area behind the waterfall can be damp and occasionally slippery. The path will also be closed off if the pathway is deemed to be unsafe to traverse due to the weather conditions.
Seljalandsfoss has managed to find some fame on the pop culture scene. Justin Bieber featured the waterfall, as well as other south coast highlights, in the music video for his song "I'll show you". As well as being featured in the Bam Margera film CKY2K and as a stop in the Amazing race season 6.
If you have some extra time we definitely recommend traveling a little further north up the road 249. It will take you to another little waterfall called Gljúfrabúi. The name Gljúfrabúi roughly translates to "The one that lives within the canyon". While this name may seem a little obscure on the surface you will quickly learn how apt it is as you approach the waterfall. From a straight on view only the top section of the waterfall is visible seemingly disappearing into the mountains that sit in front of it. Adventurous types who want to see the full waterfall in all of its glory will be able to do so. Either wade through the nearby river into an opening in the cliff or climb up a nearby steep path up the cliff. These options may not always be particularly safe so please use caution if attempting the trip!
Þórsmörk
The Valley of the Thunder God Thor, Þórsmörk, is one of the most amazing places ever. A unique nature reserve located in the southern highland. It is in fact a mountain ridge between Krossá, Markarfljót and Þröngá rivers. Surrounded by some of the most powerful glaciers and volcanoes, Eyjafjallajökull, Mýrdalsjökull and Tindafjallajökull. That makes it a favourable location not only for its beauty but also for the climate. The climate is better, temperature higher and winds calmer. It is a true hiker's paradise. It does rain a bit in the south and Þórsmörk is no exception. But that only makes the area even more lush and green.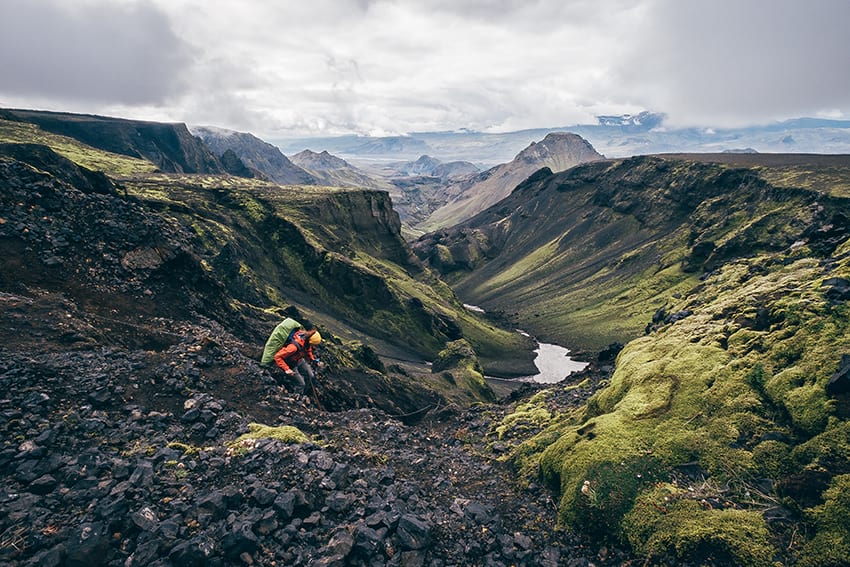 There are many trails to trek in Þórsmörk. The most popular Laugavegur, a 55 km trail from Þórsmörk to Landmannalaugar is a 2-4 day hike in the stunning Icelandic Highlands. It ends in a beautiful geothermal area with hot springs, Landmannalaugar. The colours there are something else!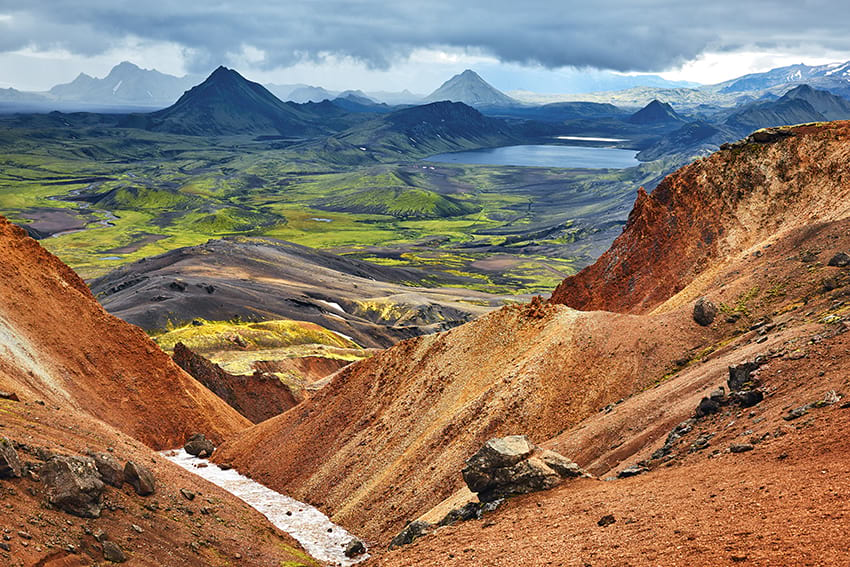 Another trail, no less exciting is Fimmvörðuháls, a 30 km trail which leads you to the base of the famous Eyjafjallajökull which erupted in 2010 (as we all know). It ends by the magnificent Skógafoss where you can camp and have a good look at the waterfall. A great option as well is to stay in one of the campsites in Þórsmörk and take shorter treks around the area f.ex. Stakkholtsgjá canyon, a natural wonder or hike Útigönguhöfði.
There are 3 campsites in the valley that offer all kinds of accommodation Langidalur, Húsadalur and Básar. Ranging from sleeping bag accommodations to glamping or private rooms. There is also a restaurant, an indoor dining area, pool and sauna. But book in advance.
The road to Þórsmörk is only open during the summertime (May 1st-October 15th). The roads and rivers are impassable during wintertime. The trip itself is quite a memorable adventure. You can rent a 4x4 car or take a bus there. On the way you must stop at Seljalandsfoss and don't miss Gljúfrabúi waterfall or Nauthúsagil. You will cross a few rivers but the river Krossá is very tricky and should not be crossed except by experts. If you're driving yourself we recommend you leave your car there and take the bus over into Þórsmörk.
Skógafoss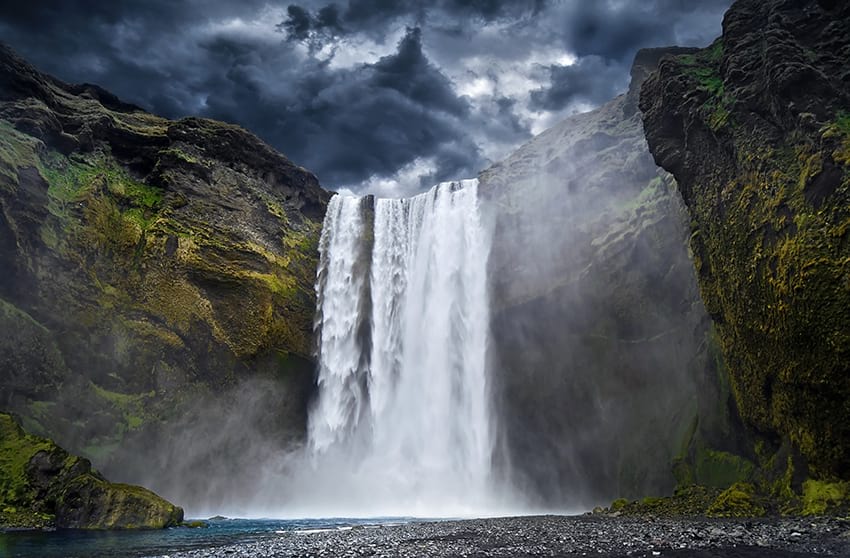 Skógafoss should definitely be high up on the 'to-do' list for anyone coming to Iceland. Skógafoss is a part of the Skógar river and drops down a cliff that was once the coastline of Iceland. The coast line has receded a fair amount but the old sea cliffs remain creating a border line between the coastal lowlands and the hikers paradise of the highlands.
Skógafoss holds the title of being one of Iceland's largest waterfalls. Its 15 meter wide river drops a distance of around 60 meters. The force of this drop kicks up such a large quantity of water spray that a single or even double rainbow can often be glimpsed dancing across the cascade on a sunny day. On the eastern side of the waterfall you will be able to find a hiking trail. It goes all the way to the top of the waterfall where an observation platform offers a spectacular view of the waterfall from above. We definitely recommend the hike but be careful. From the top you can also hike into Skógargil ravine where you can see as many as 30 smaller waterfalls. The hiking path actually continues, leading up to the Fimmvörðuháls pass between the Eyjafjallajökull and Mýrdalsjökull glaciers going down into Þórsmörk before becoming the Laugavegur trail to Landmannalaugar.
There is a legend that surrounds Skógafoss waterfall. It states that the area behind the waterfall is actually home to a secret buried treasure. According to legend Þrasi Þórólfsson, the first viking settler in this area, buried a chest in a small cave behind the waterfall which to this day has not been found. An old rhyme about this legend says:
'Thrasi's chest is full of riches
under the Skógar Falls.
Whoever is first to find it
gets to keep it all.'
Further fuel was added to this legend when locals supposedly found this chest years after it was hidden. But were only able to grasp the ring on the side of the chest before it disappeared again. The story says that this ring was given to the local church and used as a door ring but now sits as an exhibit in the Skógar museum. So be on the outlook when staring into that beautiful waterfall. You never know!
With its large and rather iconic appearance the Skógafoss waterfall has managed to find its way into popular culture on a number of occasions. In the Marvel studios film "Thor: The Dark World" one of the alien planets featured in the film was in fact shot in the Skógafoss area. Ben Stiller's "The Secret Life of Walter Mitty" also filmed there although in the film the characters are supposedly in Nepal. Bollywood has used Skógafoss as a location in the film "Dilwale" featuring Shahrukh Khan and Kajol. And last but not least Skógafoss was also featured in season 5 of the History channel's popular series "Vikings". In a memorable scene where Flóki sees Skógafoss when he discovers Iceland.
Eyjafjallajökull
Eyjafjallajökull (pronounced AY-yah-fyah-lah-YOH-kuul) is a volcano that brings back "fond" memories for many people. It is the volcano that erupted in 2010 causing numerous issues and major airline catastrophes in Europe. Strictly speaking the name 'Eyjafjallajökull' is not just the name of the volcano itself. But also the name of the glacier that caps it with the name translating roughly to "Island Mountain Glacier". Underneath this ice cap is a stratovolcano which stands at 1651 meters tall and it has been known to erupt frequently since the planets last ice age. Despite the trouble that it caused after its last big eruption in 2010, Eyjafjallajökull is in fact one of the smaller volcanoes in this area. The nearby Mýrdalsjökull glacier is in fact an ice cap of its sister volcano Katla. As of now Katla is roughly 50 years overdue for an eruption. Given that Katla is approximately 3-4 times the size of Eyjafjallajökull its safe to say that when it erupts it may well disturb the entirety of the northern hemisphere.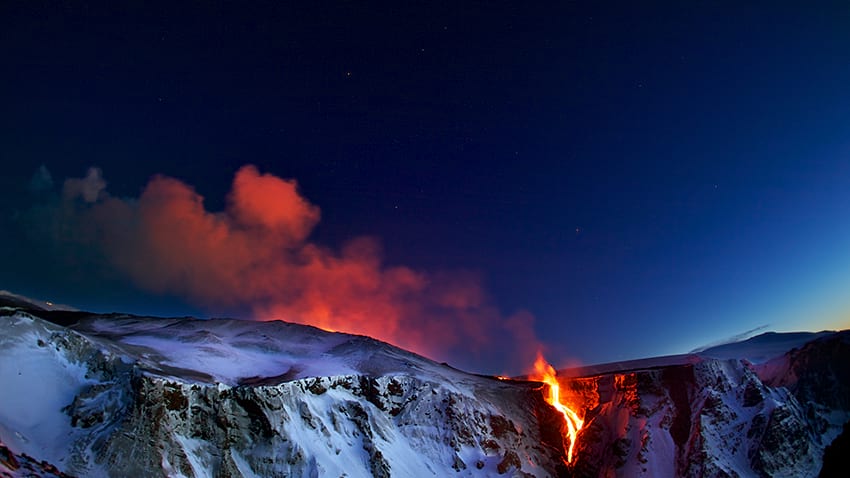 Eyjafjallajökull, like many places in Iceland, has seen quite a lot of success in pop culture in recent years with its reach spanning to movies and video games. In 2010 the mountain featured in the popular British television show Top Gear where presenter James May drove a Toyota Hilux to the summit. This episode was filmed in 2010 a mere week before the big eruption which Top Gear jokingly took responsibility for. The same Hilux ended up being used by the scientists who set up the monitoring equipment shortly before the eruption began. The popular historical strategy game Sid Meier's Civilization used the volcano in its 6th installment. It's one of its natural wonders that players are able to find when exploring.
Sólheimasandur - DC Plane Crash
1973 was an action filled time for the south of Iceland. Not only did a 6 month volcanic eruption threaten to wipe out an entire island but on November 24th of that same year a US Navy Douglas C-117 airplane crashed in Sólheimasandur. The crew got into sudden bad weather and due to ice both engines shut down. The assistant pilot made a heroic landing on the sand saving everyone on the plane.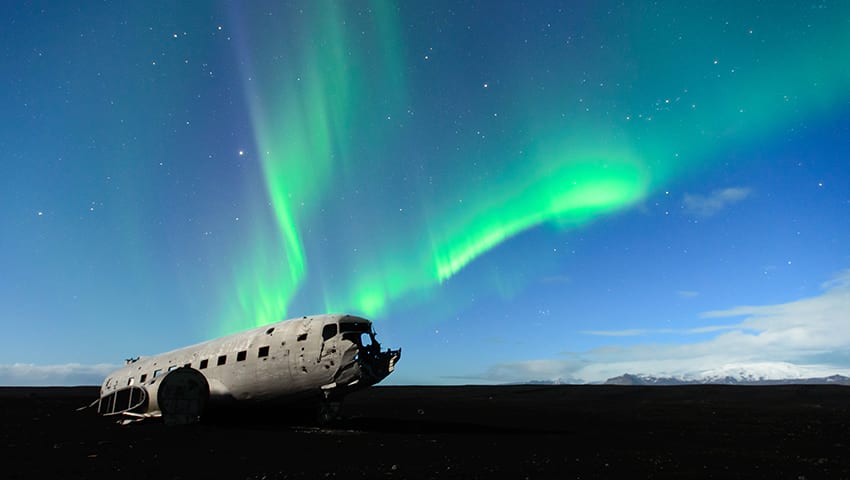 Being the only landmark visible in the area the well preserved white of the planes exterior seems incredibly alien as it sits upon a sea of dark volcanic sand. It's a big favourite for photographers.
The landowners have banned vehicles from driving in the area to preserve nature. So finding the plane wreck requires you to partake in a 3-4 km walk from the main road to reach the location. While this decision was met with some irritation from some it should be viewed as a blessing in disguise. The change has further isolated the plane wreck making it an even more of a desirable location to get to. It is certainly worth the walk!
Mýrdalsjökull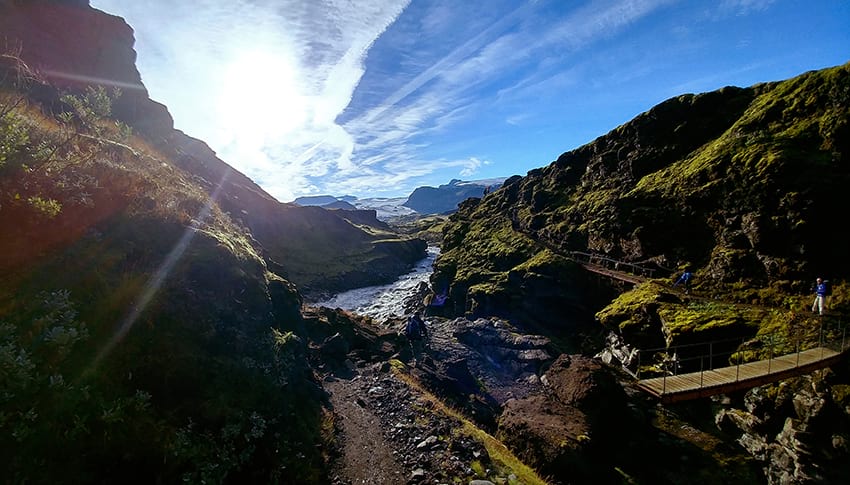 Mýrdalsjökull (Mire Valley Glacier) is the 4th largest glacier in Iceland. The ice cap is around 590 m² and about 200-700 m thick. On a clear day you will see it from the Ring road just north of Vík. It is the perfect place to go snowmobiling, ice caving or glacier hiking.
What you might not know is that the glacier lies on top of one of the most fierce volcanoes in Iceland: Katla. Katla has been active, erupting every 40-80 years since 930 AD. The last eruption was 1918. SO she's a bit overdue! And if you think Eyjafjallajökull made a lot of trouble for Europe, just wait till Katla "comes" as the locals say. The folklores say that Katla was a strange, magical, ill-tempered woman who owned magic underpants. When a co-worker took them from her and used them to find sheep, she became so angry she killed him and stuffed him in an acid barrel. But when she realised the farmers would soon find him, she put on her underpants, jumped into the mountain and became an underground inferno. So when the volcano erupts, "Katla is coming".
Eruptions in Katla can be especially dangerous because they result in glacial floods. Although the lava might not reach through the ice cap, the ice melts underneath resulting in vigorous glacial floods. Scientists monitor Katla very well so there's no need to be afraid of her. It's totally safe. But it's highly likely that people all over the world will know the name of Katla and Mýrdalsjökull, the rising stars in the volcano business, in the future.
Near the infamous volcano Katla is a beautiful ice cave. Travel time only takes about 3 hours with departures starting from Vík. This ice cave is generally accessible during the summer as well as winter. You can also go snowmobiling almost all year round on top of the glacier and take a guided glacier walk tour. You should always plan trips on glaciers with professionals. There are numerous dangers to avoid as the ice is moving and ever changing.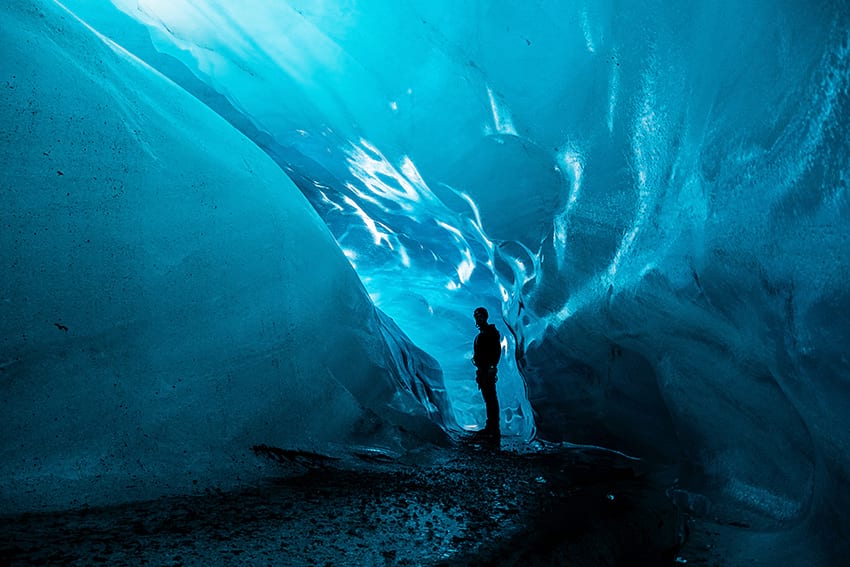 A fascinating tongue of Mýrdalsjökull is a glacier called Sólheimajökull. With incredible formations from the ice flow and blue ice caves it's also one of the most popular glaciers to go for amazing glacier hiking tours.
Reynisfjara and Reynisdrangar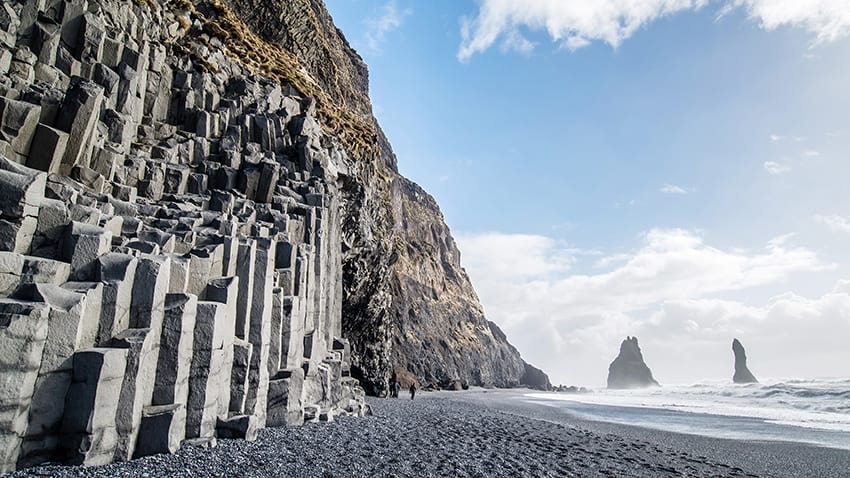 Reynisfjara is a black sandy beach at the base of the palagonite mountain Reynisfjall near Vík. The black sand, powerful waves, large hexagonal basalt columns in the mountain side and the huge 66 m basalt sea stacks Reynisdrangar in the shoreline make the area a very dramatic place. There is a good reason why this spot is popular with newlyweds taking their bridal photos. And why it is world famous. The hexagonal basalt stacks are popular amongst young and the old to climb and play around in. You can also find a place to sit and admire the view and if you look up (in spring or summer) you might see a puffin or two, as they nest in the mountainside. Even further up you might actually see flying people as this is a popular place for paragliding.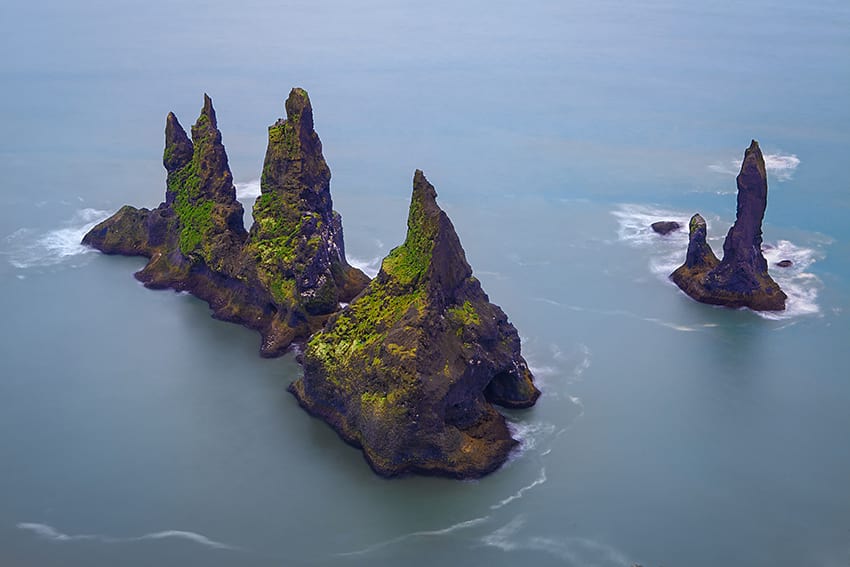 Out on the shoreline you will see Reynisdrangar. According to local Icelandic folklore, these large basalt columns were once trolls trying to pull a 3 mast ship to the shore. However, as bad luck would have it, the dawn quickly arose, turning the trolls and ship into solid stone. Just a few steps behind the basalt columns you will find a small cave, a great retreat if the waves come too close or if it starts to rain.
The waves on this beach are especially strong and the tide is unpredictable. So be very careful of the tide (sneaky waves). Take warnings around the beach seriously. The best rule is to never turn your back on the ocean. These waves have swept people away and claimed lives. At Reynisfjara beach you will find a good restaurant serving local delicacies. You can expect to spend close to an hour at this popular stop.
Dyrhólaey
Dyrhólaey is a beautiful small peninsula west from Reynisfjara. It is thought to be around 100,000 years old and used to be an island, formed by an underwater eruption, like Surtsey. It used to be much bigger, but the waves and glaciers have taken its toll through the years.
Dyrhólaey is around 120 m high and 2 km long. It is divided up in two parts, the higher part and lower. You can drive right up to the top of the higher part and the view there is out of this world! You can literally see almost all of the south coast! You'll see the black sandy beaches on both sides and you get a great view of Reynisfjara and Reynisdrangar to the east. If you look to the north you will see Mýrdalsjökull, the beautiful ice cap with the fierce volcano Katla underneath. On top of Dyrhólaey you will find Dyrhólaeyjarviti, which is an old light house. There is a lot of bird life around these parts. Puffins, arctic terns and Eider ducks f.ex. nest here. So be very respectful especially during nesting season (april-july).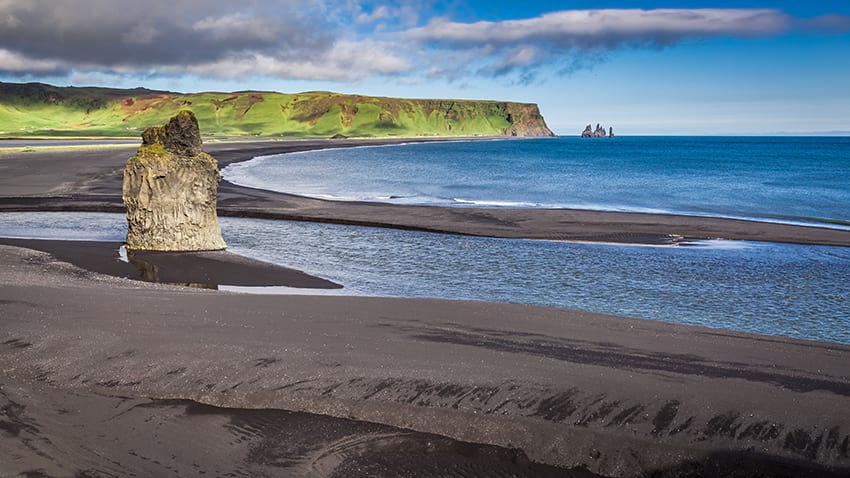 The lower part of Dyrhólaey is no less exciting than the higher one. You can walk in the black sand if the tide isn't high and view a rock formation called Arnardrangur. You will find small caves and many wondrous things on the way. Just be careful (again) of the waves.
The arch in the peninsula is very picturesque. Many men have sailed these waters and people went fishing here and still do although there is no harbour. Men were specialized in landing the boats in the sand and sailing through the big enormous, strong waves. It was often rough going out to sea or coming home. One folklore talks about a red whale making life very hard for fishermen in the old days. One man saved his life by sailing through the arch in Dyrhólaey because the whale couldn't get through. One man flew through the arch on a plane in 1993! You can walk on top of the arch if you aren't too afraid of heights.
Vík í Mýrdal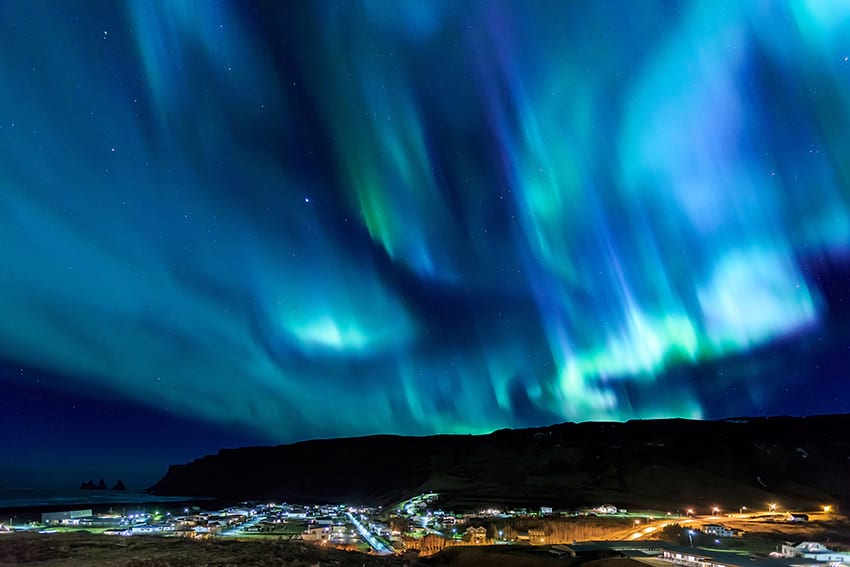 Vík is Iceland's southernmost town located east of Reynisfjara. Even though Vík only inhabits around 300 people it's one of the busiest tourist locations in Iceland. It is a popular stop for tourists because of its location and an ideal place to stay the night should you be travelling further east. You will find restaurants, cafes, shops, gas station, grocery stores, a wool company and a nice little swimming pool. The church in Vík is an old wooden church from 1929.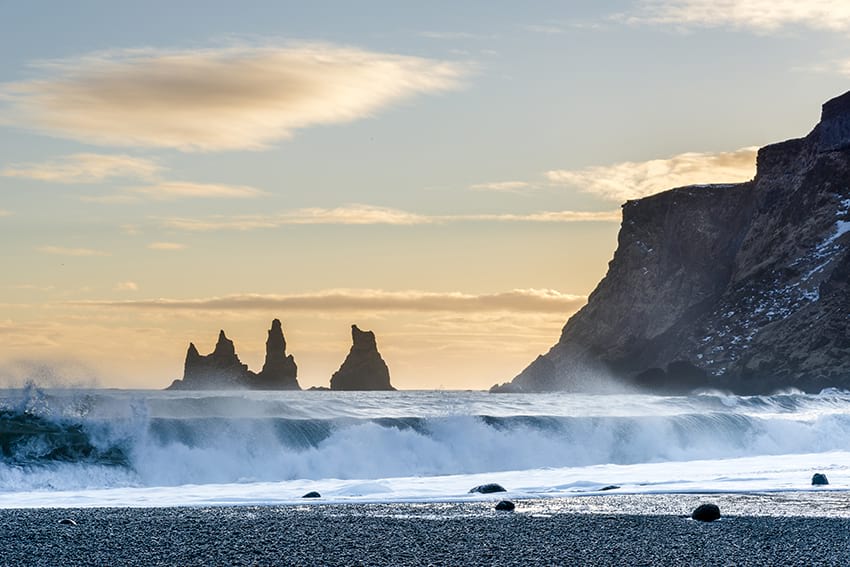 The Reynisdrangar pillars are easily seen from the town - quite a view. In the north the mighty Mýrdalsjökull sits quietly with it's roaring volcano underneath. Vík is in quite a vulnerable place should Katla erupt, but the inhabitants are well aware of that. All signs of eruption are well monitored and evacuation plans are very well planned. To the east is Hjörleifshöfði and the great sand plains of Mýrdalssandur - the way to Kirkjubæjarklaustur, Vatnajökull National Park and Höfn.
The wildlife in Vík is diverse. Many birds nest in the area, Dyrhólaey being the biggest nesting grounds for puffins, guillemot, gulls and fulmars. Seals can be seen on the coast and even whales once in awhile. Have something to eat, take a swim in the swimming pool, have ice cream and walk around this nice little town.
Hjörleifshöfði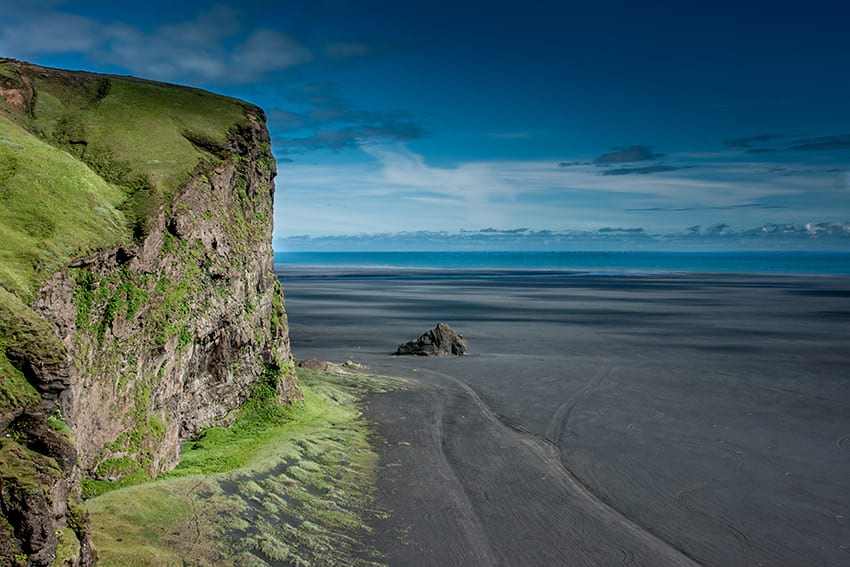 East of Vík on the plains of Mýrdalssandur you will find Hjörleifshöfði. A 221 m high palagonite inselberg. It is named after Hjörleifur who was a close cousin of Iceland's first viking settler Ingólfur Arnarsson. In fact he was his brother-in-law as well as he married his cousin, Ingólfur's sister, Helga. Hjörleifur sailed with Ingólfur to Iceland after they killed some men and had to pay all their belongings as retribution. Hjörleifur had used the time well though and raided a lot in Ireland and was a wealthy man again. He came to Iceland near Hjörleifshöfði, which was named after him obviously. He built a farm west of the inselberg and lived there with his family, friends and his irish slaves. It is said that he mistreated his slaves and they rose up and killed him. They then fled to the islands in the south but were killed there by Ingólfur and his posse seeking revenge for his cousin. The islands therefore became known as the Westman Islands. These men were called West men because they were from Ireland (west of Norway).
Hjörleifur's burial mound is on the top of Hjörleifshöfði and his ghost is said to be still roaming around. It is also said the place is cursed in a way that you will prosper if you settle there, but on the 20th year misfortune will hit you. The ruins of Hjörleifur's farm were washed away completely by the huge glacier flood in the 1918 Katla eruption. A great historic place to visit.
Kirkjubæjarklaustur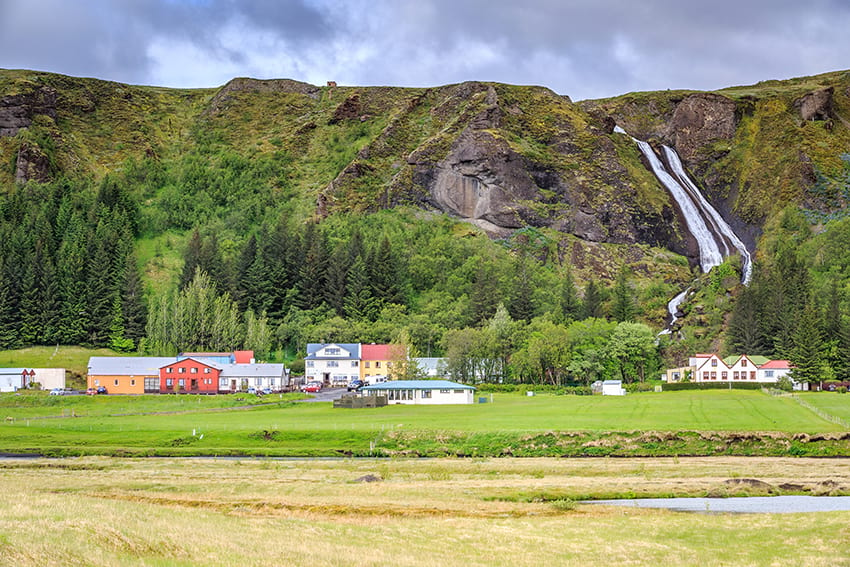 Kirkjubæjarklaustur is a small town between Vík and Höfn. Actually the only place which offers services between those two places. You´ll find gas stations, a convenience store, bank, swimming pool, restaurants and hotels. It has around 500 inhabitants. Kirkjubæjarklaustur means Church Farm Convent and the name derives from a convent for Benedictine nuns situated there from around 1186 to 1550. The area shows many signs of the impact the sister's had. Systrafoss (Sister's waterfall) and Systravatn (Sister's Lake) is just above the town in the highlands. The stories say that they bathed in the lake. But not was all as it seemed for sometimes a golden comb would rise up from the water and if a nun would reach for it she would be pulled underwater and drowned.
Two of the nuns were accused of being sinful. Selling their souls to the devil, speaking ill of the Pope, carrying cardinal bread outside the church and so forth and burned at the stake. They were buried on Systrastapi (Sister's Rock) a rockhill just outside the town. After the Reformation in 1550 one of them was vindicated but the other not. It is said that the burial mound of the vindicated sister blossoms with flowers every spring but the other one doesn't. It takes about 30 minutes to walk to Systrastapi from town. The walk is beautiful and you will pass a stunning waterfall called Rauðárfoss. It is possible to climb to the top of Systrastapi with a rope hanging on one side. For those who can't climb, just walk around the area - it's lovely. The glacier river Skaftá runs through there and the lava flow from the great eruption in Lakagígar in 1783 is all around.
The Lakagígar eruption was in fact one of the biggest and most horrendous eruptions in Iceland's history. The lava flow is the largest there has ever been, in the whole world in fact, (in historic times) around 580 km² and 10-12 km³. It produced a lot of volcanic fumes which poisoned vegetation which led to the death of many animals and people. People lost their homes and livestock which resulted in famine and diseases thrived. This disaster claimed around 11,000 lives, which was ⅕ of the population.
A priest, Jón Steingrímsson, made Kirkjubæjarklaustur very famous in 1783 when he held a powerful sermon in the church in Kirkjubæjarklaustur. The lava flow was heading straight for the town and the people and their livelihood were doomed. The legends say that when he held this "Fire Sermon", it was so powerful that it stopped the lava flow. The town was saved and Jón was a true hero. The church in town was built in 1974 in his memory.
Kirkjubæjarklaustur is a great place to end your day of traveling from Reykjavík throughout the south coast. Before you head off to Skaftafell and Vatnajökull National Park you should find a hotel or camp at the campsite and go for a swim. You can easily spend an extra day(s) travelling around Kirkjubæjarklaustur. There are many things to see f.ex. Núpsstaðir, The Church floor, the volcano Laki, Fjaðrárgljúfur, Stjórnarfoss waterfall, Dverghamrar and many more.
Fjaðrárgljúfur Canyon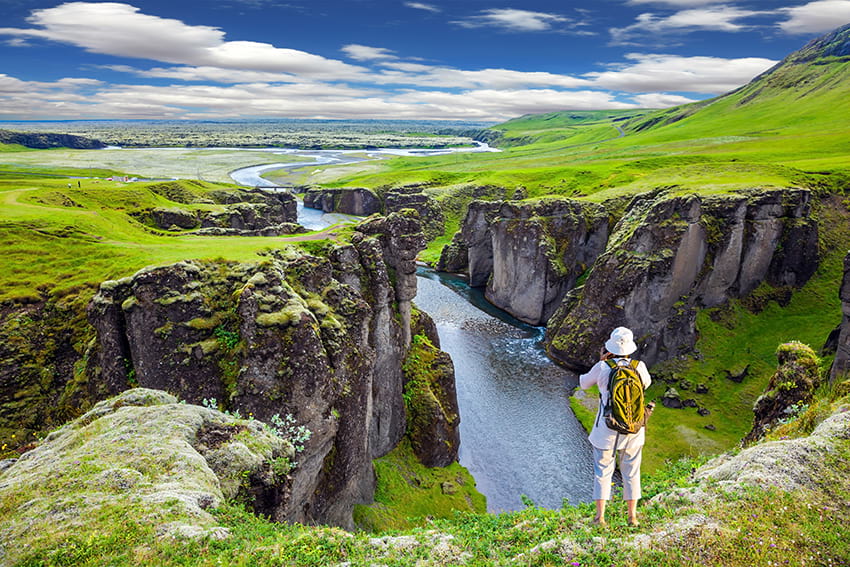 This easily accessible jaw dropping sight is often missed by tourists. It's not right next to the Ring road but close to the town Kirkjubæjarklaustur. Standing on the edge (safely) and looking down at this canyon is something you won't forget. It's around 2 km long and 100 m high and was created by progressive erosion from (most likely) a glacial river from around 10.000 years ago. The fresh water river Fjaðrá runs through the canyon now and that's where the canyon gets its name from. Gljúfur meaning canyon.
You can see a glimpse of the canyon in Justin Bieber's music video "I'll show you".
It's possible to walk down to the canyon and get your feet wet in the river or just watch in amazement from up above.
Skaftafell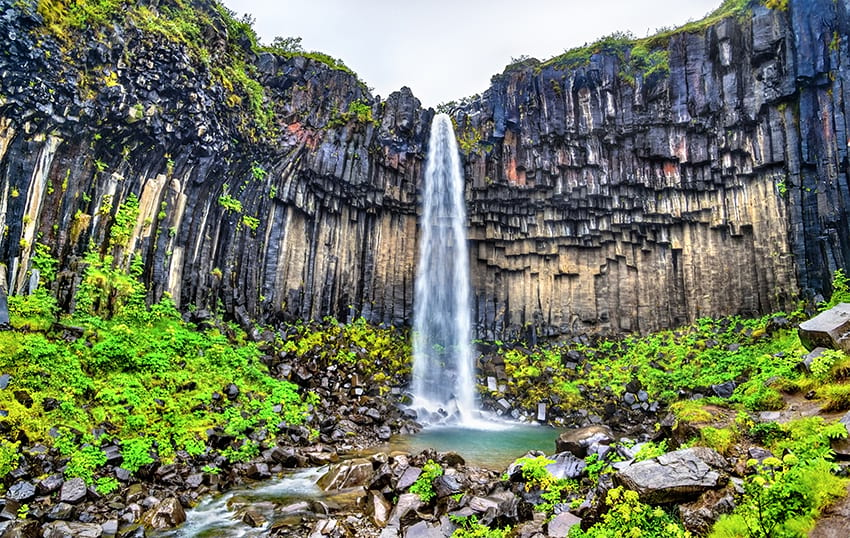 Skaftafell is also an amazing place to visit. It was established as a National Park in 1967 but is now part of the Vatnajökull National Park. There are many hiking and glacier hiking routes in Skaftafell. Visiting in winter is just as amazing as in summer. The outlet glaciers turn from white to blue but be aware that some of the hiking trails can be slippery.
Visit Skaftafell Visitor Centre and learn all about the National Park, the history and volcanoes in their exhibition. They also have a cafeteria that is open all year round. The nearest food service and gas station are at Freysnes, 5 km away.
Vatnajökull glacier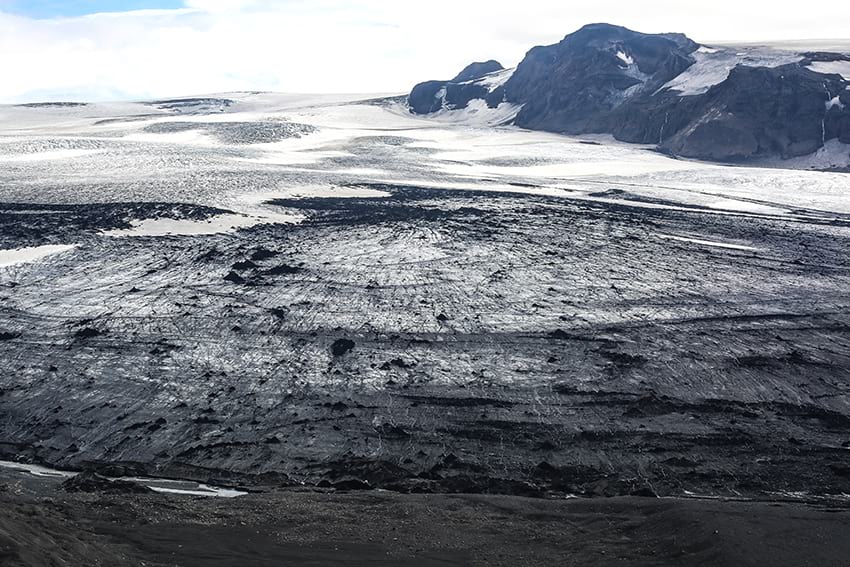 The largest glacier in Iceland and Europe, covering 8% of Iceland, is called Vatnajökull or Water glacier. A beautiful 8,100 km² ice cap, made up of many glaciers through time, is an ecosystem in itself. It's thought to be around 4000-4500 years old and is situated above the tectonic plates between America and Eurasia. No other glacier in the world is situated on top of such power. This results in a lot of volcanic activity. Vatnajökull has, as far as we know, 3 volcanic systems and 7 central volcanoes. Grímsvötn, Bárðabunga, Kverkfjöll and Öræfajökull being the most famous. No volcano in Iceland has erupted as often as Grímsvötn (last eruption in 2011). Bárðarbunga, the second highest mountain in Iceland, is one of the largest volcanic systems in Iceland stretching 150-180 km. I'ts the most active of the four if the amount of magma and ash are taken into the equation. These eruptions have affected the landscape all around the glacier.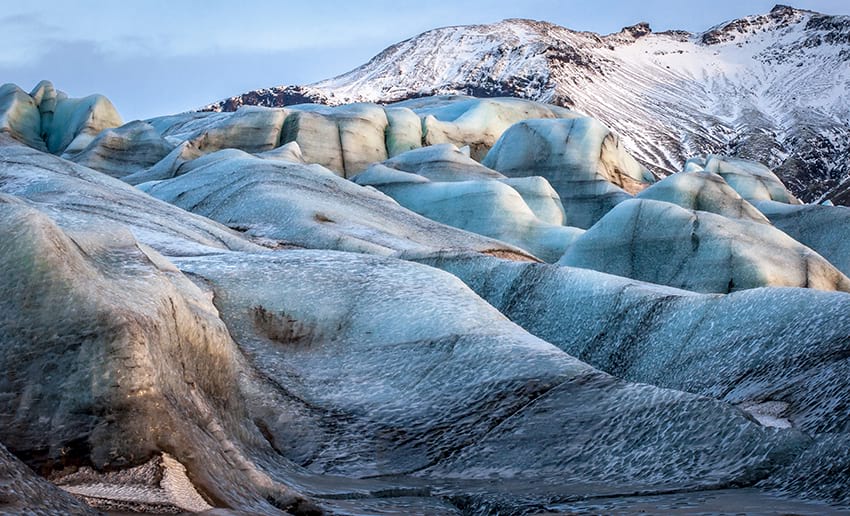 Eruptions under glaciers happen with a bang, the smoking hot lava reaches the ice and ash and magma flies everywhere. Everything turns black. The ice melts and results in massive glacial floods that rush down from the glacier, taking everything in its way. Ice chunks, big rocks, magma, mud and sandy water rush down the sands towards sea at 10-60 km/h. This is what makes the sight of Skeiðarársandur and Breiðamerkursandur seem quite intimidating. And this is also why the South coast has changed dramatically due to nature's power and will undoubtedly continue to do so.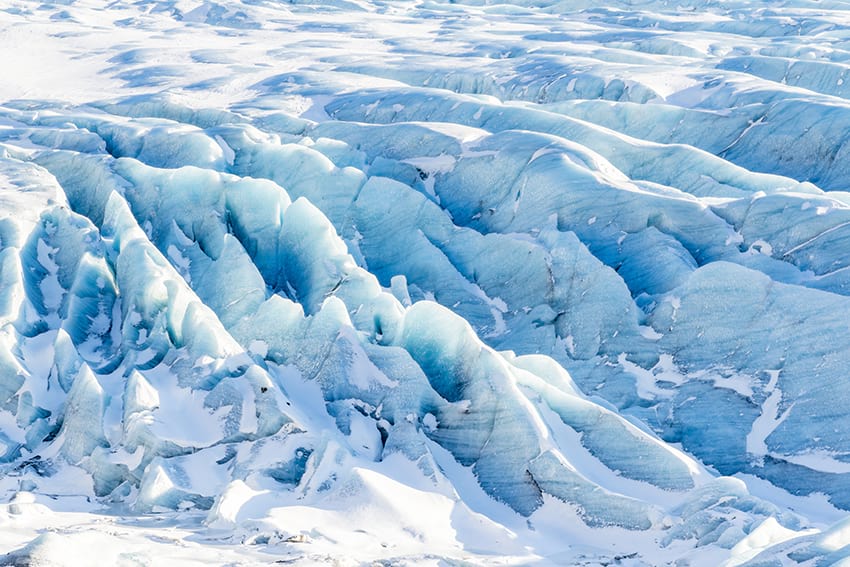 The glacier and it's outlets have been the set for many movies and TV series filmed in Iceland f.ex. Batman begins, Lara Croft: Tomb Raider, James Bond: Die another Day and A View to a Kill. Svínafellsjökull glacier has also gained fame as an attraction after this fascinating site was selected as a location for Game of Thrones season seven to represent "North of the wall."
Öræfajökull holds Iceland's highest peak Hvannadalshnúkur which reaches 2,110 m. It is possible to hike there and reach the summit but you need to have an experienced guide with you. Skaftafell would be the best place to start climbing Hvannadalshnúkur.
Many of Iceland's biggest rivers flow from underneath Vatnajökull f.ex. Skaftá, Tungnaá Jökulsá á Fjöllum, Jökulsá á Breiðamerkursandi og Skeiðará. They are hugely important for Iceland's biggest industry, fishing. As the rivers carry huge amounts of nutrition, the cod breeds where glacial rivers enter the sea.
Vatnajökull National Park was established in 2008. It has been nominated for inclusion in the World Heritage List (2018), which UNESCO is currently looking into. It includes the glacier itself and a vast area around it, including two older National Parks: Skaftafell and Jökulsárgljúfur. This was a huge milestone in protecting this important glacier and its surrounding. The biggest threat though of course now being climate change.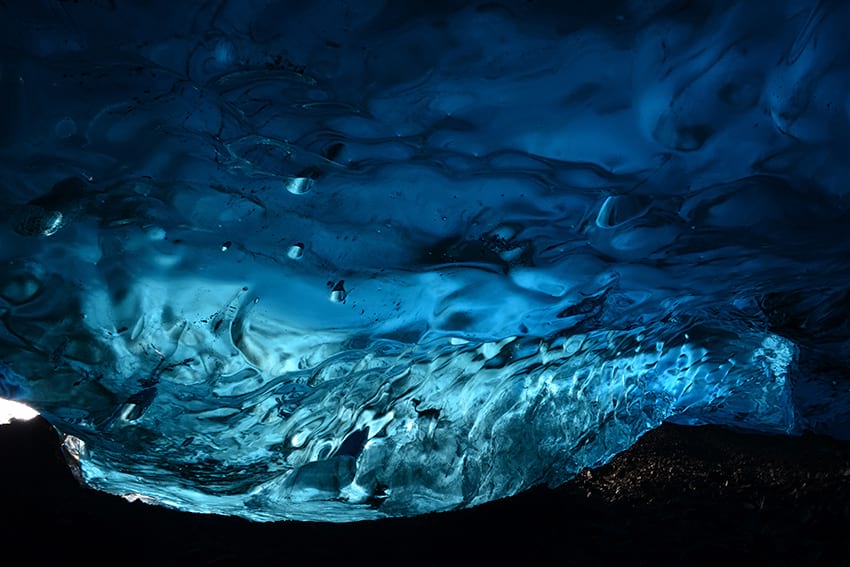 Iceland's most famous natural ice caves are in Vatnajökull, not too far from the Jökulsárlón glacier lagoon. The most famous ice cave is the Crystal Ice cave, an ice cave so large it can fit close to 100 people. In the same area you can find the ice cave Dark Rubin, a smaller ice cave that only fits about 30 people. Both caves are located roughly 5 hours away from Reykjavík and every day multiple tours depart to visit them. Usually taking about 3 hours.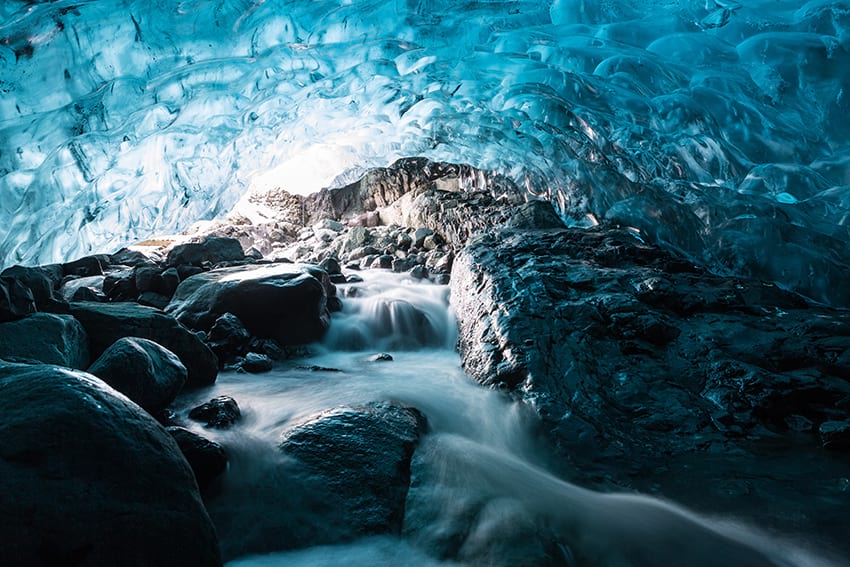 If you wish to visit the ice caves in Vatnajökull we do recommend staying in the area or preparing for a very long day. The natural ice caves in Vatnajökull are only accessible during winter time.
Jökulsárlón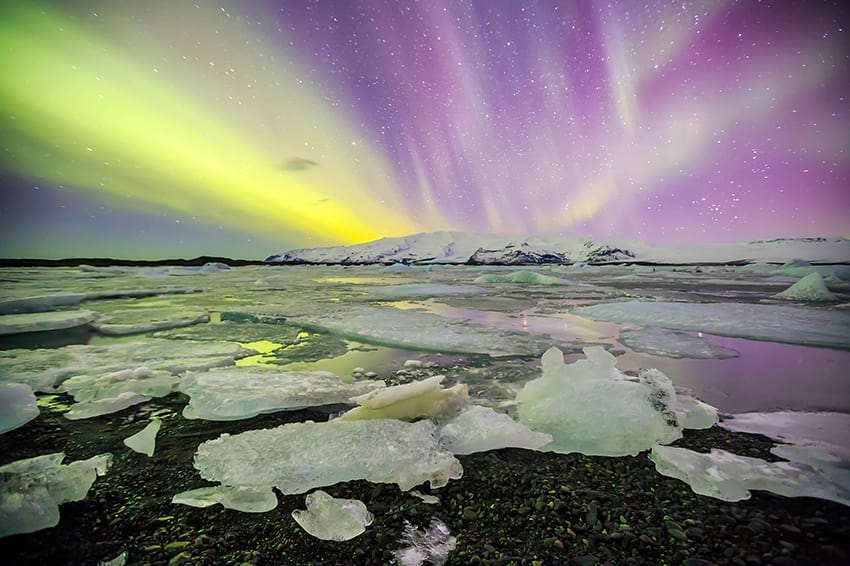 Jökulsárlón or Glacier lagoon is located at the base of the outlet glacier Breiðarmerkurjökull. A blue, still lagoon with huge icebergs moving slowly away from the glacier towards the Atlantic Ocean. An atmosphere you don't experience every day.
Jökulsárlón has been a setting for four Hollywood movies: A View to a Kill, Die Another Day, Lara Croft: Tomb Raider, and Batman Begins. As well as the reality TV series Amazing Race.
You can take a trip in an amphibious vehicle into the lagoon for a closer look at the icebergs or just enjoy the sights from the shore. But whatever you do, don't hop onto the ice or you could find yourself drifting out to sea in a matter of minutes.
There are of course endless opportunities and ways to travel the south coast. And many more sights to see than mentioned here. But which ever way you decide you are guaranteed to have a great day out experiencing a wealth of Icelandic nature. New memories to last a lifetime.
If you are in doubt of what to choose send us an email or give us a call and together we can arrange an unforgettable trip. And if you realise you can't visit all the places you want … well … you'll just have to come back :)