13 tips on driving in Iceland
Our road conditions can be tricky and unpredictable. So here are a few things you need to know. Some of them might surprise you.
Driving in Iceland is amazing but it can be tricky so take precautions and be safe! Road conditions can be unpredictable due to weather and there are a few things you need to know.
If this seems to much for you just book a bus tour throug us – the drivers are all trained and skilled. But to those who want to rent a car and see the sites on your own, here's a list of things to remember:
1. Use good tires designed for the season
The tires must be fairly new, with a good grip and not worn down. This will give you good grip no matter if you are driving in rain, mud, snow or plowing through sheep (see tip #13)!
If driving in winter months make sure your car has either good winter tires or studded tires. Studded tires will come in handy if driving in wet, icy conditions but are not as good for the environment. Having a snow shovel in the car could come in handy if you get stuck in snow or need to bury the sheep.... Note: studded tires are prohibited during summer months.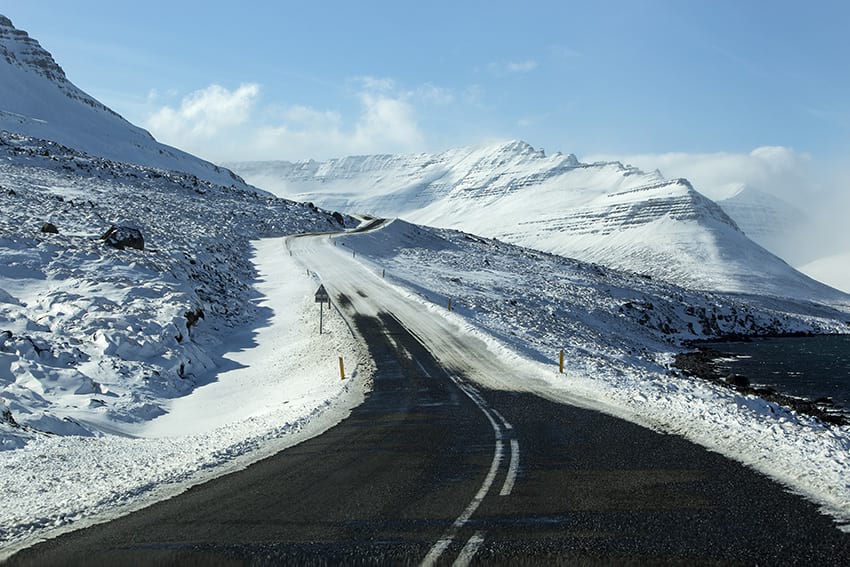 2. Don't forget that seatbelt!
According to the Icelandic law you must wear a seatbelt at all times no matter where you're seated in the car. You will get a high fine if you get caught without a seatbelt. Needless to say children must wear seatbelts or have proper car seats depending on their age. The seatbelt could save your life so make sure to buckle up!
3. Roundabouts are different!
The inner lane always has the right-of-way. So if you're on the outer lane, be aware of cars on the inner lane exiting. You need to slow down or stop and let them pass. If you're on the inner lane trying to exit you must switch on the blinker. Otherwise you'll just go round and round.
4. Speed limits aren't very high
The speed limit is usually 90 km/h in rural Iceland, 80 km/h on gravel roads and 30-60 km/h in populated areas. Take into consideration that road and winter conditions might slow you down. The fines for speeding are quite high so just take it easy and enjoy the view.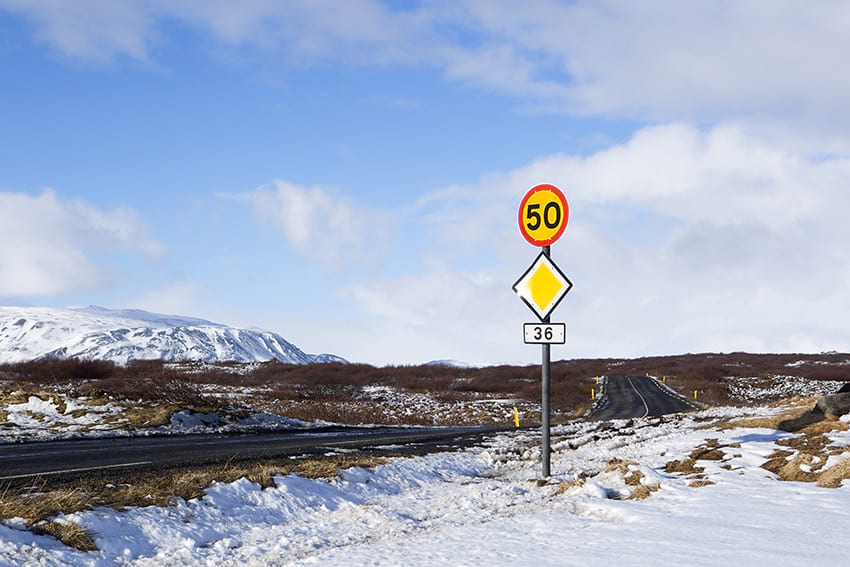 5. Gravel roads = slow down
It's easy to loose control of your vehicle if you speed onto a gravel road. So make sure to slow down (60-80 km/h) and drive carefully. Beware of big holes in the road and loose rocks.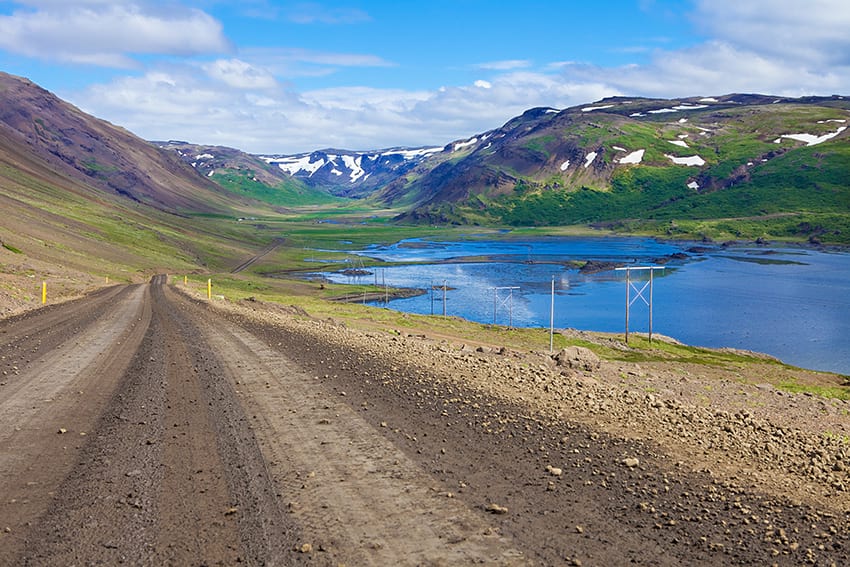 6. We love our single lane bridges but you won't
You´ll come across a few single lane bridges driving around Iceland. The rule is the first car to arrive at the bridge, crosses first. If in doubt stop and make sure you're OK to cross before heading out onto the bridge.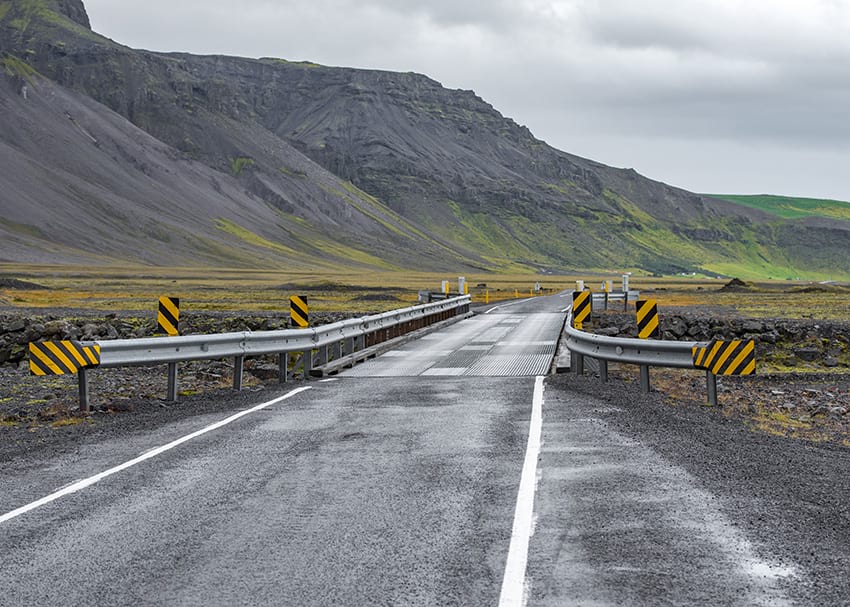 7. Driving in the dark
It can get pretty dark out there in winter months. There aren't any light posts in rural Iceland so you are allowed to use the high beams. Just remember to turn them off before approaching another car so not to blind the other drivers.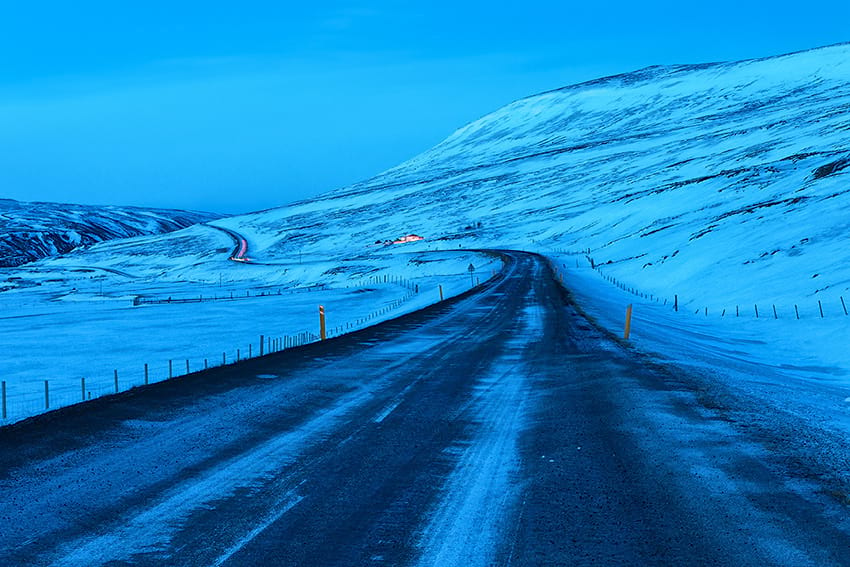 8. No phones while driving
You can get a heavy fine if using your phone while driving. Not to mention how dangerous that is. Focus all your attention on driving and if your mama calls find the next pit stop and call her back.
9. Kodak moments can get you killed
Don't let the idea of a great Instagram photo get you killed. Stopping on the road to take pictures of our beautiful landscape can be dangerous as other cars can appear out of the blue! Find a pit stop or an exit to stop and take that picture safely.
10. Highland roads
Highland roads are closed during winter months. So don't be silly and even try going there, there's a reason they are closed. Just order an amazing highland trip in a Super Jeep with skilled professionals. The highland roads sometimes don't open until June (depending on weather). When planning a trip to the highlands in summer submit your travel plan to ICE-SAR. That will make it easier for them to find you if anything should happen.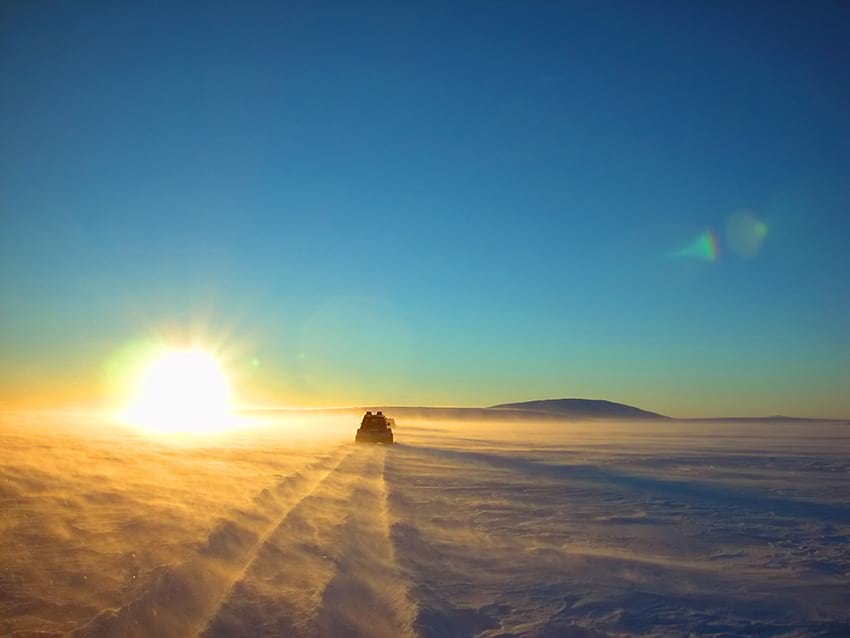 11. Don't go sailing down that river
Highland driving during summer is exciting. Roads can be rough and a large 4x4 vehicle (4WD) is required. You will most likely need to cross an unbridged river. Do not cross if you are uncertain. No insurance will cover the damages of your vehicle. Get advice beforehand. You need to know where and how to cross it. The Icelandic Search and Rescue has more info.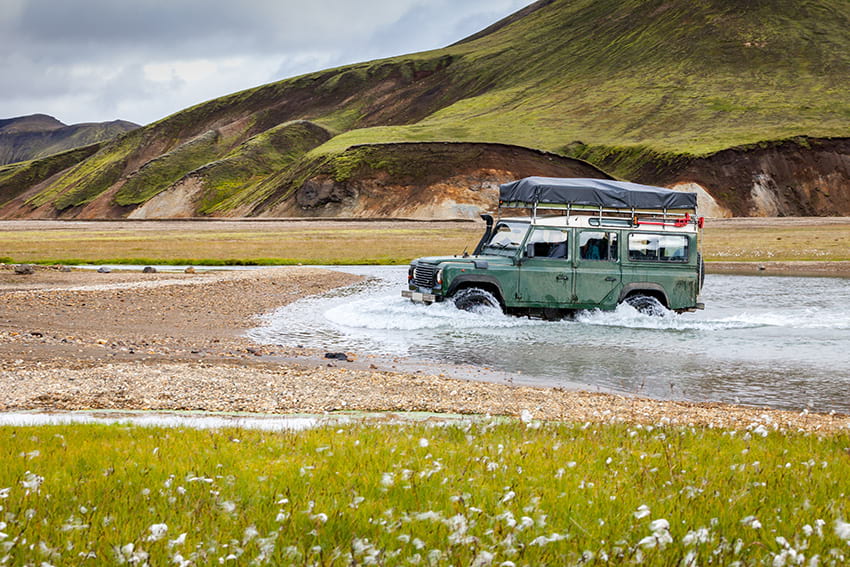 12. Driving off road
Respect our nature! Driving off road might seem like a fun idea but it is strictly forbidden. It will result in a high fine and many angry Icelanders! Trust me, you don't want a mob of angry vikings chasing you or invading your country.
13. Beware of the sheep!
In the summer months one of the dangers on the Icelandic roads are sheep. No joke! They are free spirited creatures and roam free, but don't always have good instincts when it comes to traffic. They might even think it's heroic to run in front of a car to get to their lambs if a car comes by. So be aware and slow down if you see sheep on the side of the road. You will be liable if you hit a sheep and will have to pay the farmer a fine.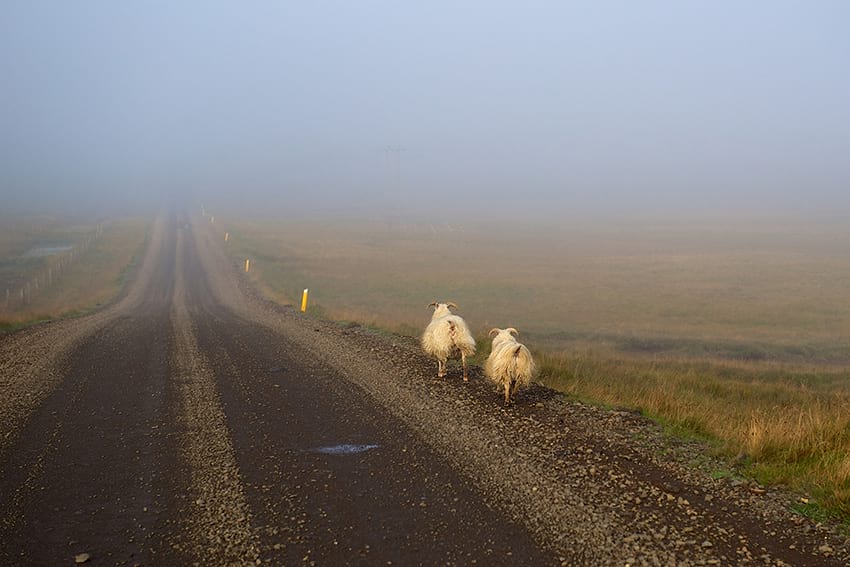 Additional resources and official information...
The offical website for the road administration is a great guide when driving in Iceland. It´s the best way to find information about road condition and you can see web cams on roads all over Iceland. You can also call 1777 from 6:30-22:00 in winter and 8:00-16:00 in summer. And they will answer all your questions on road conditions and weather.
When you plan on driving outside of Reykjavík you need to check the weather forecast daily. The Icelandic weather can change rapidly. You might have heard the saying: If you don't like the weather in Iceland just wait 5 minutes. The weather might seem fine in Reykjavík, but the first mountain pass out of town might be closed due to weather! Watch out for winds higher than 15 m/s as winds in mountanius areas can be more vigorous.
The Iceland Association for Search and Rescue have a website on safe travelling. You can download the 112 Iceland app which is an Emergency app if you get into trouble. You might not realize but submitting your travel plan to ICE-SAR is really important. By doing so ICE-SAR will have the information needed if something should go wrong.
The Icelandic Transport Authority has tips on driving. As well as images of Icelandic road signs. You'll also find weird but informative videos about an elf hijacking a ride with a tourist family and teaching them road safety.
Also check our Safe travel in Iceland and 6 Essential Tips for Driving in Iceland
So remember:
Be prepared and drive carefully.
112 is the emergency number in Iceland.
Be safe and ... have fun!