Golden Circle & Secret Lagoon
Enjoy a relaxing visit to the natural hot springs, known as the Secret Lagoon after seeing some of Iceland's most famous sights.
Add to my
• Product ID:
18627
Operated by Reykjavik Sightseeing
Duration: 9,5 Hours
Very easy
Electronic voucher
Pickup available
Book online and get instant reservation confirmation
Description
Hidden Treasure & The Golden Circle
Enjoy a relaxing visit to the natural hot springs, known as the Secret Lagoon after seeing some of Iceland's most famous sights.
On the way to the lagoon we take in the beautiful scenery at Þingvellir National Park, see the spouting Geysir and the thundering waterfall Gullfoss. We either start or nish at the Secret lagoon.
The pool's natural surroundings and steam rising into the air gives the place a magical feeling.
Around the Secret Lagoon you find several hot spots. A walking path has been built so you can have a closer look at the boiling, hot springs and a little Geysir which erupts every 5 minutes, showing o for the guests relaxing in the hot spring.
Itinerary
Starting off in Reykjavik from our Reykjavik terminal at Skógarhlíð 10 we will depart for Þingvellir, a 45-60 minute ride.
The tour starts with Þingvellir National Park, the UNESCO World Heritage Site. Here you walk down the path into a rift valley and admire the view while learning about Icelandic history.
The next stop is at Geysir Hot Springs, the home of the one-and-only original geyser and Iceland's most iconic natural attraction. Steaming hot water erupts from the famous Strokkur Geyser every few minutes.
The Gullfoss Waterfall, an awesome sight to behold, is the next stop. Here a powerful glacial river cascades down 32 meters on two levels and into a narrow canyon with a thunderous roar.
A short 30 minute ride brings you to the Secret Lagoon, where you will have about 2hrs to enjoy the relaxing waters of this natural hot spring pool.
We then drive you back towards Reykjavik to our Reykjavik Terminal. If you booked a SmartBus pickup, you will be taken back to your place of stay from here.
This tour is 9.5 hours long including travel time and the time you spend at each location. You spend at least 45 minutes at the major stops giving you plenty of time to enjoy the nature and to take some pictures.
Total distance covered: 290 km or 180 mi.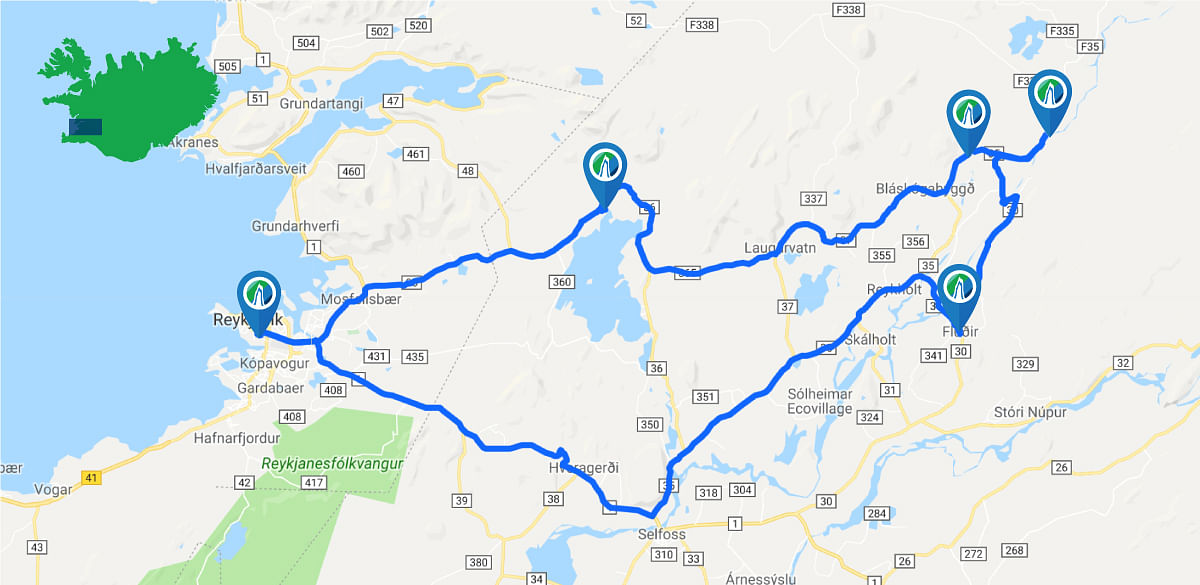 What's included
In bus audio guide with a choice of 10 languages (English, French, German, Dutch, Italian, Spanish, Chinese, Japanese, Korean and Finnish)
Knowledgeable local guide
Admission to the sights
Free Wi-Fi and USB-charger for each seat
Admission to the Secret Lagoon
What do I need to bring
For the In-Bus-Audio-Guide: Bring your own headphones. Otherwise headphones are available for purchase in every bus from our hosts. 
For your comfort: Dress according to weather. In Iceland it is always wise to dress in warm waterproof clothes. Weather changes can be sudden so be prepared for all weather conditions. Waterproof jacket and pants, headwear and gloves, and warm socks/waterproof shoes are recommended.
For the Secret Lagoon: Swimsuit and Towel. These may also be rented at the secret lagoon. 
$
105
9,5 Hours , Very easy