The Classic Golden Circle Tour
A classic tour of the Golden Circle. See the world famous erupting geyser & hot springs, experience the magnificent Gullfoss Waterfall and follow in the footsteps of the Vikings, as you walk down the lava canyon in Þingvellir
Duration: 7,5 Hours
Very easy
Electronic voucher
Pickup available
Book online and get instant reservation confirmation
Description
The Golden Circle is one of Iceland's most popular tourist attractions and for good reason. This classic tour takes you to some of the country's most stunning natural wonders, including the geyser, hot springs, and Gullfoss Waterfall. You'll also walk down the lava canyon in Þingvellir, making this an unforgettable experience.
Highlights
Main sights and highlights
Geysir and Strokkur
Gullfoss waterfall
Þingvellir national park
GPS activated audio guide
Geysir
Iceland is a land of fire and ice, and there's nowhere more amazing to witness this than at Geysir. Home to the world-famous Strokkur geyser, which erupts every 6-10 minutes, this is a place of raw natural beauty that will leave you in awe.
Getlocal offers the opportunity to explore this unique landscape up close, with guided tours and informative commentary from our experienced guides. This is a once in a lifetime opportunity to see one of the most incredible natural phenomena on earth, so book now and let us show you the wonder of Geysir!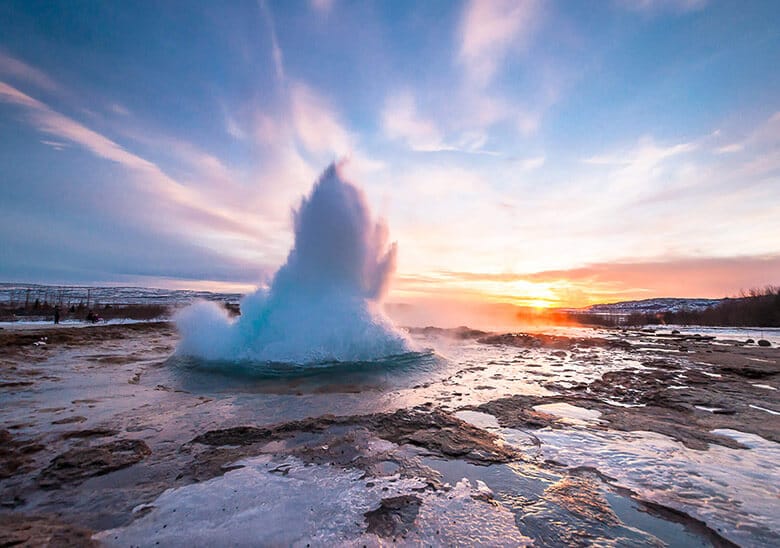 Gullfoss waterfall
Do you love adventure and stunning natural beauty? Then you'll fall head over heels for Gullfoss waterfall! This majestic cascade is one of Iceland's most popular tourist attractions, and it's easy to see why.
The waterfall originates in the Langjökull glacier, and gets its name from the stunning gold hue it gives off as it tumbles down into the canyon. The waterfall drops down into a crevice of 32 meters (105 ft) in two steps, with each being around 11 or 21 meters high. On many occasions, rainbows can be spotted in the falls thanks to the refracted light.
Whether you're admiring it from afar or getting up close and personal, Gullfoss will stun you either way.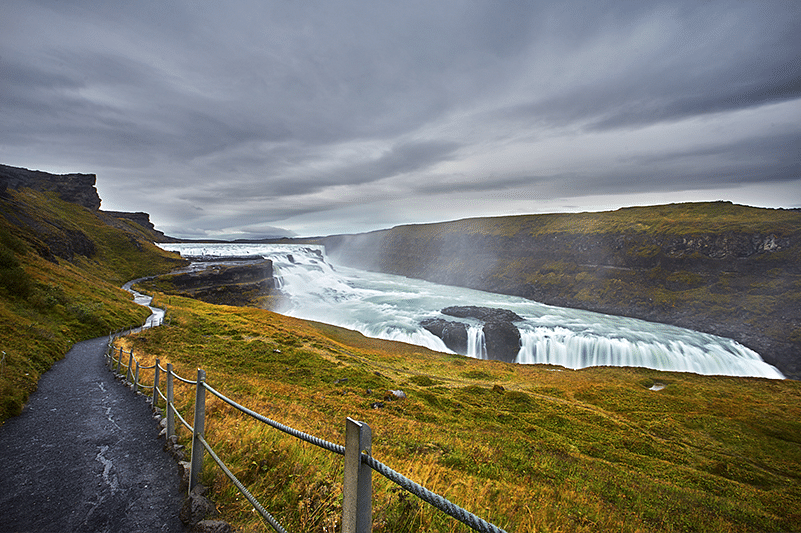 Þingvellir National Park
Looking to explore one of the most historic and naturally beautiful places on Earth? Then look no further than Getlocal and our amazing tour of Þingvellir National Park in Iceland!
On this tour, you'll not only get to see the stunning landscapes that have inspired painters for centuries, but you'll also learn about the fascinating history of this place. Did you know that the world's first parliament was established here by the Vikings in 930 AD? Or that Thingvellir was designated as a World Heritage Site in 2004?
Whether you're a history buff or nature lover, this tour is sure to delight and inspire you. So come and join us on an unforgettable journey through one of the most special places.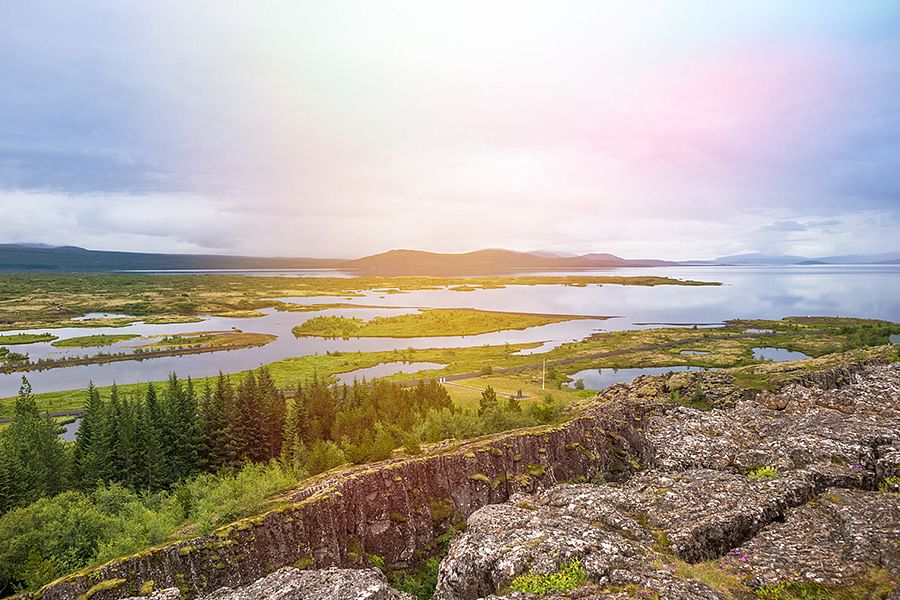 GPS Activated Audio Guide
The all new bus fleet is equipped with WiFi connected computer tablets in each seat. On the tablets you can use the Audio Guide that will will tell you interesting facts about Iceland and the places you are travelling through. The audio guide is available in 10 languages: English, French, German, Dutch, Italian, Spanish, Chinese, Japanese, Korean and Finnish.
Itinerary
Starting off in Reykjavik, you will picked up from from either your accommodation or the nearest pick up stop in downtown Reykjavik.
The tour starts with Þingvellir National Park, the UNESCO World Heritage Site. 
The next stop is at Geysir Hot Springs
Last stop is Gullfoss Waterfall
We then drive you back to Reykjavik and drop you off at your accommodation or nearest pickup stop.
This tour is 7.5 hours including travel time and the time you spend at each location. 
You spend at least 45 minutes at the major stops giving you plenty of time to enjoy the nature and snap some photos.
Total distance covered : 290 km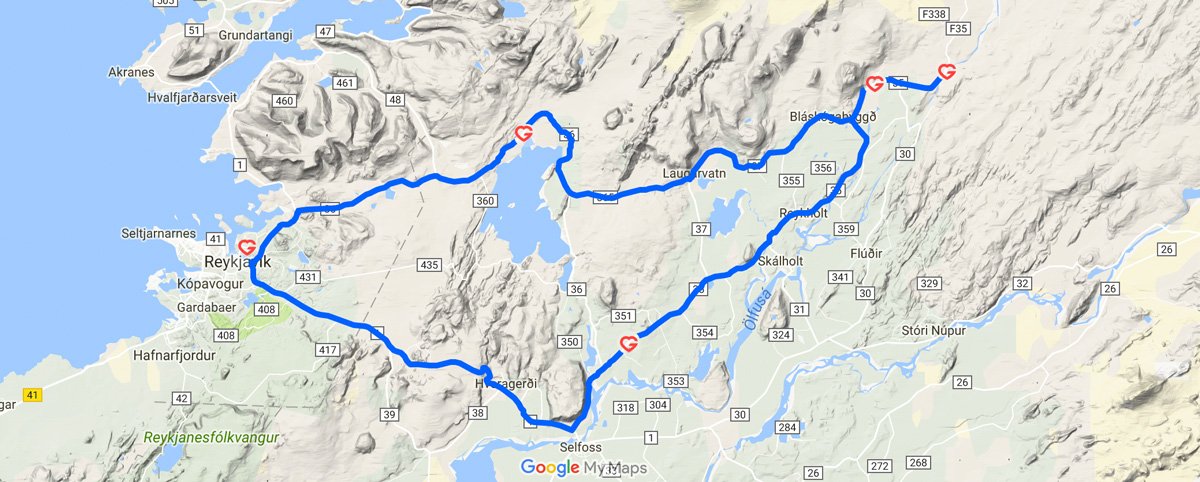 Important information
Pick-up starts 30 minutes prior to departure. Please be ready at your pick up point with your voucher, either in digital or printed form.
You will be traveling in a coach that holds approximately 40 people but is very spacious and comfortable. There is not a bathroom on the bus but there will be plenty of stops where facilities can be used. The bus offers free wifi and a USB charging port.
Lunch is not included, In Geysir & Gullfoss there are shops where you can buy food and drinks.
What's included
In-bus audio guide with a choice of 10 languages (English, French, German, Dutch, Italian, Spanish, Chinese, Japanese, Korean and Finnish)
Knowledgeable local guide
Admission to the sights
Free Wi-Fi and USB-charger for each seat
What do I need to bring
For the In-Bus-Audio-Guide: Bring your own headphones. Otherwise headphones are available for purchase in every bus from our hosts. 
For your comfort: Dress according to weather. In Iceland it is always wise to dress in warm waterproof clothes. Weather changes can be sudden so be prepared for all weather conditions. Waterproof jacket and pants, headwear and gloves, and warm socks/waterproof shoes are recommended.
$
88
7,5 Hours , Very easy