Seyðisfjörður, the secret gem of the East
What do the following have in common?
Vikings tales, mountains, waterfalls, whales, puffins, bohemian vibes, art festivals and tasty food.
If you answered that these were all highlights of the east of Iceland then you would be right! And leaving the main road to visit Seyðisfjörður will both enchant you and leave you with a number of happy memories.
I've been very lucky to have spent the summer of 2017 living and working in Seyðisfjörður, on Iceland's North East Coast. Of all the places I've visited in Iceland, this small village with its 700 inhabitants will always have a special place in my heart.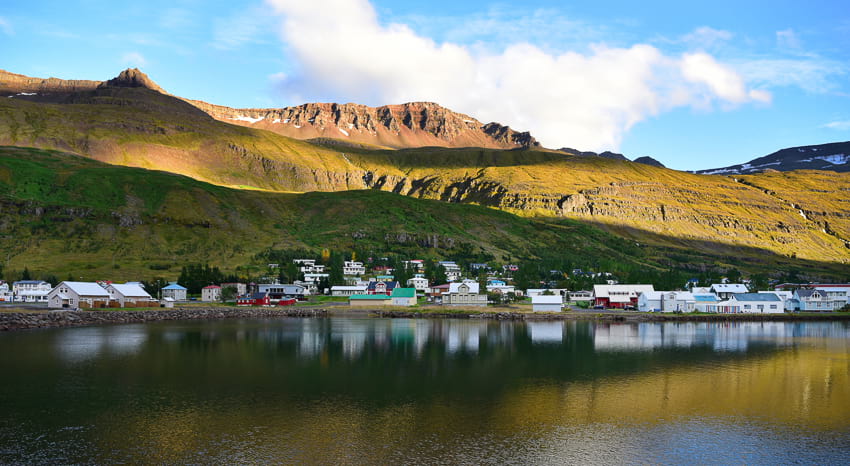 The town of Seyðisfjörður
Sitting at the very end of the fjord of same name, Seyðisfjörður is a visual feast of colour. If you have time to take a diversion from your ring road adventure, then there are so many things to see and to do that it really deserves at least a couple of days of your time.
The main road to reach the fjord is the one from Egilsstaðir, the town that's the crossroad of the North East. Egilsstaðir also has a local airport with frequent flights from Reykjavik, offering a quick and easy way to explore both the east as well as the north.
The view of Seyðisfjörður as you are driving down the road from Egilsstaðir is definitely unforgettable. The sudden view of the port, the harbour, the multi coloured houses and the surrounding mountains, all covered in the blue of lupins during the summer, will leave you breathless.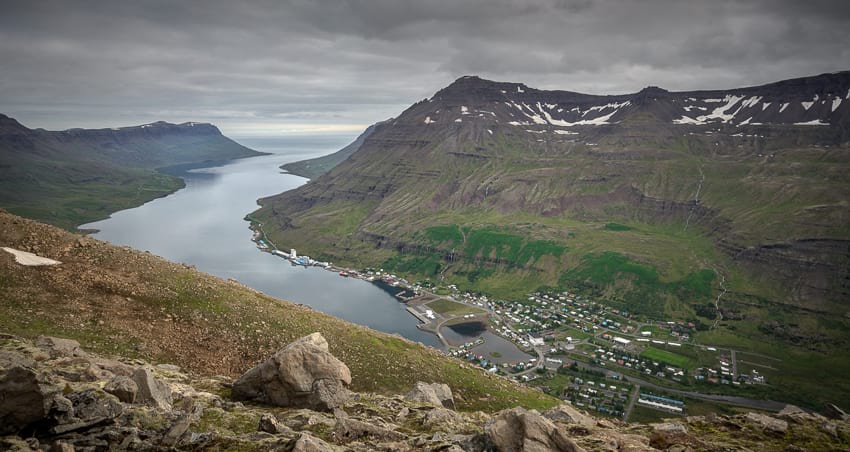 Seyðisfjörður
There is however, another way to reach Seyðisfjörður (WEB cam). Other than being a stop for cruises departing during the summer bound for America & Greenland, all year round the port is connected once a week to Denmark by Smyril Line. The huge MS Norröna is no mere ferry but rather a large cruise ship, with all comforts on board: restaurants, cinema, shops and even a hot hub! It's not rare in the summer, when the ferry arrives, to see flocks of motor bikers on fabulous Harley Davidson's hanging around at bars, ready to start their Icelandic adventure "easy riders" style!
History
The history of Seyðisfjörður dates back to the Vikings age. Graves dating back as early as the the 8th century have been discovered in the area and also the burnt ruins of a staf church built in the 10th century. The first settler was Bjólfur, who gave the name to the highest of the mountains surrounding the fjord.
The nucleus of the town as we see it now was built by Norwegian fishermen starting from 1848. One can clearly recognise the Scandinavian style in the many wood buildings still existing in the village. One of the landmarks of Seyðisfjörður is The Blue Church / Bláakirkja. This simple pale blue church lies in the centre of town, and it's open to visitors in the summer, when there's also a series of concerts featuring classical and traditional folk musicians. The musical connection goes further though as inside there is a pipe organ. The Blue Church was actually moved several times, from Dvergasteinn farm to the hill overlooking Vestdalseyri, and many times was damaged or destroyed by fire, before finding its final home in 1920.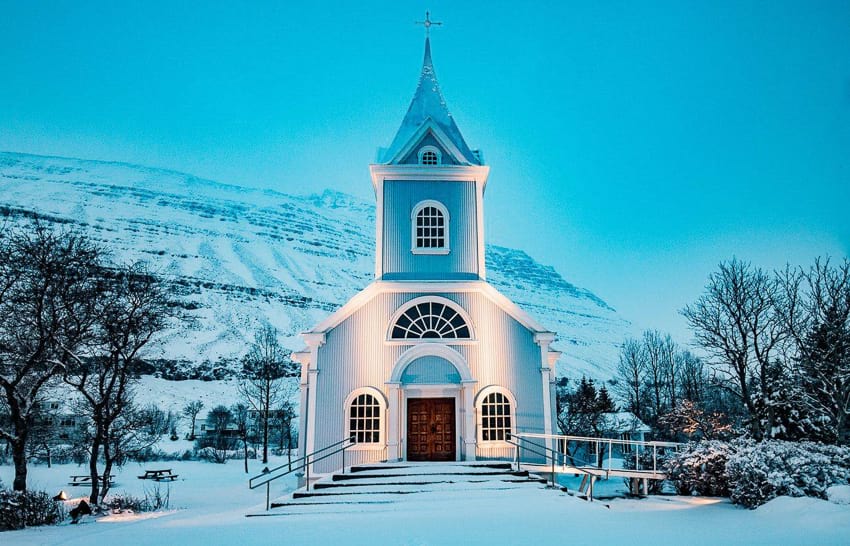 The Blue Church
The huge windows, bright colours of walls and the simple wood decorations give visitors a true sense of simplicity and calm. In Seyðisfjörður there is also an indoor swimming pool, with sauna and two hot hubs, a public library, a pharmacy and a supermarket, plus several art crafts shops selling all colours and sizes of Icelandic traditional wool sweaters and local design's items.
Nature and Sports
There are many activities available for both nature and adventure lovers in the fjord. At the tourist information point you can book tours and find maps for local hiking trails. Whale watching is always a solid option and in the May of 2017 I was lucky enough to see whales jumping right in front of my room's window, only 1 km from the town centre! Whales spend the winter in the fjord, when water is warmer there, then move to open sea for the summer.
Other activities that you can book include boat trips, kayak tours, rent a bicycle, or for a real challenge try paragliding. It's also possible to go fishing, and outside town Hagavollur is a nine-hole golf course with a club house, where you can hire equipment. In winter season Stafdalur Ski Area is open on Fjardarheidi heath, located 9km on the road to Egilsstaðir. With 1.600m of ski lifts and a ski run good for children as well as adults, you're going to have too much fun to mind the cold!
Warmer seasons offer some spectacular options for avid hikers! There are many trails on both sides of the fjord. The most famous one is The Waterfall Lane, which starts nearby the swimming pool. As the name suggest, this two hour walk will take you along the river Fjardarsel, crossing small rivers and forests in the search of waterfalls. Iceland is of course renowned for them, but here you can see, one after another, the grand amount of 25 waterfalls! Enough to fill your camera's space and wonder where on Earth there could be more. Mind to wear proper hiking boots and to bring sticks, because some parts are a little difficult.
If you're well exercised why do not try the Seven Peaks mission? This is a mission indeed, and the prize is to earn the official document crowning you as a "Seyðisfjörður Mountain Viking". The goal is to climb, in 24 hours, all the seven mountains surrounding the town and fjord. The highest (1085m) is the majestic and monumental Bjólfur. As with any serious mission, you'll need a special map, available at the information centre.
Mountain Bjólfur
On each mountain's top you'll find a container with a guest book to sign and a hole puncher, with a different pattern for every mountain, that you must use to punch your map in the stated place. After climbing all seven peaks, go back to present the map with holes at the information centre and you'll get your precious reward...on top of all the inspiration, wilderness and fairy sceneries you'll have experienced and enjoyed throughout this incredible journey.
Skálanes
At the southern end of the fjord, 17km from Seyðisfjörður, flourishes the natural reserve of Skálanes. If I were to imagine a heaven on Earth, I couldn't imagine a different place than this.
The area here is completely devoted to wildlife, with seals, whales, reindeers and 47 species of birds. From late May to July the famous puffins also migrate here in large colonies to build their nests. Skálanes is accessible only by foot, jeep or by mountain bike, because there are rivers to cross to reach the research and information centre at the very heart of the park. There is also a Mountain Lodge where you can sleep overnight.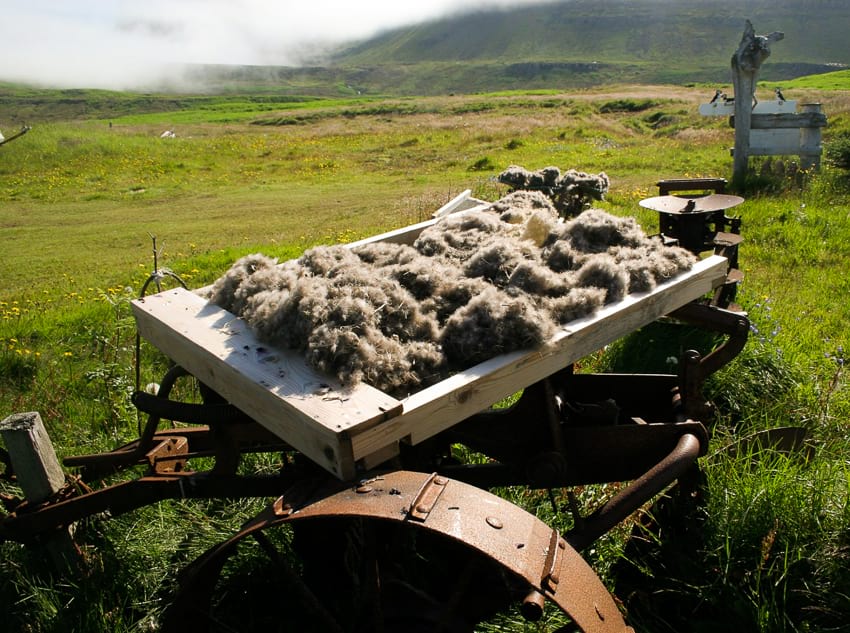 Newly picked eiderdown
If you have a standard car you must leave it at the parking area by Austdalsá river, and from there it's 30 minutes quite easy and scenic walk. In the lucky event you have more time my advice is to walk from Seyðisfjörður – that's what I did! - or to go by bike. It's a 3 hours hike but not difficult at all. Step by step you'll see the fjord turning into open ocean, you'll meet sheep and Icelandic horses and you can also visit a real Viking archaeology site. Right after the parking area, if you're visiting early summer, be careful of the arctic ferns! These noisy white little birds have large colonies in the area, and you can expect them to dive from the sky to bite your head...and it hurts!
They're not crazy and evil, but they have nests they want to protect. A simple hat or umbrella will keep you safe. Or you can use the simple trick, that I tried myself, to collect a lupin flower and wave it above your head! Once you arrive at the information centre you'll appreciate it being warm and cosy, with sofas and free coffee and tea for visitors. All around there are sightseeing points to observe the birds and wildlife. Skalanes is also a research point, with scientists and students from all over the world living and working there to study geology, wildlife and ecosystems. Even if you spend a few hours there, the sense of freedom and true wilderness won't disappoint.
Tvísöngur
Another easy and short hike is the one to reach Tvísongur, a sound sculpture built in 2012 by German artist Lukas Kühne.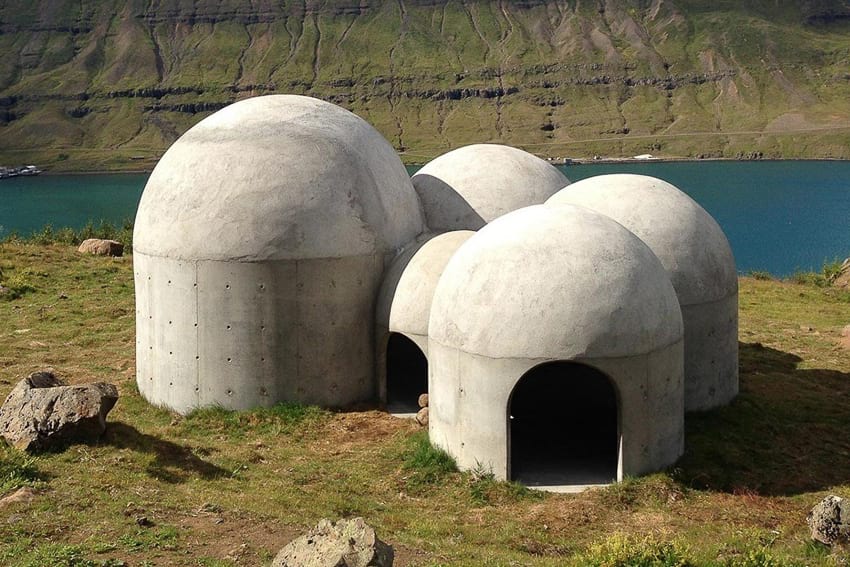 Tvísöngur
Tvisongur is on the mountainside in front of the old fish factory on Hafnargata, where there are clear signs showing the direction. It's only about 20 minute climbing, but it's best to wear waterproof shoes because there are small streams of water to cross. When on top you'll find the 5 concrete domes of Tvisongur, the smallest being 2 meters tall, the tallest being 4 meters tall. Each dome has its own resonance that corresponds to a tone in the Icelandic musical tradition of five-tone harmony and you can experiment with it using your voice.
You can also enjoy a stunning view of the town and the port in a complete silence and tranquillity, perfect for meditation and relaxing.
A town for artists
Both nature and the Arts go hand in hand in Seydisfjordur, inspiring and encouraging each other, It's impossible to miss the creative vibes in the air.
Wandering around the streets it's like walking in a surrealist painting. Gardens are decorated with strange and sometimes funny statues while creatures made up from woods, iron or recycled materials roam free. House walls are all in different colours, many of which feature drawings and naïf paintings. It's not a coincidence that artists from all over the world are moving to this very special place to work at their projects. There are actually two art residencies in town.
Artists whose applications are accepted can live for a small fee in studios where they can use all available equipment and tools. Heima Art Residency is an independent non-profit organisation founded in 2013. It can host 6 emerging artists at same time, living and working in a 350 square meters space. Sometimes Heima also organises special events to showcase the work in progress of artists in residencies. I went to one in an abandoned fish warehouse early September 2017. With minimal music, movies and art installation, it was so mesmerising and exciting!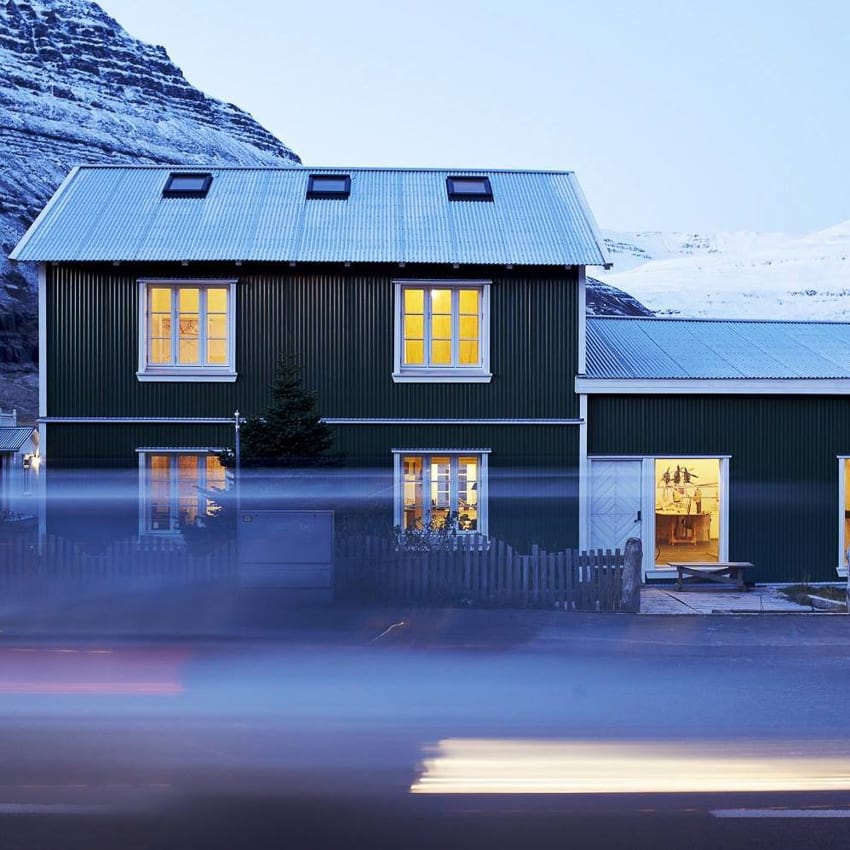 Heima Art
Skaftfell Art Centre is an institution, not only for Seydisfjordur but for whole Iceland. Its goal is to nurture and exhibit visual art, the main emphasis being on contemporary art. Skaftfell was founded in 1998 by a group of art enthusiasts, and it's dedicated to the memory of the Swiss artist Dieter Roth who lived and worked in Seydisfjordur during the last decade of his life. Skaftfell building is a grand old house from 1907, that's on Austurvegur, on the back of the gas station on Hafnargata. At ground floor a delicious bistro, serving international dishes like pizza and soups reinvented with local ingredients like blueberries and reindeer's meat. It's a great place to hang out with friends and family, featuring board games, art books, a record collection and of course free wifi. A staircase beside the bar leads to first floor, where there the Art Gallery is located. All throughout the year it schedules temporary exhibitions focusing on visual contemporary arts. There is also a shop, where you can find souvenirs, art books and prints. The apartments at top floor are for artists in residency.
Skaftfell also organizes various seminars, in collaboration with the Icelandic Academy of the Arts.
There are also other Art Galleries in town for local talents, and my favourite is Gallerí Vigdís. You will find it behind the Blue Church mentioned in an above section, and with the outside walls painted with cartoons you cannot miss it! Inside the space you'll find all the most incredible objects, all made by Vigdís Helga Jónsdóttir and her husband Sigurður Hauksson. There are icelandic sweaters, and many sorts of decoration objects such as: candles, mirrors, statues and paintings. Vigdís puts in shapes of trees, crows and elves a dark and gothic tone with black humor. She also makes jewels from weird and unusual materials, like horse's hair, fish bones and seaweeds.
LungA Art Festival
At the peak of the summer season there is a very special event in Seydisfjordur. LungA Art Festival – which in 2018 will be from 12th to 22nd of July - transforms the village into a stage for a wide selection of artistic expression. Performances, concerts, dancing, theatre, poetry reading, comedy, visual exhibitions take place in every corner of the town, culminating in a two night music festival showcasing old and new talents from all over Iceland and abroad.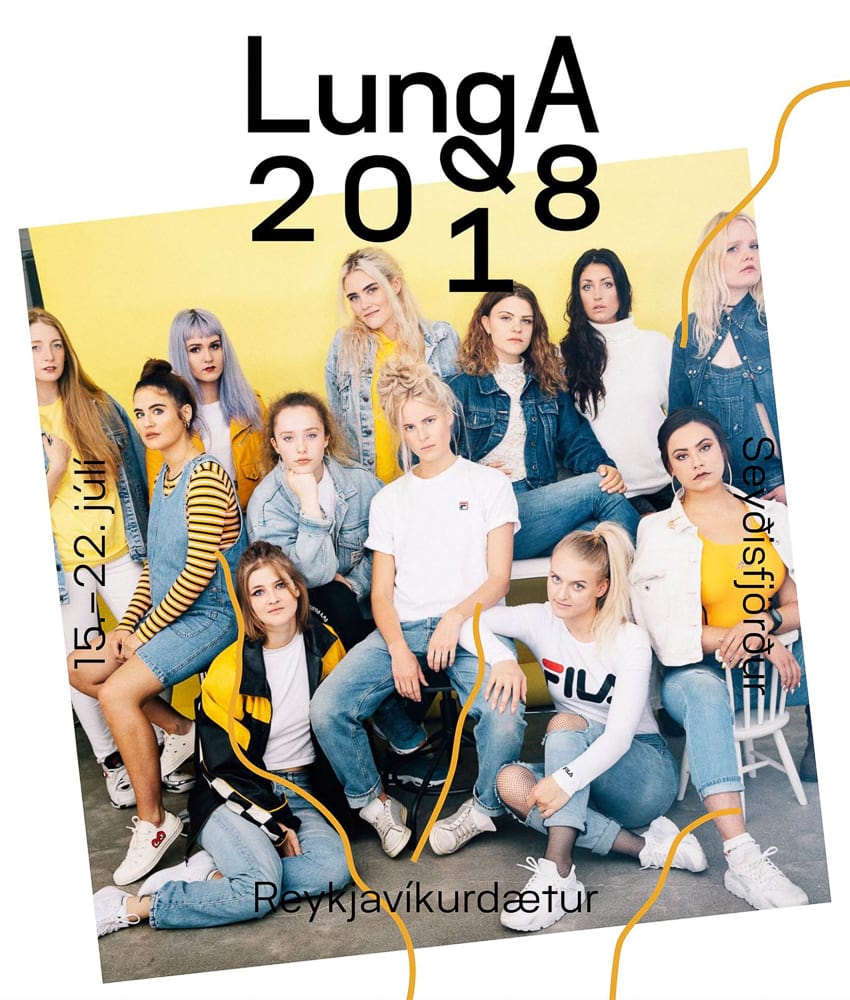 In 2017 there were 3000 people for the final night, with groups of friends travelling from Reykjavik to enjoy music and dancing under the bright clear sky of the Icelandic midnight sun. The best thing about LungA is that it is a community festival. Volunteers fly from all over the world and give their contributions towards the decorating, planning, cooking and even....cleaning! Last year there were boys from Poland and two energetic and very creative girls from South Africa in charge of building from second-hand materials the set for the festival, enclosing a working yellow lighthouse. This friendly team nurture the Festival with positive energies and the healing powers of arts and culture. LungA also schedules workshops, some of them for children, to learn and experiment with different forms of creativity.
And when all seems quiet, from October to December, LungA people in Seydisfjordur take care of an international school. Young students from different countries arrive in town to live together for 12 weeks, developing art projects and learning new skills.
The Technical Museum of East Iceland and Blacksmith Festival
The last weekend of July is the date for The Blacksmith Festival, organised by The Technical Museum of East Iceland on Hafnargata. This one is more a gathering and a meeting place for professionals interested in traditional jobs and skills. There are workshops and demonstration for blacksmithing, knife-making, metal casting. screen printing, crafting tools for agriculture, printing analogue photographs in a dark room. Of course there's the fun side, with music, dancing, and home-made food served at the old pier in the harbour for affordable prices. During the days of the Festival there's free entry to The Technical Museum of East Iceland, established in 1984.
The Museum is worth a visit anyway, and in other periods you won't regret paying a few kronas for two floors of exhibition focusing on the influx of modern times on local way of life from 1880 to 1960. You'll get astonished by the amount of forgotten objects you'll see. Old phones and typewriters, the very first computers, cinema projectors, and even an old medical studio.
On one of the tables upstairs you can spot a massive book with photos and history for every house of Seydisfjordur. A black and white movie will teach you how life was in the village when fish processing was main activity for local economy.
Where to stay and eat
If what you have been reading has inspired you to spend one or more days in Seydisfjordur, there's plenty of options when it comes to places to stay. From April to October the town is full with travellers, well catered by hotels, guest houses, B&Bs, two Youth Hostels and a fully serviced campsite. Whatever your budget you can find the perfect spot for you. Aldan is the most famous and oldest hotel, open all year and hosting guests in different buildings. It's also expensive, but it is worth to try their Nordic Restaurant and their sushi bar, where they serve fresh local fish japanese style. Nordic's menu uses local ingredients as lamb and cod but with a modern twist, playing with traditional dishes from italian, french, spanish and british cuisine. Their nachos with fresh creamy local cheese are tasty and perfect. And I can only praise the grilled cod, stuffed aubergine and the tuscan-style basket of bread served with herbs and olive oil.
During the summer is great to dine on the tables outside, smiling at people and enjoying the sun. For colder days, ask for a table in the back room, with view on the bay. For a bargain go there for lunch. Between 12 and 3pm there's usually a 2 for 1 deal, a good one to try whatever you like without worrying about the bill! On other side of the street there is Kaffi Lára - El Grilló Bar, another good place to hang out. It's more pub style, serving big burgers with vegetarian choices, grilled meat and fish and an interesting choice of local and international beers, both draught and bottled.
All this on Ránargata, the tiny street leading to Blue Church paved with stones painted in rainbow colours. "Somewhere skies are blue and the dreams that you dare to dream really do come true."