The Magnificent Snæfellsnes, the Alternative Route
When travelling by car it is almost by default that travellers follow the beaten track. But why not take the alternative route if possible and add a bit to the unexpected and surprising moments of your travel experience? Nothing ventured, nothing gained!
The Usual Route
When travelling from Reykjavík to the captivating Snæfellsnes peninsula, a place packed with natural wonders, most travellers look at the map and within a heartbeat decide to take Route 1 directly to the town of Borgarnes which lies in the middle of West Iceland about 75 km from Reykjavík City Centre. This is of course the best route to take, at this stage.
After stopping in Borgarnes for a cup of coffee (not compulsory), you need to turn off Route 1 onto Route 54, Snæfellsnesvegur (Snæfellsnes Road). Most travellers now choose to drive all the way to the crossroads with Route 56, Vatnaleið, which heads north through a mountain pass all the way to the north shore of the Snæfellsnes peninsula. The Vatnaleið mountain pass is a relatively new, paved road and was opened for traffic in late 2001. At the other end of Vatnaleið, again at a junction with Route 54, there is a choice to either turn left, towards the town of Grundarfjörður (WEB cam), or to the right towards Stykkishólmur town (WEB cam). Vatnaleið is the road most travellers, both tourists and locals, take when travelling to and from the northern part of the peninsula.
The Alternative Route - Heydalsvegur
But there is an alternative route! Instead of driving all the way to the crossroads of Route 56 and Route 54, you could take a much earlier right turn onto Route 55, Heydalsvegur. This junction is just two minutes after passing Eldborg, a perfectly symmetrical, oval shaped crater in a dormant volcano, on your left. Here you might choose to stop the car in a safe place, for instance on the driveway to the Snorrastaðir farm, and take a walk up and on to this wonder of nature. Please bear in mind that Heydalsvegur road (55) is a gravel road and therefore not many venture to choose that road. You are likely to drive more slowly on a gravel road and therefore the journey may take longer, so please factor this into your planning. But nothing ventured, nothing gained.
Heydalsvegur passes Heydalur, which is a shallow valley on Rauðamelsheiði moor. This is the lowest and least snowy road across the Snæfellsnes range. Some years back when winters were harder this was the only road passable between the south and north coasts of Snæfellsnes.
At the crossroads is a farm called Kolbeinsstaðir, close to Kolbeinsstaðafjall mountain. When passing Kolbeinsstaðafjall be sure to look for strange looking crags. They look like an old giant tin opener!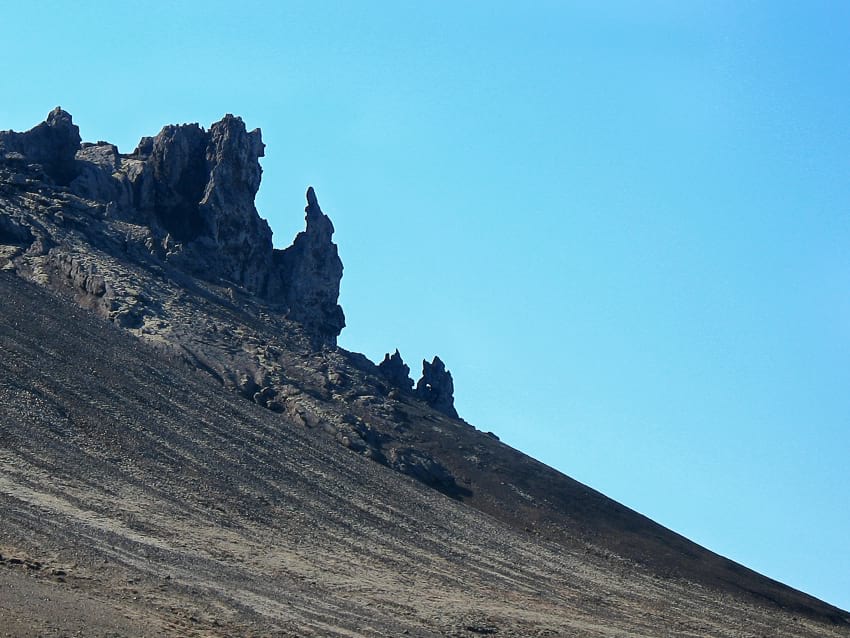 Old giant tin opener?
At Kolbeinsstaðir was a Catholic church dating back to 1397 but the current church was built in 1933. It is made of concrete and was consecrated in 1934. In the church you can see a silver chalice from 14-15 century and an ancient baptismal font from 1732 made of tin.
During the Middle Ages Kolbeinsstaðir was the home of many influential men. Among them was Ketill Þorláksson, one of the country's greatest nobles in the early part of the 14th century.
Giants' Church - Tröllakirkja
South east of Kolbeinsstaðir is another farm, Mýrdalur. Just behind the farm is a very special ravine, or canyon, called Mýrdalsgjá. Above the canyon is the highest peak of the mountain Tröllakirkja (Giants' church). It's top is 862 meters above sea level. Tröllakirkja peak is popular among mountain climbers. The distance to the top is 10 kilometers and the elevation is about 750 meters. If you decide to climb the peak expect the walk to take around 6 hours, there and back.
The next point of interest is Rauðháls, a very beautiful crater area, in the middle of the approximately 1000 year old Rauðhólshraun lava field. The area is very easy to access and wonderful to walk around. Park safely, get out of your car, wander around and in a short while you may get the feeling that you are totally alone in the world.
Lava Fields and Caves
One of the natural wonders you can find in Iceland are lava caves decorated with stalagmites and stalactites. Stalagmites are a type of rock formation that rise from the floor of a cave due to the accumulation of material deposited on the floor from ceiling drippings. A stalactite, on the other hand, is an icicle-shaped formation that hangs from the ceiling of a cave, and is produced by deposition of minerals from water working its way through the soil and dripping through the cave ceiling. These natural phenomenons can be found in unusual number in the lava cave Gullborgarhellir. The lava cave is on your left only a few minutes drive from the Rauðháls crater area. But please note that the cave is a protected natural feature and can only be visited with a guide from the farm Heggstaðir.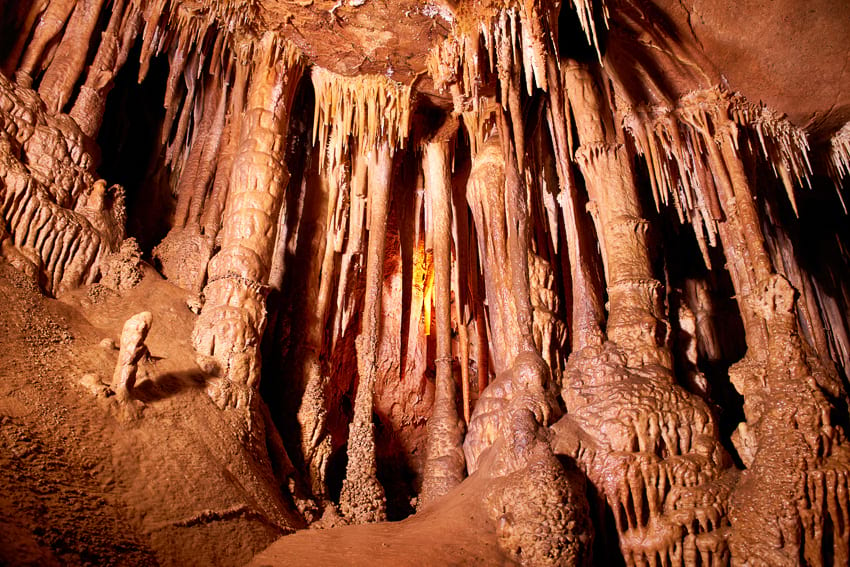 Stalagmites and Stalactites
The lava cave is surrounded by a lava field, Gullborgarhraun, both deriving their names from the Gullborg crater from which the lava initially erupted 7 to 9 thousand years ago.
Just before you drive out of the broad valley of Hnappadalur and up to the moor Rauðamelsheiði the road lies between two lakes, Oddastaðavatn on your right and Hlíðarvatn on your left. Both lakes are quite big and great for trout fishing. If you are interested then just contact the people at Hallkelsstaðahlíð farm and they will be pleased to assist you.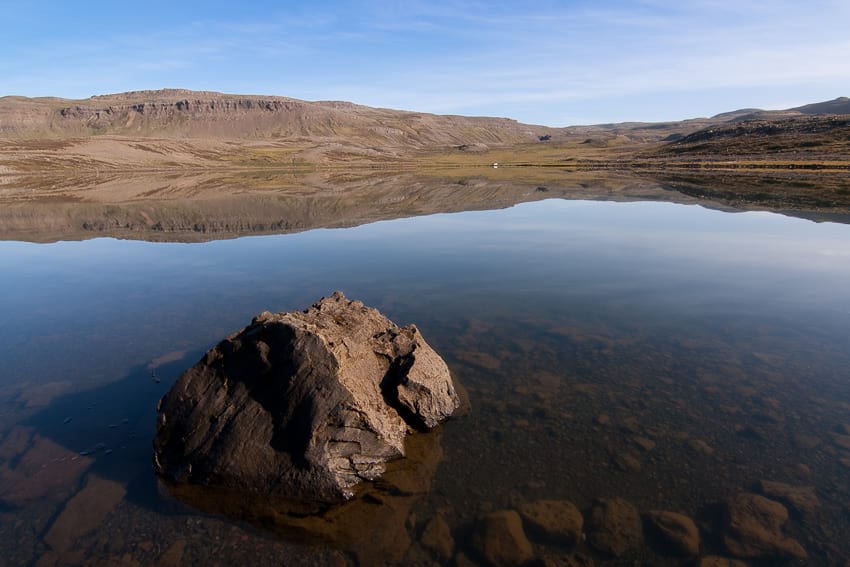 Oddastaðavatn
A Floating Hotel - or "Flotel"
Back in the sixties a few ambitious individuals got a fabulous idea; and they went for it! They decided to build and locate a floating hotel, a floatel, on lake Hlíðarvatn. In 1964 everything was ready and the floatel Víkingur (Viking) opened for guests on the 18th of July. All the stakeholders were very optimistic at the end of the first year of operation and it even looked like the floatel was fully booked the following year. But something did not quite work out and at the end of 1965 the operation was closed down. There are no remains of the floating hotel Vikingur at lake Hlíðarvatn today and the only reminder of this entrepreneurial exercise can now be found in photographs and old newspaper articles.
The road now takes you over Rauðamelsheiði moor and you drive for 10 to 15 minutes, passing through Heydalur valley, until you get to the crossroads where Route 55 meets Route 54. Here you have two options, take a left turn (heading west) or take a right turn (heading east). Our decision is to head west, towards the town of Stykkishólmur and then on to the town of Grundarfjörður, where you will find the famous mount Kirkjufell.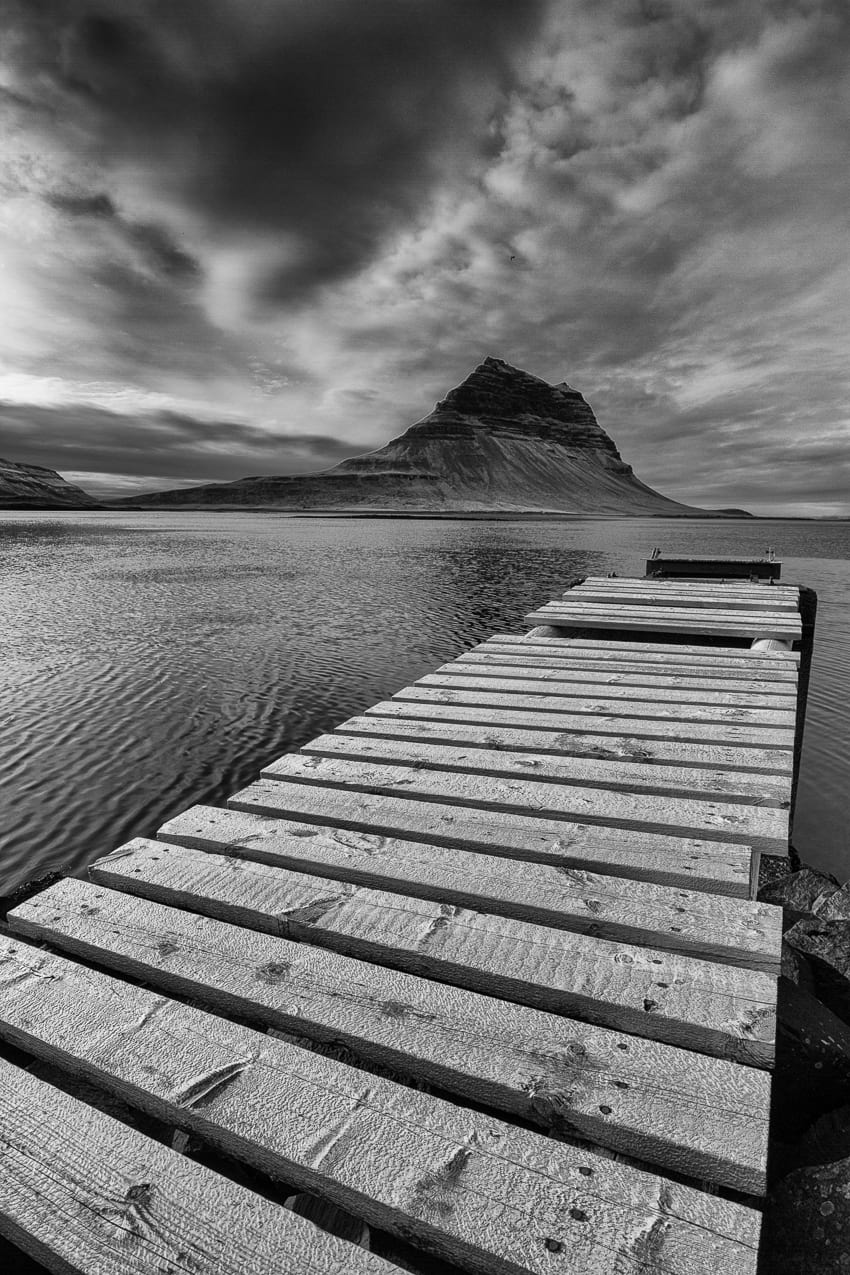 Mountain Kirkjufell
Skógarströnd
For the next 30 minutes or so you will be driving on Skógarstönd coast, until you reach the paved road.
As the purpose of this blog is to describe the Heydalur road, Route 55, which is an alternative way to travel from the south coast of the Snæfellsnes peninsula over to the north coast, we will cease detailed discussions and commentary on what can be seen while travelling onwards, but to end this blog it is worth drawing your attention to a few places of interest;
On your left is Breiðabólsstaður farm, which has a long history of parsonage, as well as a short history of the writing and editing of Iceland's first law book (1117-1118) and of the earliest printing in Iceland (1530). The church there was built of timber in 1893 and is protected. Mr. Holger Cahill, former acting director of the Museum of Modern Art in New York, was born Sveinn Kristján Bjarnason here at Breiðabólsstaður in 1887. He emigrated with his family to Canada in 1890 and later changed his name.
When travelling on the Skógarströnd road you'll see many islands just off the cost. The biggest one is named Brokey island and it was inhabited until 1980. While passing by you might notice an old boat wreck stranded alongside one of the islands.
007 - James Bond
Klungurbrekka, an old deserted farm, is located in the mouth of Stóri-Langidalur valley. The parents of Sir William Stephenson lived at Klungurbrekka before they moved to Canada. It is believed that Sir William is the inspiration for the fictional character of 007, James Bond.
Narfeyri is the last and westernmost farm on Skógarströnd. There you will also find a beautiful small church and it is surely worthwhile to stop and take a look at it.
Taking an alternative route can often be very rewarding and it certainly is in this case. You will see places and natural wonders that the majority of travellers do not. Don´t hesitate. Go for it!
Happy travelling!