On thick ice - glacier hiking and ice climbing in Iceland
If you ask me what are the 3 main things you must see in Iceland, my quick answer would be: formations of geothermal activity, coastal rock cliffs and glaciers. Being more adventurous than getting satisfied with the view, you may want to actively experience the incredible Icelandic nature and go off the beaten path.
I have seen the glacier lagoon and several glaciers, but I haven't been on the surface of a glacier because - as every responsible traveller knows - as an untrained visitor, walking on a glacier could easily become the last walk of my life if I don't have an equipped and experienced guide with me. So I took a day trip with the Icelandic Mountain Guides to the top of Svínafellsjökull glacier, in Skaftafell National Park located in the of south Iceland. Besides walking on the glacier and trying out some ice climbing, we got an unexpected surprise.
Walking on a glacier in Iceland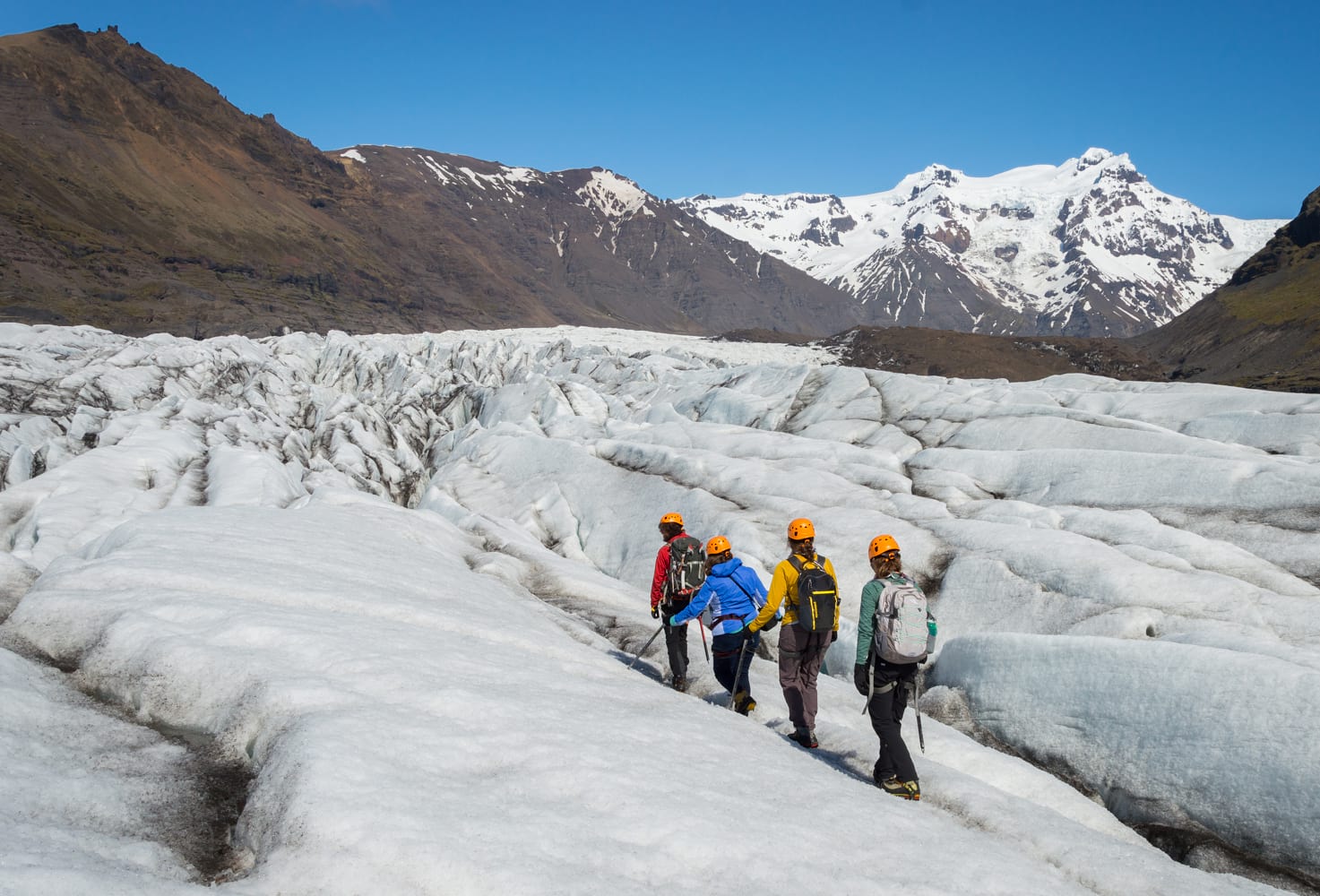 When I first stepped on the glacier I was a bit surprised by the material of the ice. It somehow isn't snow neither ice, but something between the two. It was a warm and sunny day, skies were blue, wind calm. Only the sharp voice of our crampons grasping the surface of the ice disturbed the perfect silence. The feeling of being a member of probably the only group that is moving on this killer terrain was enough to push the level of adrenaline in my blood very high.
I have to admit that I sometimes toyed with the idea of going on the glacier on my own but here I suddenly understood why it is not recommended. There are huge, terribly deep crevasses and hidden holes in the ice where one could easily disappear within a second.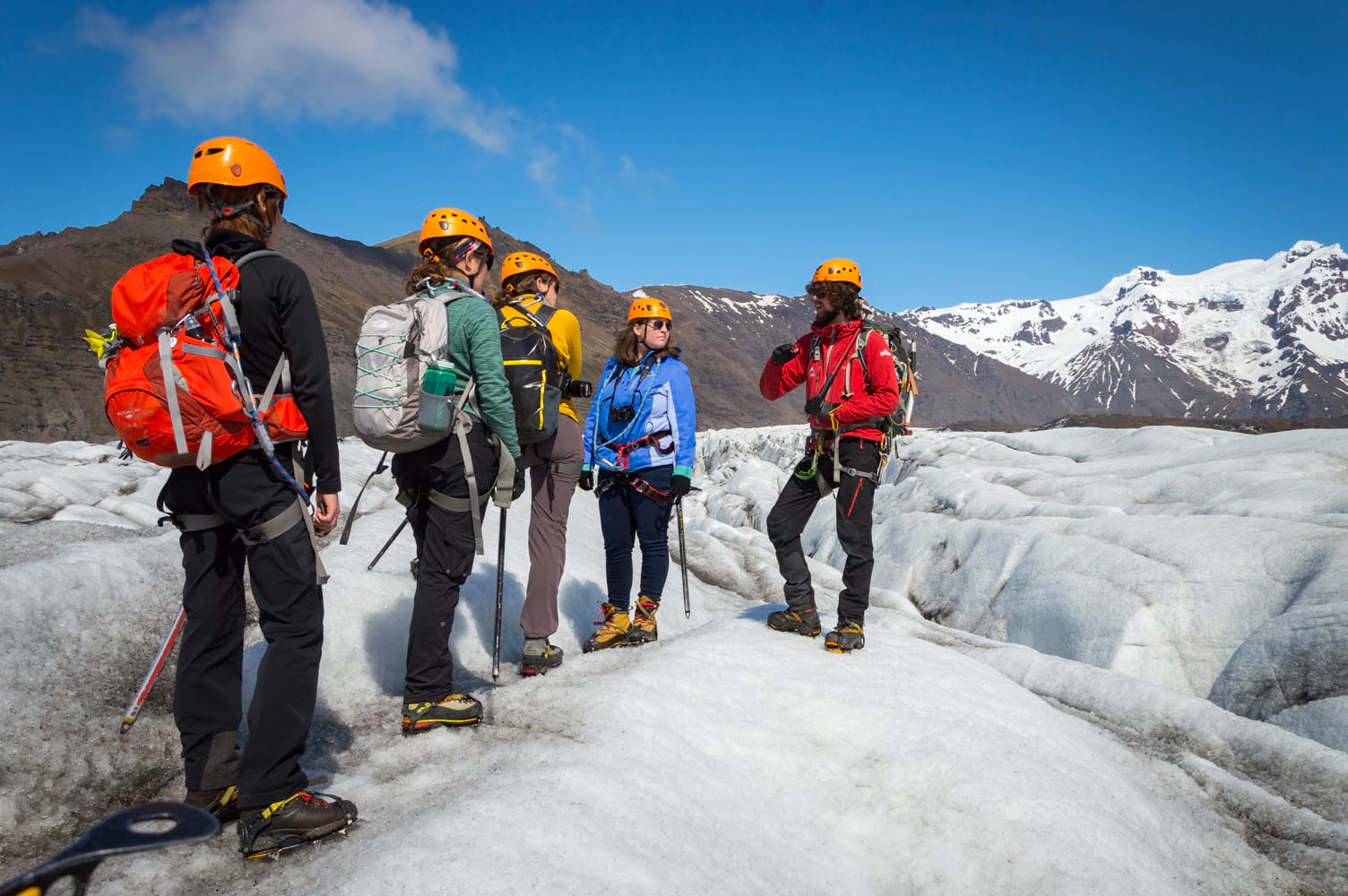 Our guide, Tayo is a glacier scientist. He followed his passion up to Iceland where he found the most beautiful glaciers in Europe. He has guided glacier walks and ice climbing tours for many years and worked regularly on the field during his student years.
Walking up and down on the magnificent, blue-black-white painted icebergs I followed him closely and kept him busy with questions about the nature of glaciers. Tayo didn't lose the focus for a moment, his eyes were always on us. This guy clearly knows what real danger is. I especially enjoyed that there was no strict plan, he wanted to see how we behaved on the ice, how fast we moved and how disciplined we were in order to evaluate our fitness and level of adventurousness. He was dedicated to finding a very special location for us where we could try some ice climbing.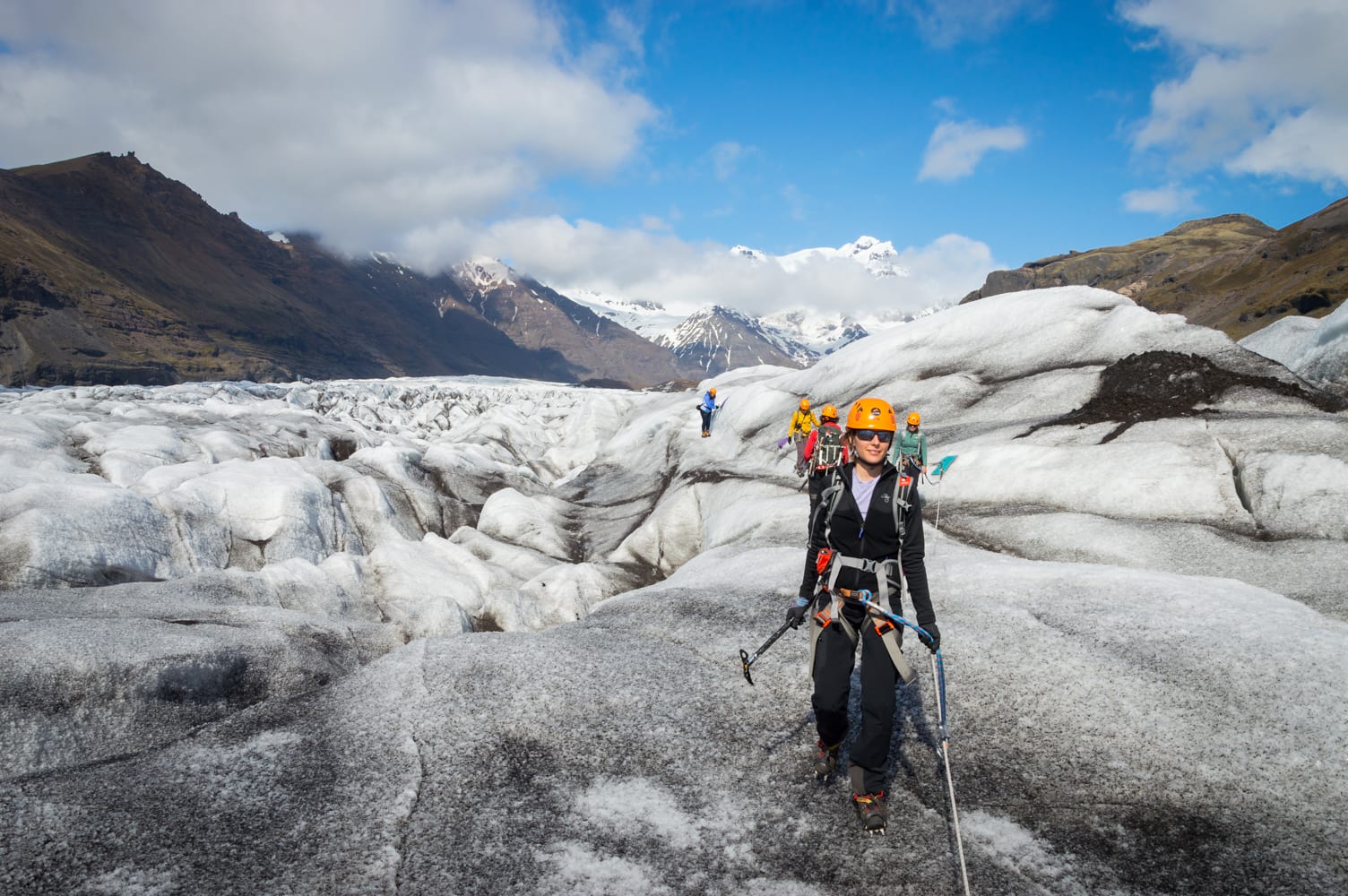 The secret blue ice cave
One of the members of the group was especially amazed by the cyan blue colour of ice that appeared in some shadowy rifts. She took every opportunity to shoot a picture about this rare phenomenon. At once, Tayo secretively asked us to stop and stay where we are for a few minutes while he checked something. After a while, he returned with a wide smile on his face and triumphantly announced that we are allowed to continue. Soon we descended a steep slope using fixed ropes, and turning around a real miracle unfolded in the front of us: a deep tunnel of a gloriously Cyan blue ice! We were all shocked by the indescribable sight, none of us dared to hope to see a real ice cave on this tour.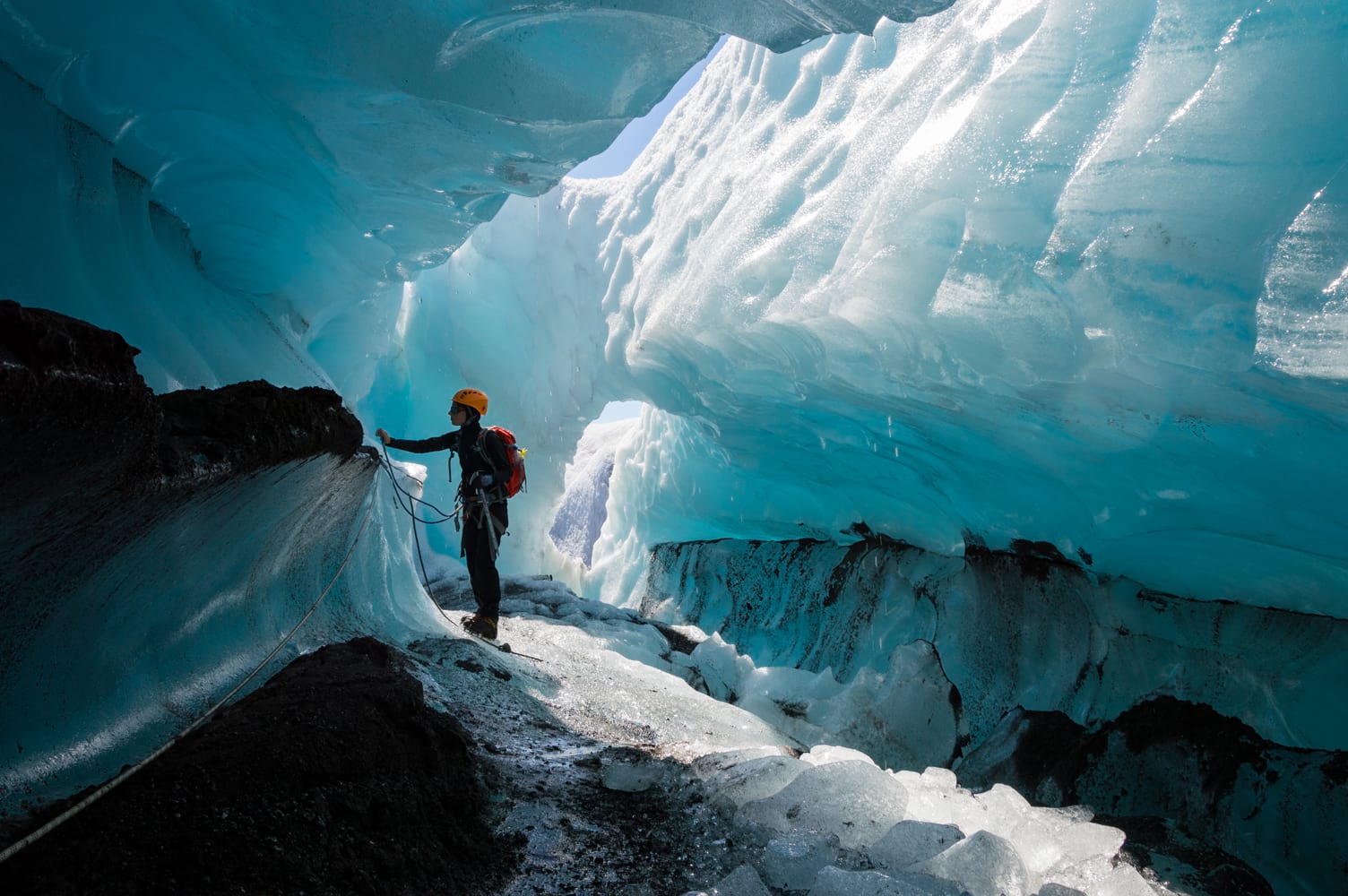 Natural ice caves are short-lived wonders. They are formed in the beginning of winter and melt away before spring. Therefore, the ice cave season in Iceland is limited, there are guided ice cave tours from November to March only. We were extremely lucky that we could see the last days of a natural ice cave in the middle of May. Tayo knew about this cave but it was melting so fast that he had to check it whether it was still there before showing it to us.
Climbing on the top of a blue ice cave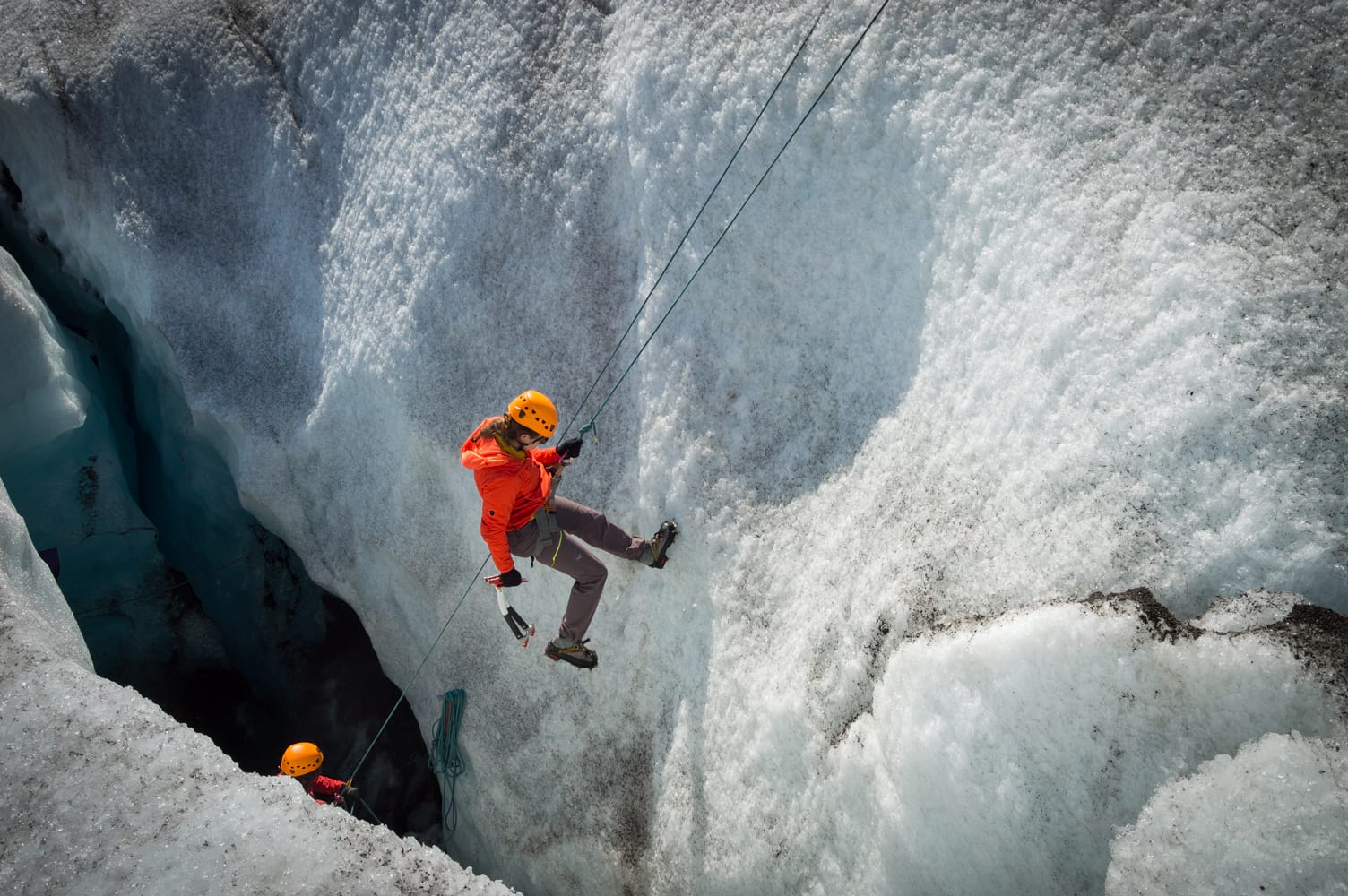 Standing there like children in the chocolate factory, we didn't even know where to look, what to photograph! - How about climbing this ice wall here? - asked Tayo happily, knowing that he just topped up our euphoria. He opened his backpack and took out the ropes and axes, and we gathered around him to listen to his lesson about the basics of ice climbing.
The view from the top of a glacier
I am not saying that I am a fan of this sport from that moment on, but it was a memorable experience to try out. Every one of us was a beginner but we all managed to get to the top so we felt like superheroes after all! While the others were clambering on the sunlit ice wall, I was silently admiring the spectacular view around. The robust, snowy peak of Hvannadalshnjúkur looked down at us from the distance; the glacier, the body of the living ice stretched ahead of us like a giant dragon. The landscape behind this wild, tameless soil was so peaceful and green, it was hard to perceive this picture in its whole. Iceland showed me her extreme nature again. It was an unforgettable adventure for sure.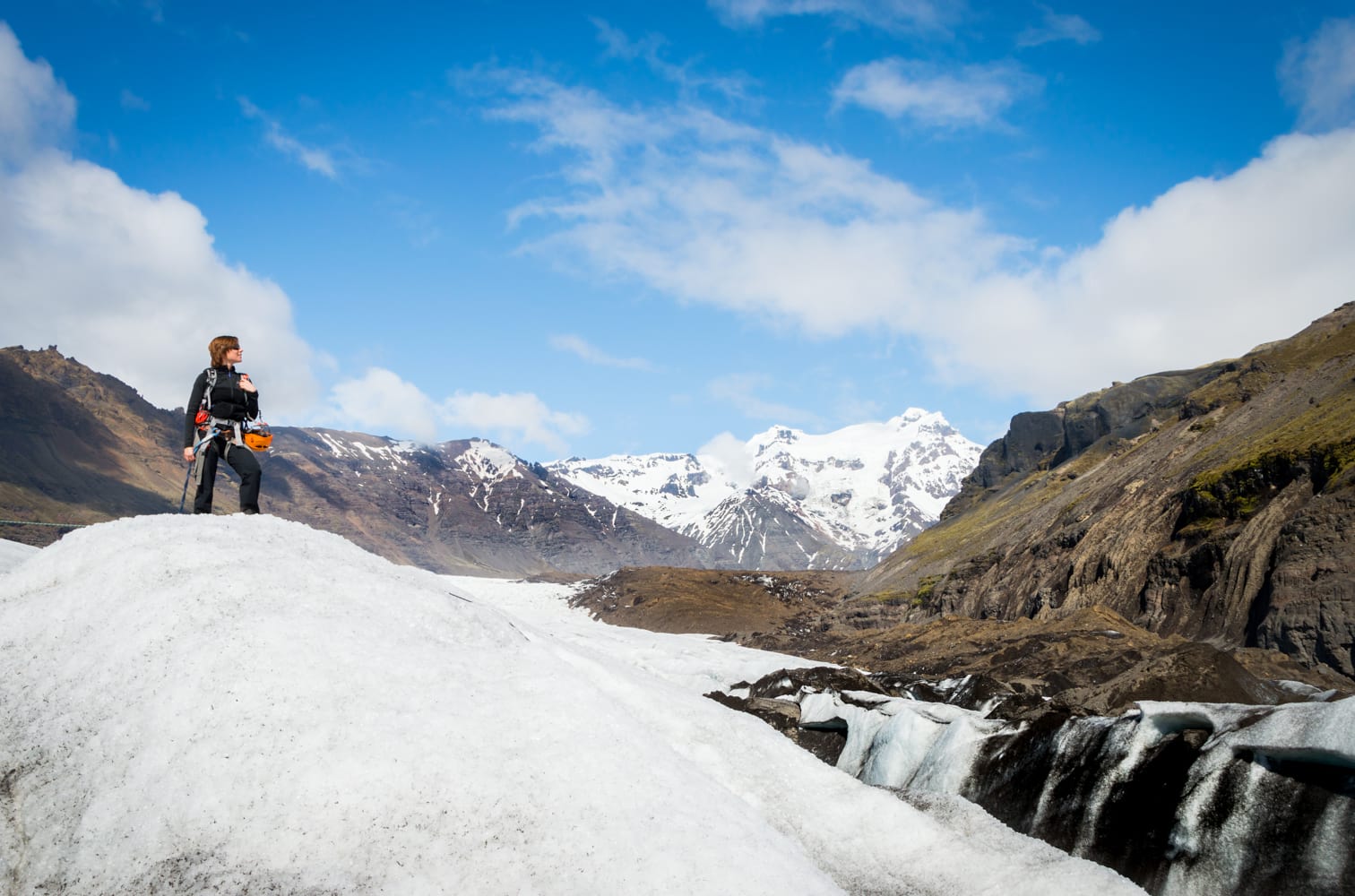 What is a glacier?
A glacier is formed when the accumulation of snow exceeds its ablation, so the snow compresses into dense ice under its own weight. This process takes decades or even centuries, which means there is a huge amount of ancient water stored in the glaciers of the world. Unlike the much thinner sea and lake ice, glaciers are formed only on land and can reach the thickness of hundreds or even thousands meters. As they grow on the top and melt away on the edges, these masses of ice are constantly moving, changing, flowing like extremely slow rivers. This movement is what makes them so special. Being incredibly powerful, they transform the landscape by abrading the rock, creating an extremely unfamiliar view with breathtaking, unique formations.
Iceland has more than 250 named glaciers, about 11% of the land area is covered by glacial ice. The largest ice cap is Vatnajökull on the south-east part of the country, with an area of 8,300 km2, equal in size to the rest of the European glaciers together, or close to the size of Corsica or Cyprus.
Do you want to try glacier walking in Iceland? Check out these tours.