Bus pick up's in Reykjavik, the Get Local guide
Staying in central Reykjavik? Want to go on a totally awesome day trip or day tour? Want an easily accessible pick up point? Of course you do!
Whether you are in a hotel, guesthouse or even an airBnB there are thirteen centrally located pick up points across the downtown area of Reykjavik that will act as the starting point for your Icelandic adventures.
The good news is, we have taken all the stress out of finding the best pick up point for you! Check out our guide below.
People who are staying outside of downtown Reykjavik can in most cases get pick up directly at your hotel or guesthouse, Airbnb guest need to find the nearest hotel or pick up point. If in doubt do not hesitate to contact us and we'll do our best to help!
Bus stop 1: Ráðhúsið (City Hall)
Perfect for people staying down in the plaza area! The pickup spot is located right on front of the main entrance opposite from the pond so don't confuse them with the other entrances that are located on the side of the building.
Stop number 1 is the ideal choice if you are staying in:
Chez Monique
Embassy Luxury Apartments
Hotel Hilda
Hotel Reykjavík Centrum
Kvosin Hotel
Guesthouse Baldursbrá on Tjarnargata 46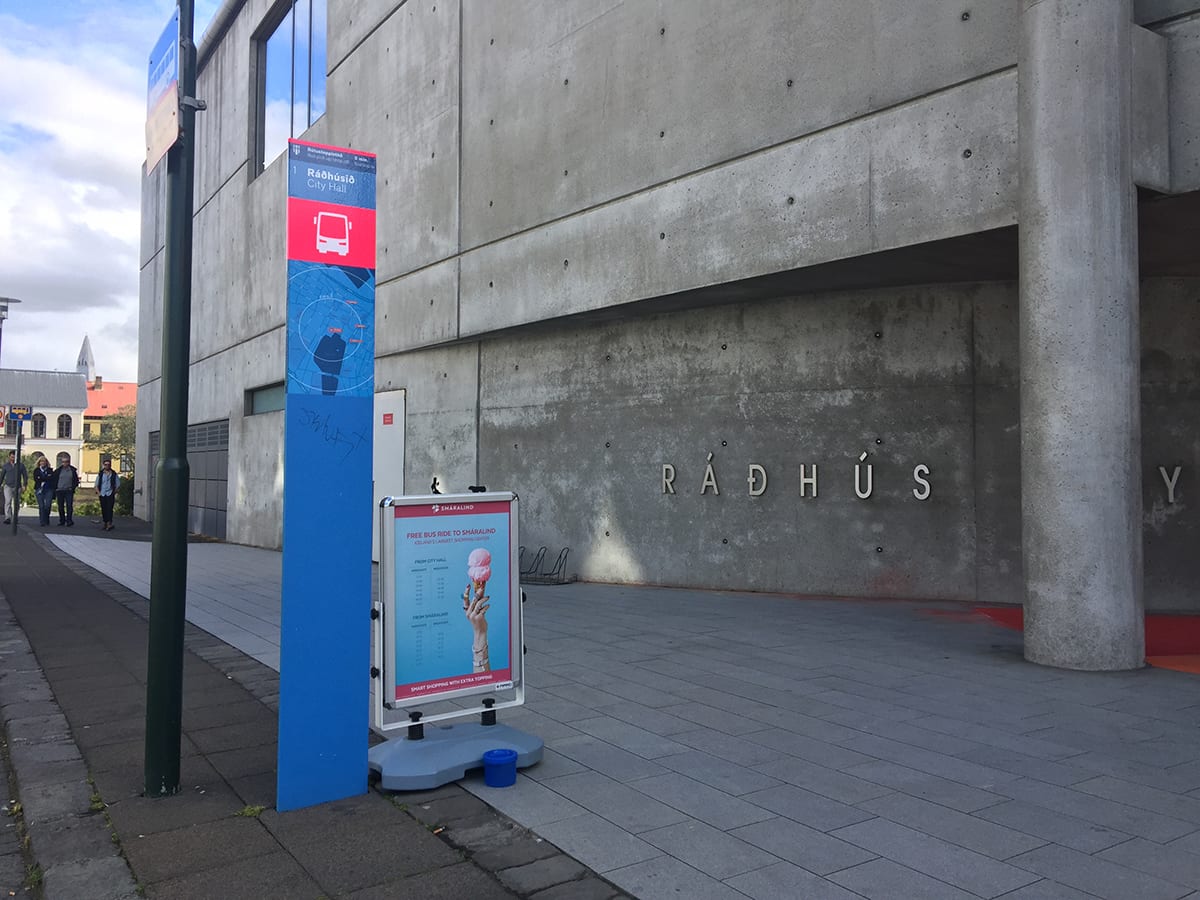 Bus stop 2: Tjörnin (the pond)
If you find yourself waking up to stunning vistas of the city pond then there is a good chance you will be close to this stop!
Stop number 2 is the ideal choice if you are staying in:
Ambassade Apartments
Castle House Luxury Apartments
Central Guesthouse
Hótel Holt
Luna Hotel Apartments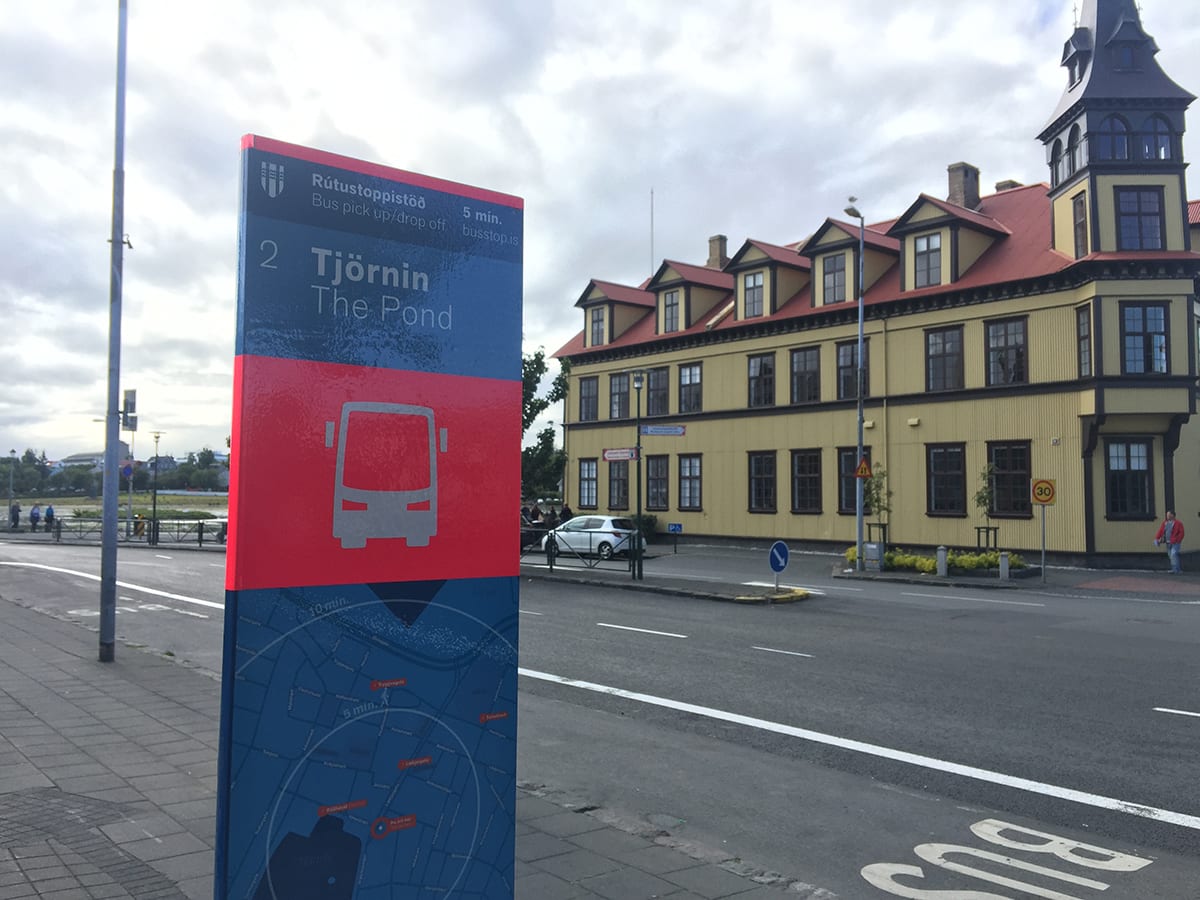 Bus stop 3: Lækjargata
A stop located in the middle of the downtown, just off Lækjartorg square close to the Hard Rock cafe and famous sandwich place Jómfrúin.
Stop number 3 is the ideal choice if you are staying in:
1912 Guesthouse
Apotek Hotel
Centric Guesthouse
Hotel Borg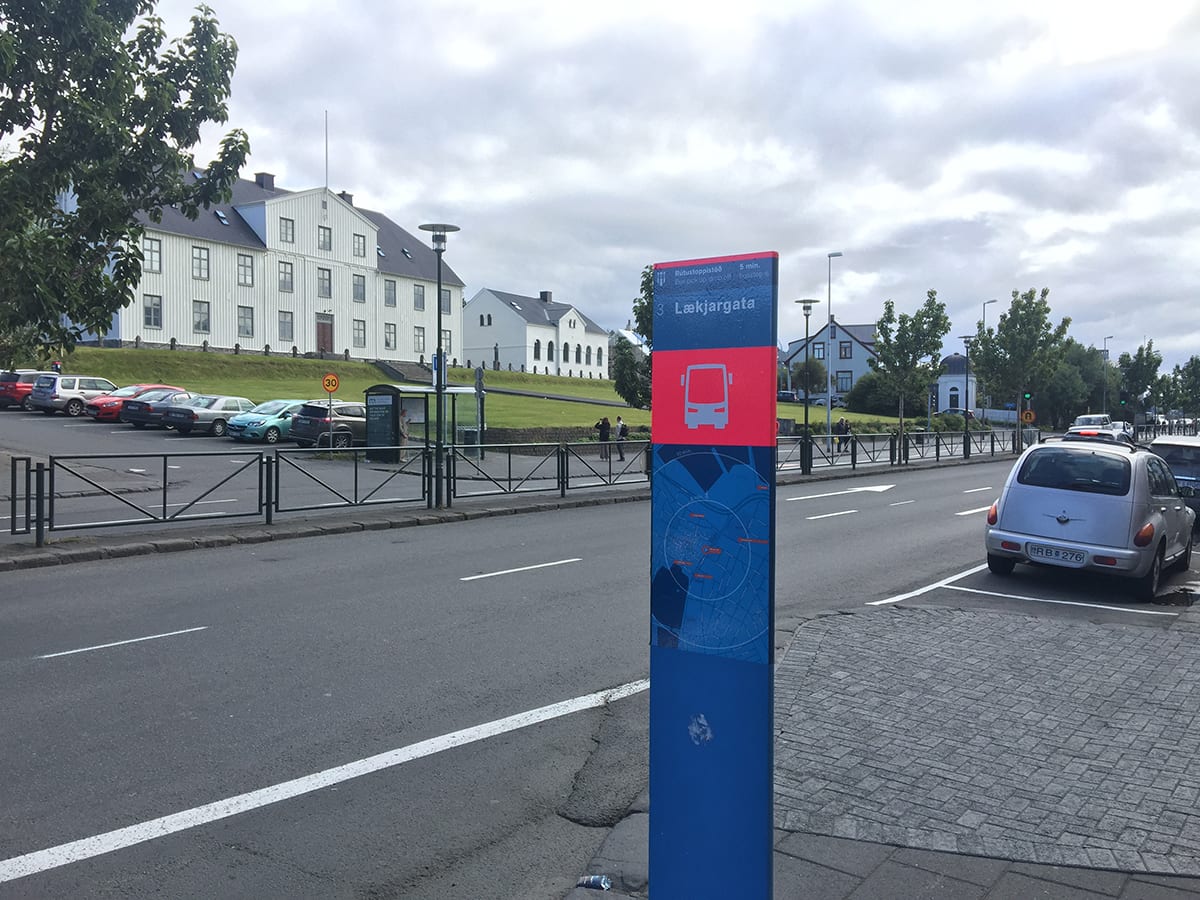 Bus stop 4: Tryggvagata
This stop is on the west end of downtown, closer to the old harbour and west side of town.
Stop number 4 is the ideal choice if you are staying in:
3 Sisters Guesthouse
Álfhóll Guesthouse
Black Pearl
Butterfly Guesthouse
Centerhotel Plaza
Central Apartments
City Center Hotel
Gallery Central Guesthouse
Hotel Metropolitan
House Of Spirits
Lighthouse Apartments
Ocean Comfort Apartments
Planet Apartments
Radisson Blu 1919
Reykjavik Downtown Hostel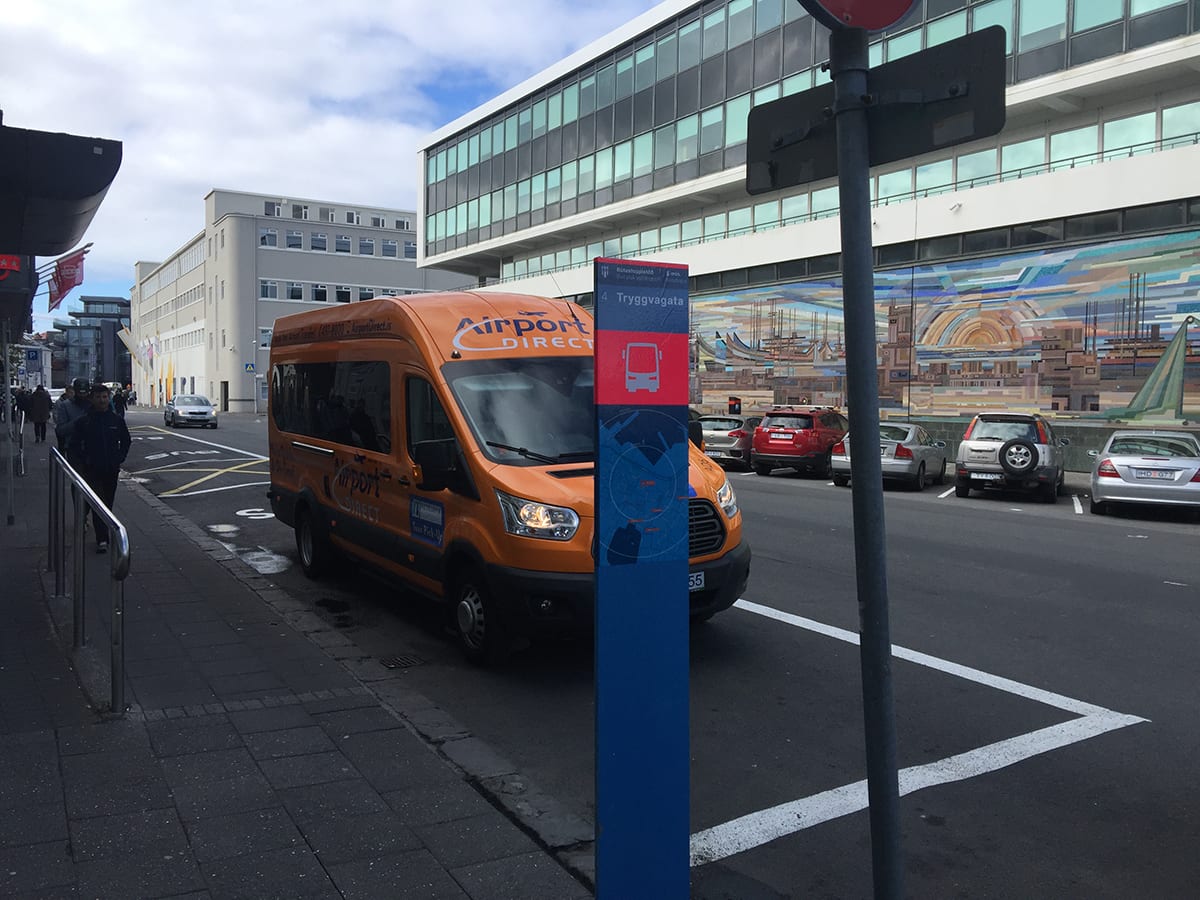 Bus stop 5: Harpa
Harpa is the beautiful concert hall building down on the waterfront and is an ideal place to set your pickup if you plan to explore this area ahead of your trip!
Stop number 5 is the ideal choice if you are staying in: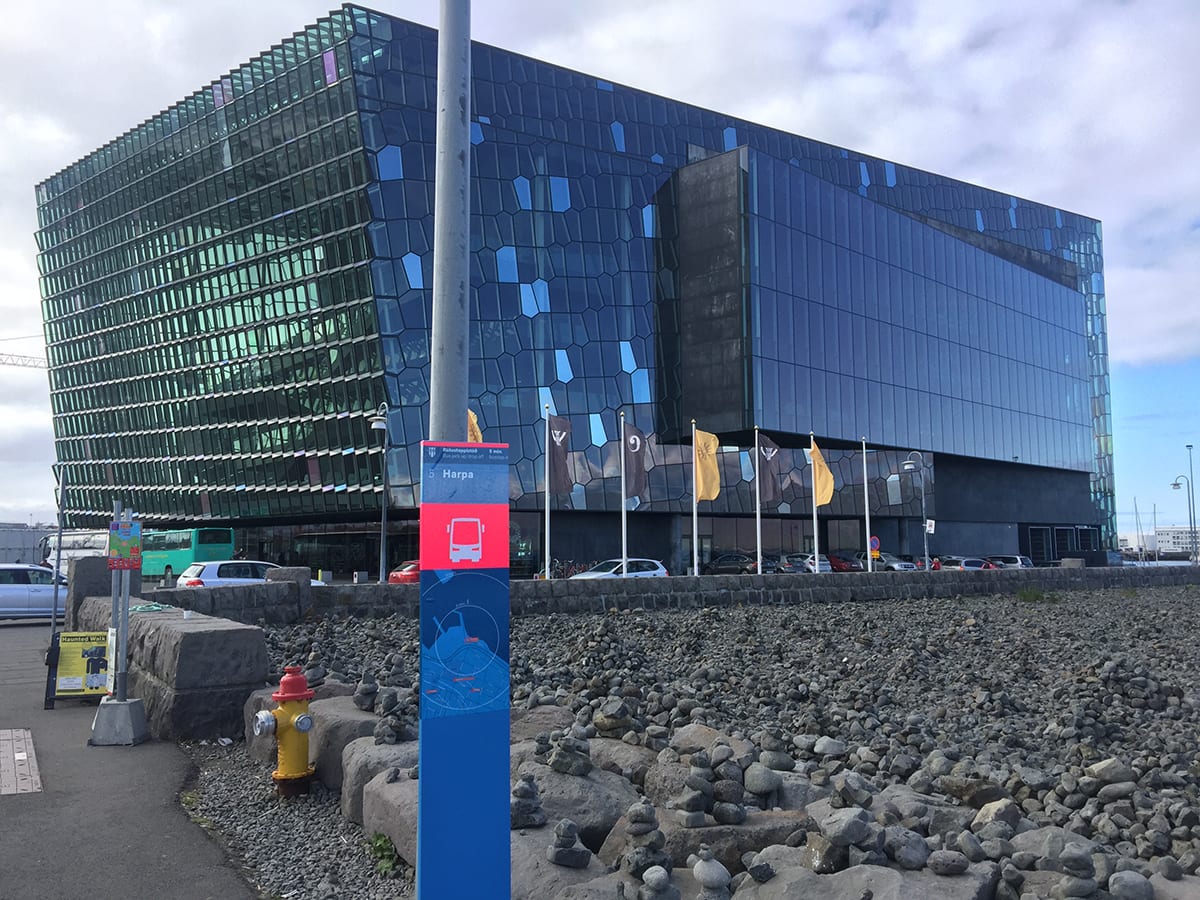 Bus stop 6: Safnahús (the culture house)
Located right next to Arnarhóll, the scenic hill overlooking the harbour and the Harpa. The culture house is ideal for those staying at the bottom end of the main streets Laugavegur and Hverfisgata.
Bus stop 6 is ideal if you are staying in:
101 Hótel
Apartment K (Hverfisgata 14, Ingólfsstræti 1a, Skólastræti 1, Þingholtsstræti 2-4)
Centerhotel Þingholt
Loft Hostel
Luna Hotel Apartments on Amtmanssstígur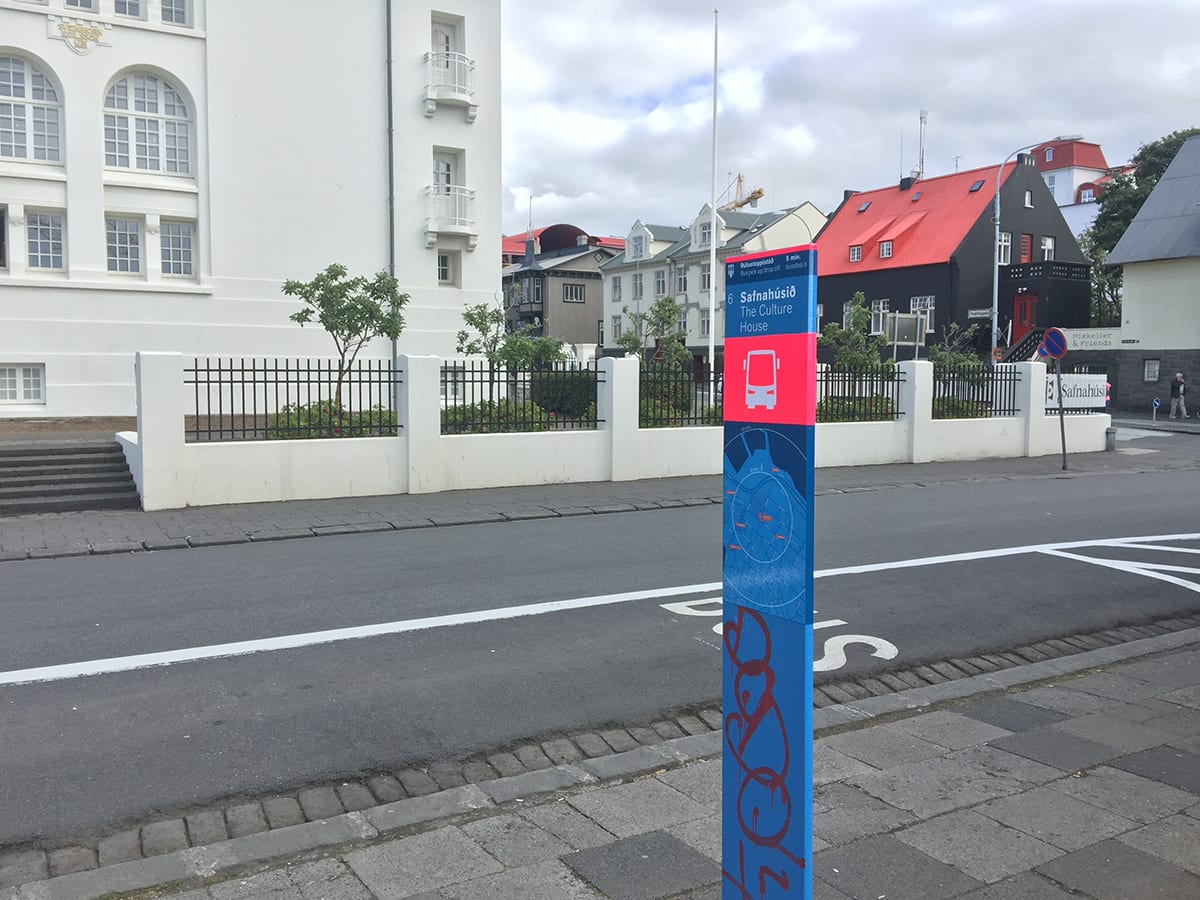 Bus stop 7: Traðarkot
This is the best stop for all the centrally located hotels and guesthouses! This stop serves a lot of accommodations so keep in mind that a que might form during peak hours.
Stop number 7 is the ideal choice if you are staying in:
101 Skuggi Guesthouse
41 – A Townhouse Hotel
Alfred's Studios
Apartment 37
Apartment K (Bergstaðastræti 12, Bergstaðastræti 3, Hverfisgata 37, Laugavegur 46, Lindargata 60)
Apartments Aurora
Black Tower
Canopy Reykjavík
Centerhotel Klöpp
Centerhotel Skjaldbreið
Domus Guesthouse
Gray Tower
Guesthouse Óðinn
Guesthouse Turninn
Hótel Frón
Ísland Apartments
Luna Hotel Apartments on Laugavegur 37
Old Charm Reykjavik Apartments
Rey Apartments
Reykjavik Residence Hotel
Reykjavik Residence Suites
Reykjavik4you Apartments on Bergstaðastræti 12
Room With A View
Sand Hotel
The Swan House Reykjavik Apartments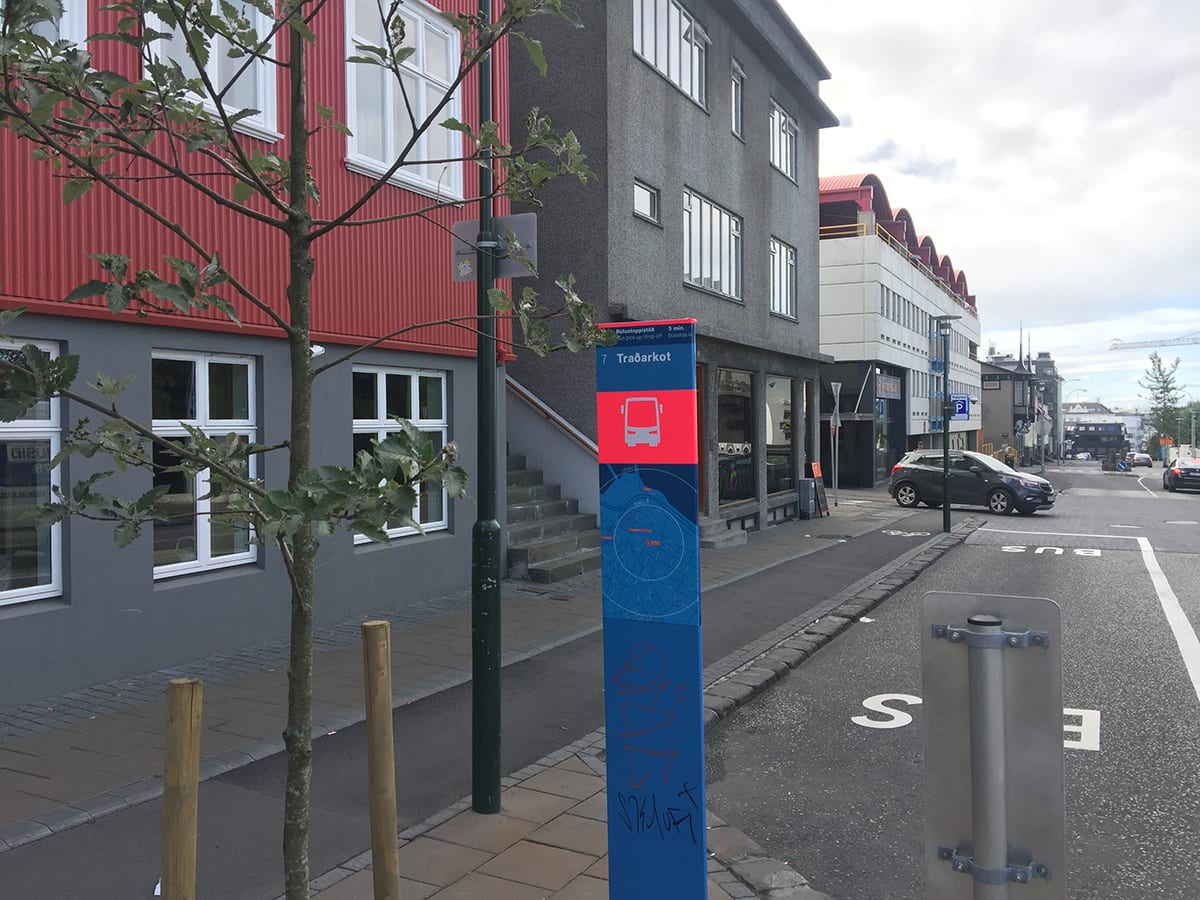 Bus stop 8: Hallgrimskirkja (the church)
This stop will be hard to miss, especially since the church can be seen from almost any point in the city! Alternatively this makes for a great pick up point for people who want to do some city sightseeing before their tour! The pickup spot is located on the right side of the church closer to the Einar Jónsson sculpture garden.
Stop number 8 is the ideal choice if you are staying in:
Eric The Red Guesthouse
Forsæla Apartments
Gest Inn
Guesthouse Aurora
Hostel B47
Hotel Leifur Eiríksson
Hotel Óðinsvé
Inga's New Guest Apartments
Loki 101 Guesthouse
Luna Hotel Apartments on Baldursgata 36 and Bergþórugata 23
Mengi Apartments
Our House Guesthouse
SUNNA Guesthouse
Villa Guesthouse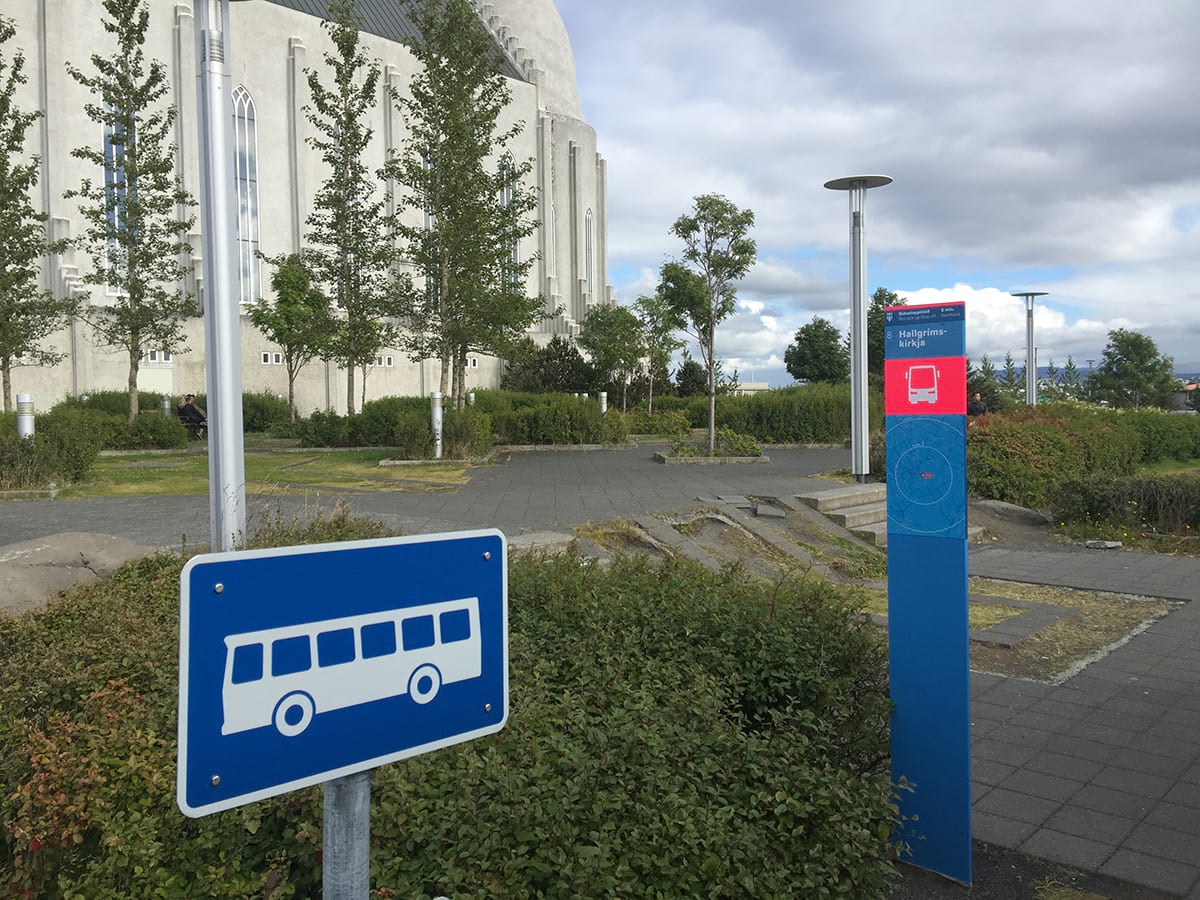 Bus stop 9: Snorrabraut
Currentlyl located on the corner of Snorrabraut and Laugavegur this stop is very close to the stop on Hlemmur square and is really only used by one fine hotel at the moment.
Stop number 9 is the ideal choice if you are staying in: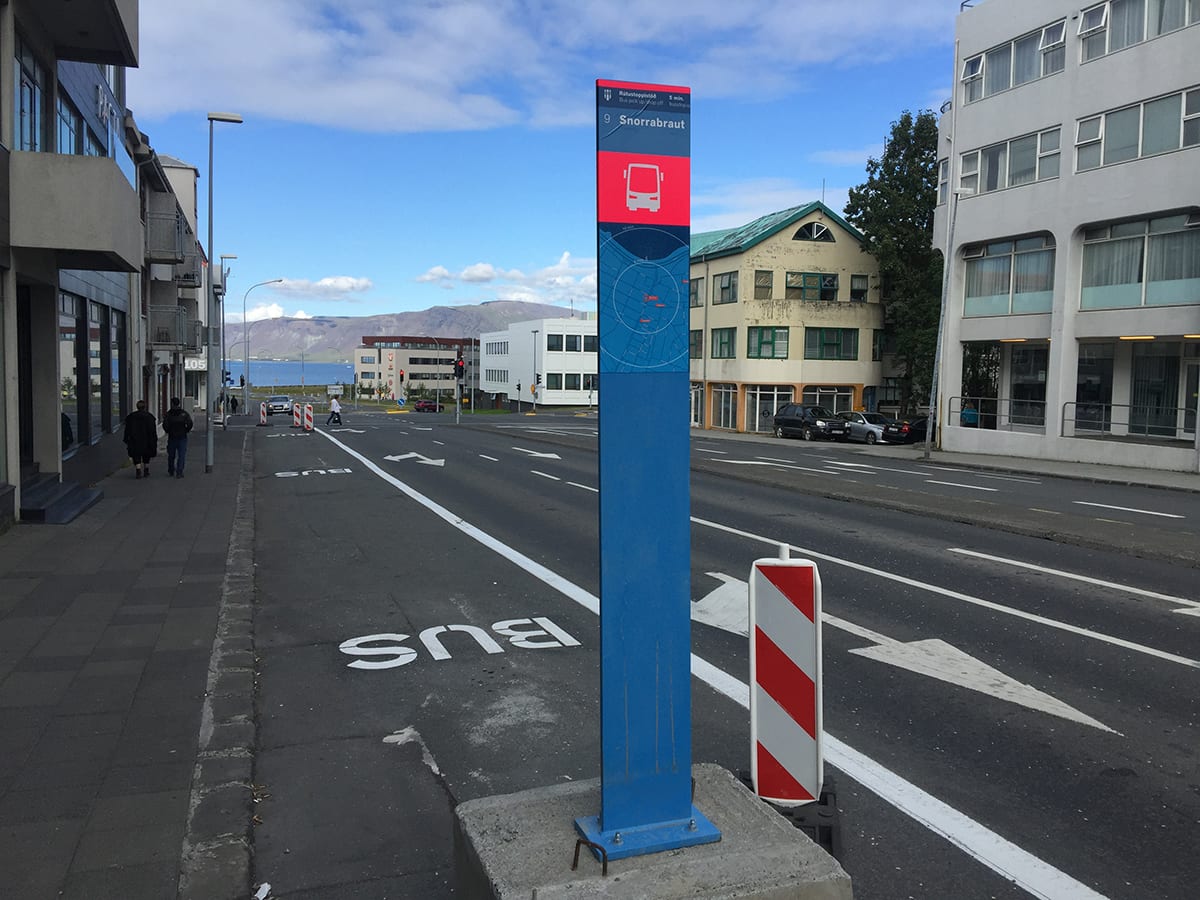 Bus stop 10: Hlemmur
This stop is right next to Hlemmur square, the central bus terminal for the city and food hall. This is great stop for people who need to take a bus from the suburbs and travel into the city for their pick up.
Stop number 10 is the ideal choice if you are staying in:
100 Iceland Hotel
101 Guesthouse
4th Floor Hotel
Alda Hotel Reykjavik
Alfred's Apartments
Apartment K (Laugavegur 74 and Laugavegur 85-86)
City Comfort Apartments
Guesthouse Von
Heida's Home
Hlemmur Apartments
Hlemmur Square
Luna Hotel Apartments on Laugavegur 86
OK Hotel
Reykjavik4you Apartments on Laugavegur 85
Stay Apartments on Laugavegur 139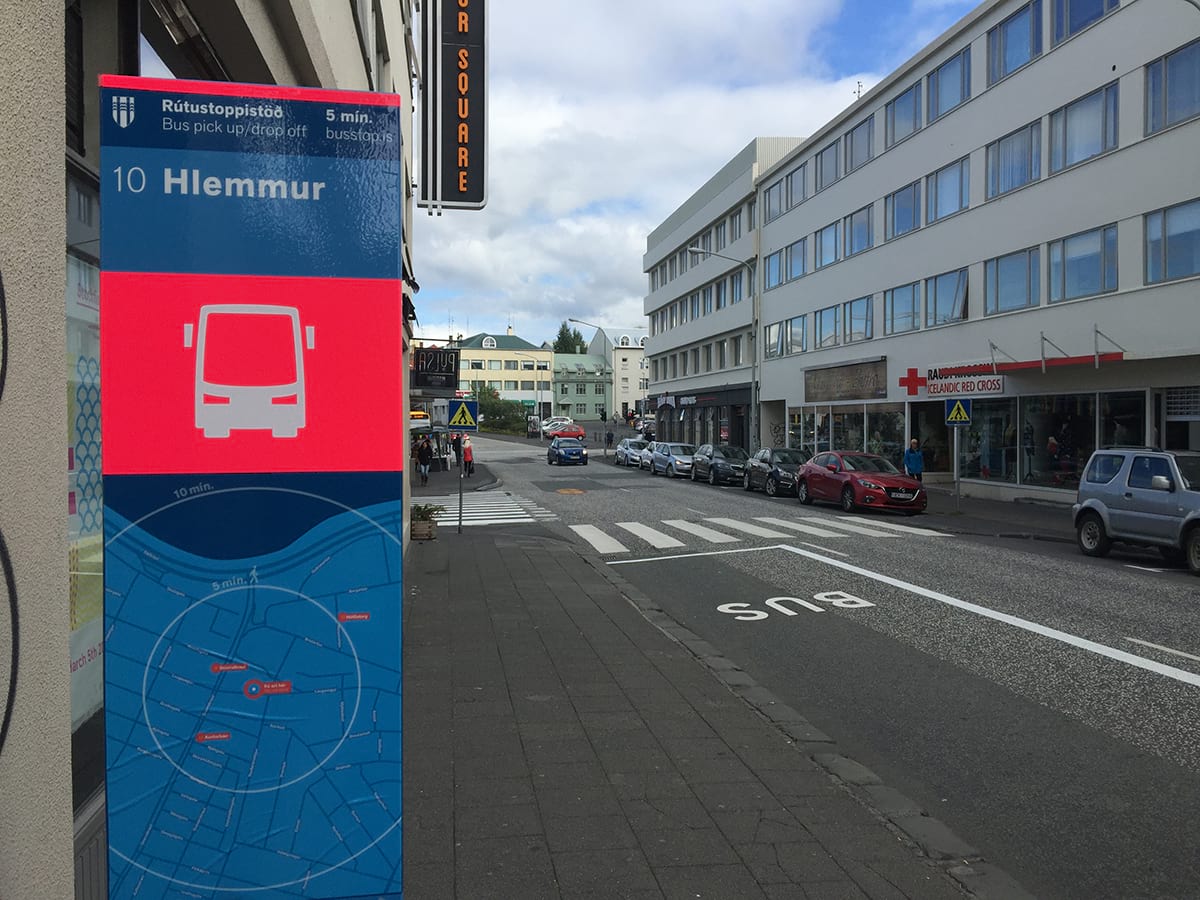 Bus stop 11: Austurbær
Located just a few steps away from Hlemmur square this stop is located right in front of Austurbær, an old theater and music hall.
Stop number 11 is the ideal choice if you are staying in:
Grettisborg Apartments
Guesthouse Reykjavik 101
Guesthouse Snorri
Luna Hotel Apartments on Grettisgata 53b
Reykjavik Hostel Village
Stay Apartments Grettisgata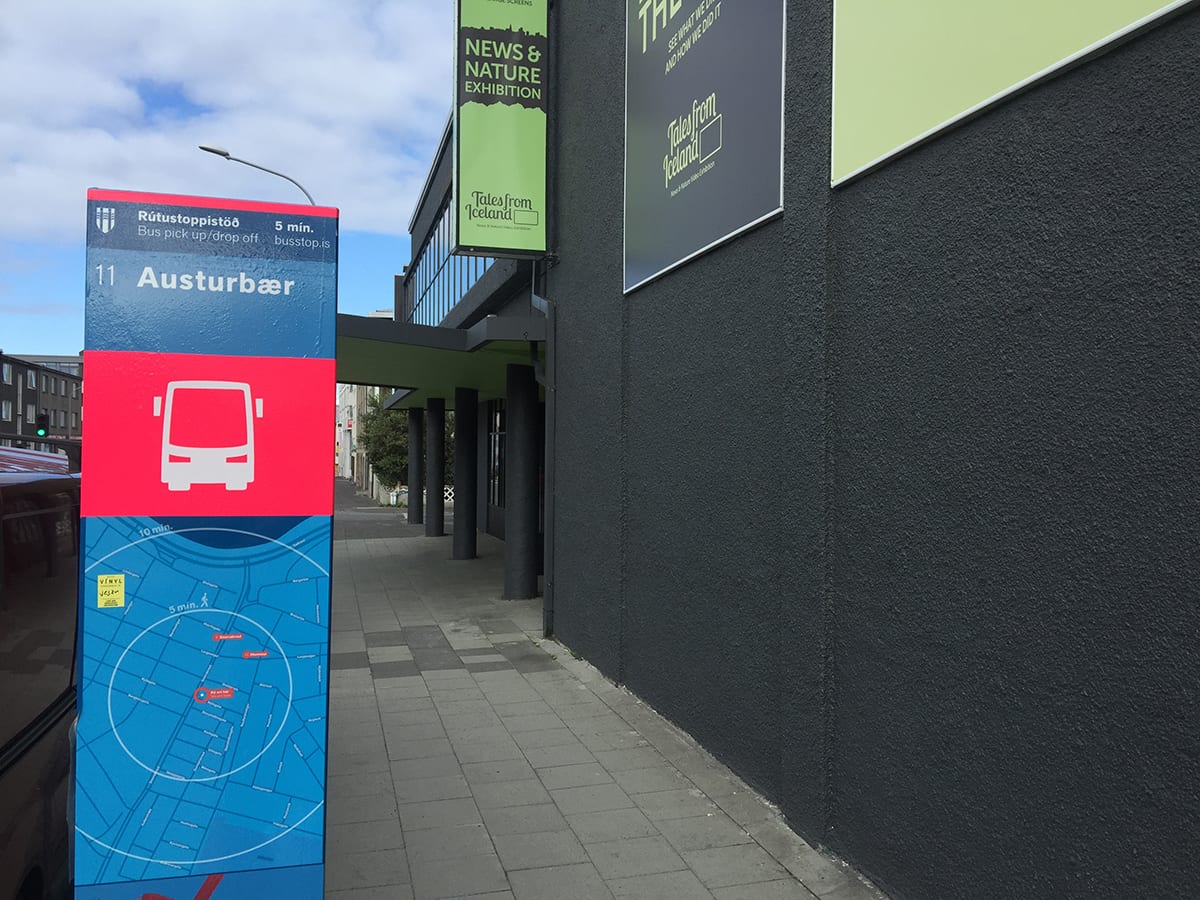 Bus stop 12: Höfðatorg
This is the stop up in the north east side of the city, close to a few big hotels and a few Airbnb's.
Stop number 12 is the ideal choice if you are staying in:
Fosshótel Reykjavík
Storm Hotel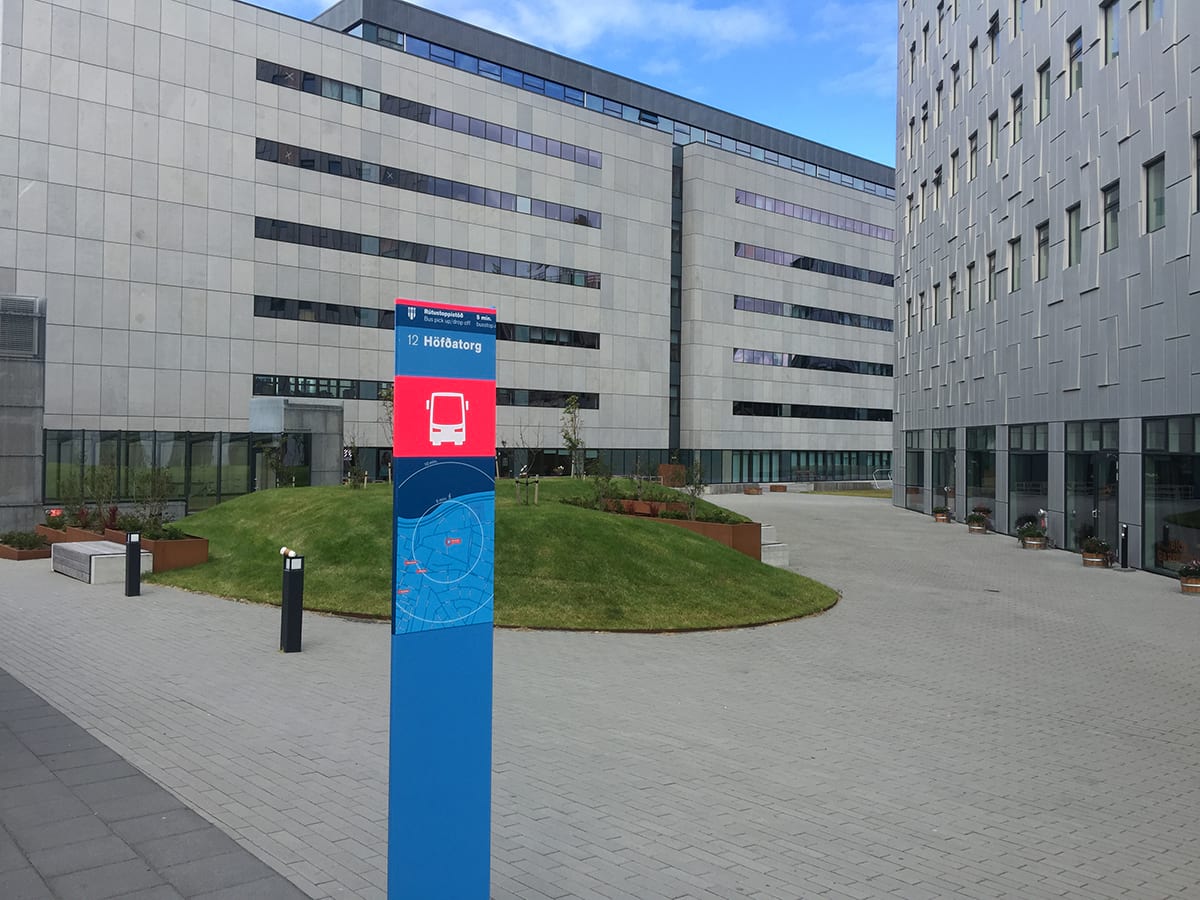 BSI bus terminal
BSI is a large bus stop and taxi stand. Currently serving as a main departure location for the flybus (airport transport) and many other day tours.
the BSI is the ideal choice if you are staying in:
27Soley
Guesthouse Anna
Guesthouse Baldursbrá on Laufásvegur 41
Guesthouse Galtafell
Guesthouse Lena
Travel Inn
Using this guide you will be able to find the nearest pickup point for your downtown hotels and of course when you come to see us in store we will assist you in finding the best place for the tours to pick you up!
The lists above are only a rough guide. We have also assembled this nifty map which you can use to try and find the nearest pickup location for wherever you are staying.