Immigrant Song and Reykjadalur
Led Zeppelin opened their 1970 tour in Reykjavik. They were so impressed with the natural hot springs they saw in Iceland that six days later they debuted a new song about them in Bath.
That series of facts has always tickled me. I don't know where they went swimming, but in my mind I always imagine them in Reykjadalur, which is my favorite spot to go when I want to get out of the city, but not too far. Even in the recent years when I've been without a car, I've managed to get there at least once each season. It's so incredibly beautiful there, that I was disappointed a few years back to see that the increase in visitors had caused the surrounding area to suffer. In my latest trips there, the facilities have improved incredibly and it is once again a great hike up into the mountains with the best reward you can imagine at the end.
Getting to Reykjadalur is fairly easy. You can drive into Hveragerði and walk into the mountains from the town. If you have a 4x4 jeep, you can take the mountain road from Helliheiði, which isn't a great road but does the job if your truck can take it. Of course, easiest of all is to take one of the many tours that offer a trip into the mountains as part of the package.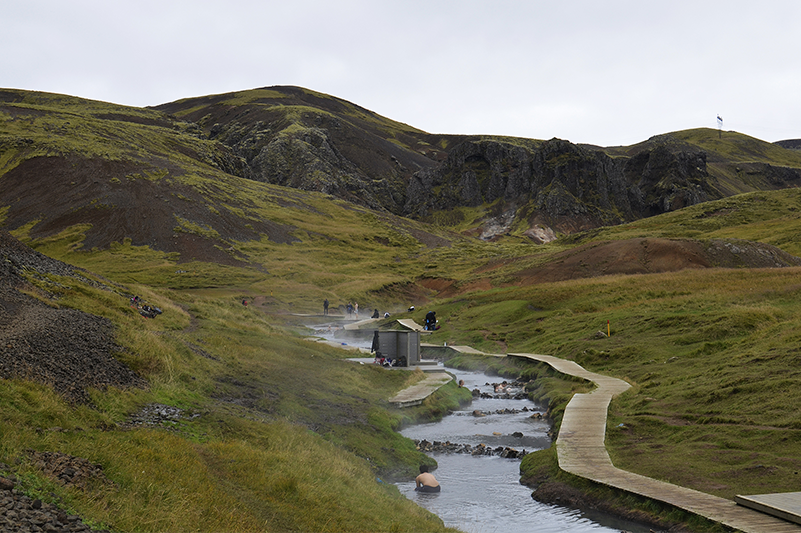 Taking the mountain from the south side makes the eventual destination that much more rewarding, since you spend a good couple of hours hiking up through the paths. Be careful to wear proper footwear, since the water coming off the mountain tends to make the path fairly muddy in parts. It can be especially wet if any horse tours have come through recently.
The foot path in recent years has been built up, although you can see in the photo at the top of the article what this used to look like. I once made my way into Reykjadalur in the middle of a rainstorm and was drenched from head to toe before we ever got near the hot springs. My first trip there I didn't even make it up the mountain at all and just found the first stream that was anywhere near warm enough and sat down in it.