Best tools to find the northern lights
The northern lights are a tricky thing and as much as we would like to be able to control them we all know that we are dealing with nature and nature pretty much does what she wants.
- Look at our great selection of northern lights tours
Luckily we also have a few scientists that have spent a lot of time trying to understand all of this and some nice people have put together websites and apps that we can use to see when and where the northern lights are on… well most likely at least.
1. Icelandic Met Office
http://en.vedur.is/weather/forecasts/aurora/
The Icelandic Met Office has a pretty cool website where they show the strength of the activity and also the cloud cover over Iceland. This can be a pretty good indicator of where it's best to be and if the clouds will be interfering or not with the visibility.
Pros:
Shows cloud coverage

Very simple and clear indication of strength (KPP value)
Cons:
Doesn't work great on mobile phones or tablets

Shows only 3 day forecast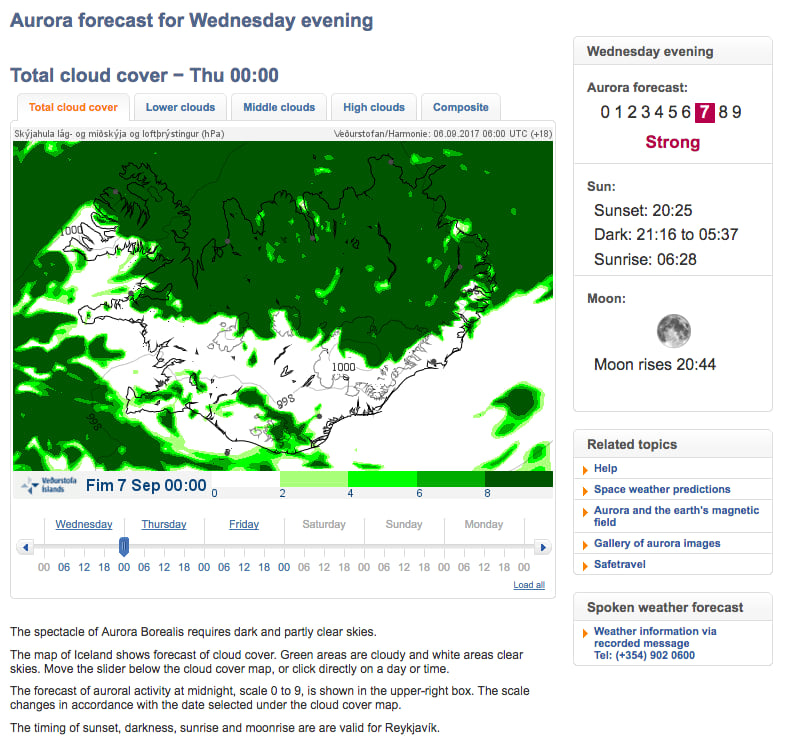 2. Astronomy website of Iceland
https://www.stjornufraedi.is/stjornuskodun/naeturhimininn/nordurljosaspa
A personal project by some smart people that are really intro astronomy, they know a lot about the northern lights and give a really detailed explanation about what is happening and the physics behind it but unfortunately their website is in Icelandic only. But you can translate it into your language of choice using Google translate
Pros:
Very detailed information about what is happening

7 day aurora forecoast
Cons:
In Icelandic only

No cloud coverage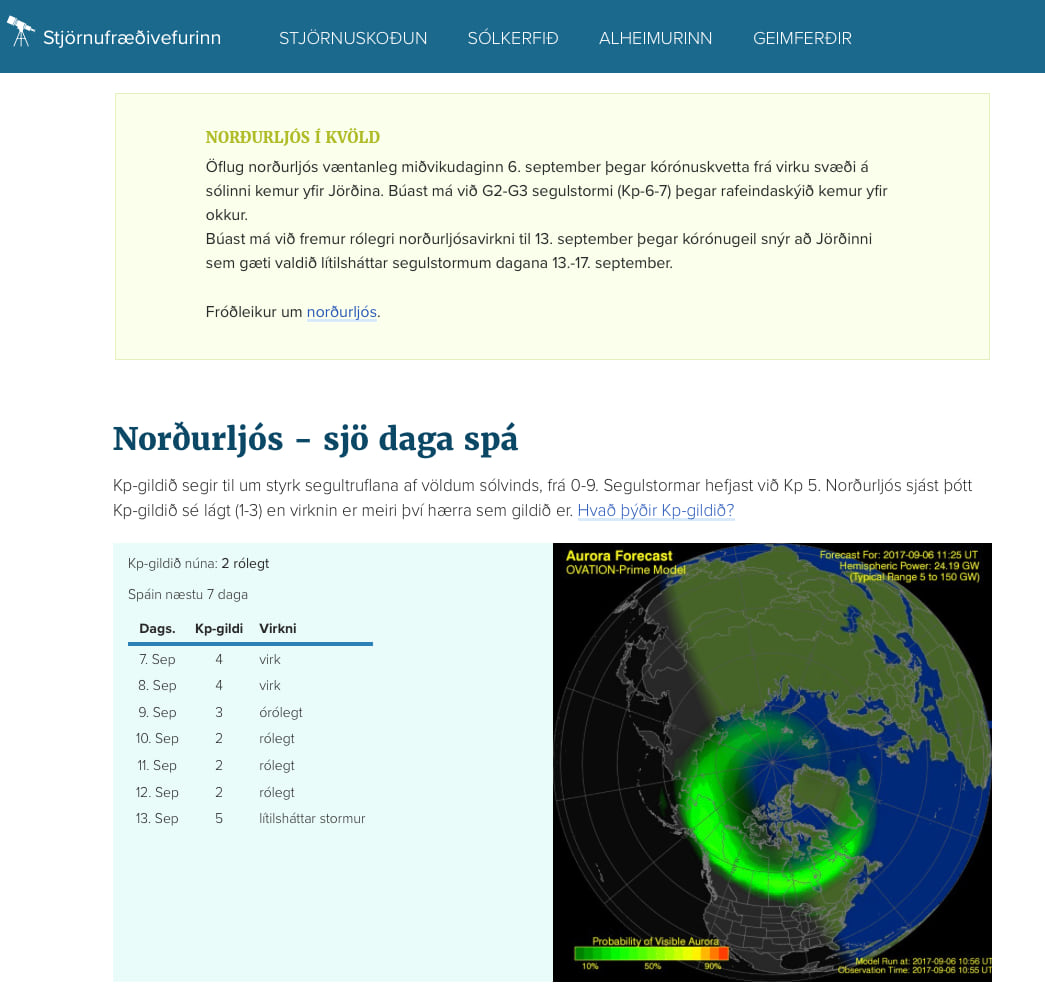 3. Northern lights Alerts App
https://itunes.apple.com/us/app/northern-lights-alerts/id1041324284?mt=8
This is an app created in Iceland and is designed to send out alerts that are within a range that you set. This is a great tool that will alert if you somebody is seeing the northern lights, you can also alert everybody else if you see them.
Pros:
Free app and free service

Easy to setup

Alerts you if the northern lights are visible
Cons:
No forecast

Needs your location to be used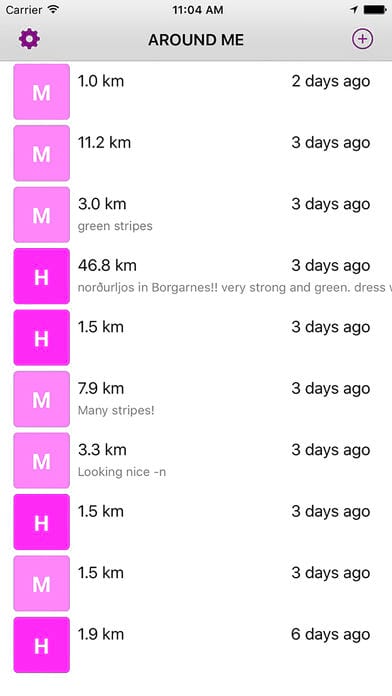 4. Northern lights watch Facebook groups
In Icelandic: https://www.facebook.com/groups/northernlightswatch/
In English: https://www.facebook.com/groups/154848124616342/
An Icelandic Facebook group where locals share what they are seeing and where, also show photos from recent sights. Very active with many members.
Pros:
Many active members around Iceland
Cons:
Icelandic group is mostly in Icelandic

The English group also has posts from other countries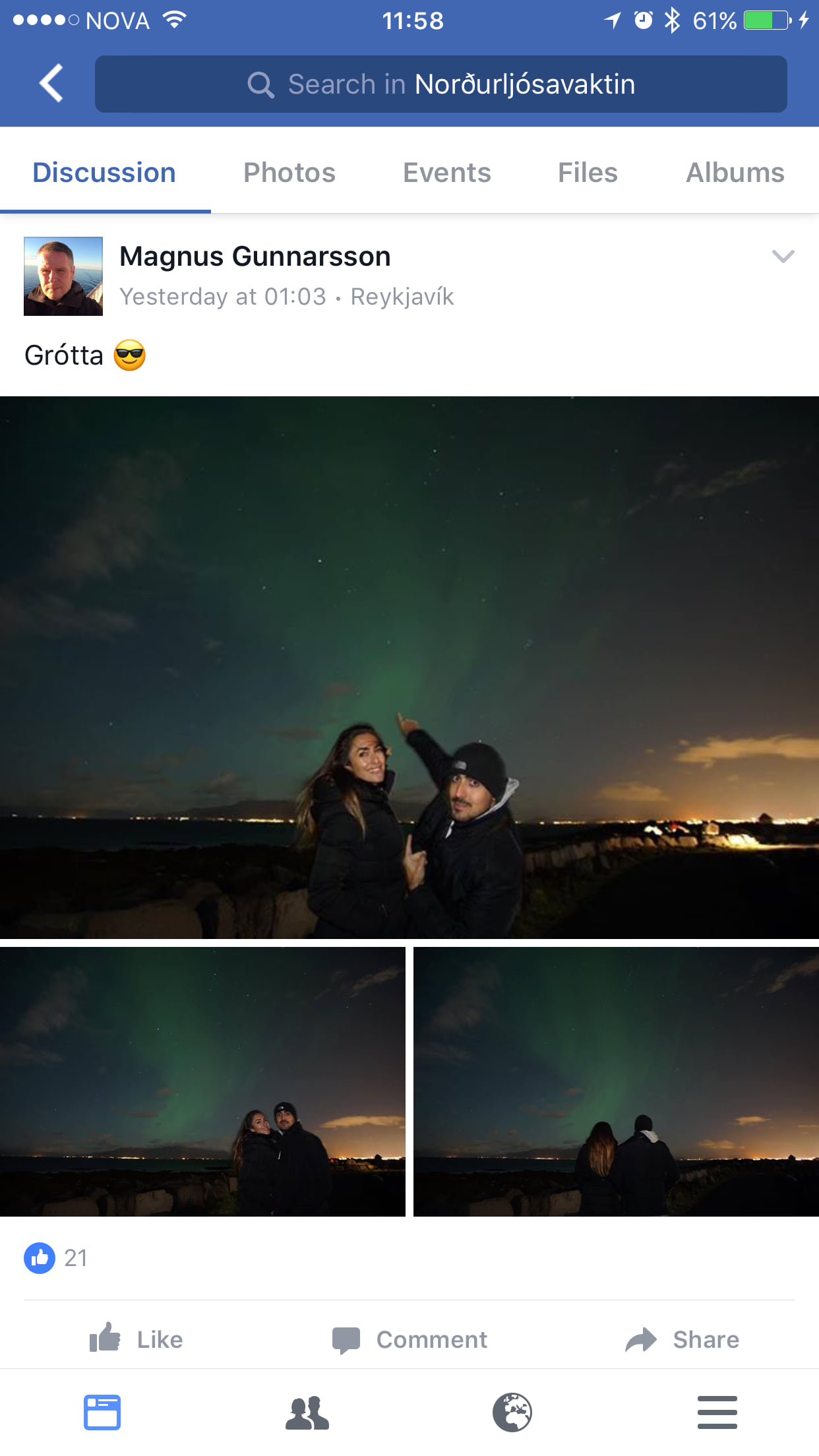 5. AuroraNow App
https://itunes.apple.com/us/app/aurora-now-northern-lights/id1037695306?mt=8
Nice app that shows you what's happening right now but also gives you an hourly forecast. Has some technical metrics that we don't even understand but it's hard to read what's happening tonight and shows no information on cloud cover.
Pros:
Clear 3 day forecast

Clear "now" probability
Cons:
Have to pay for alerts

Very technical

Doesn't emphasize tonight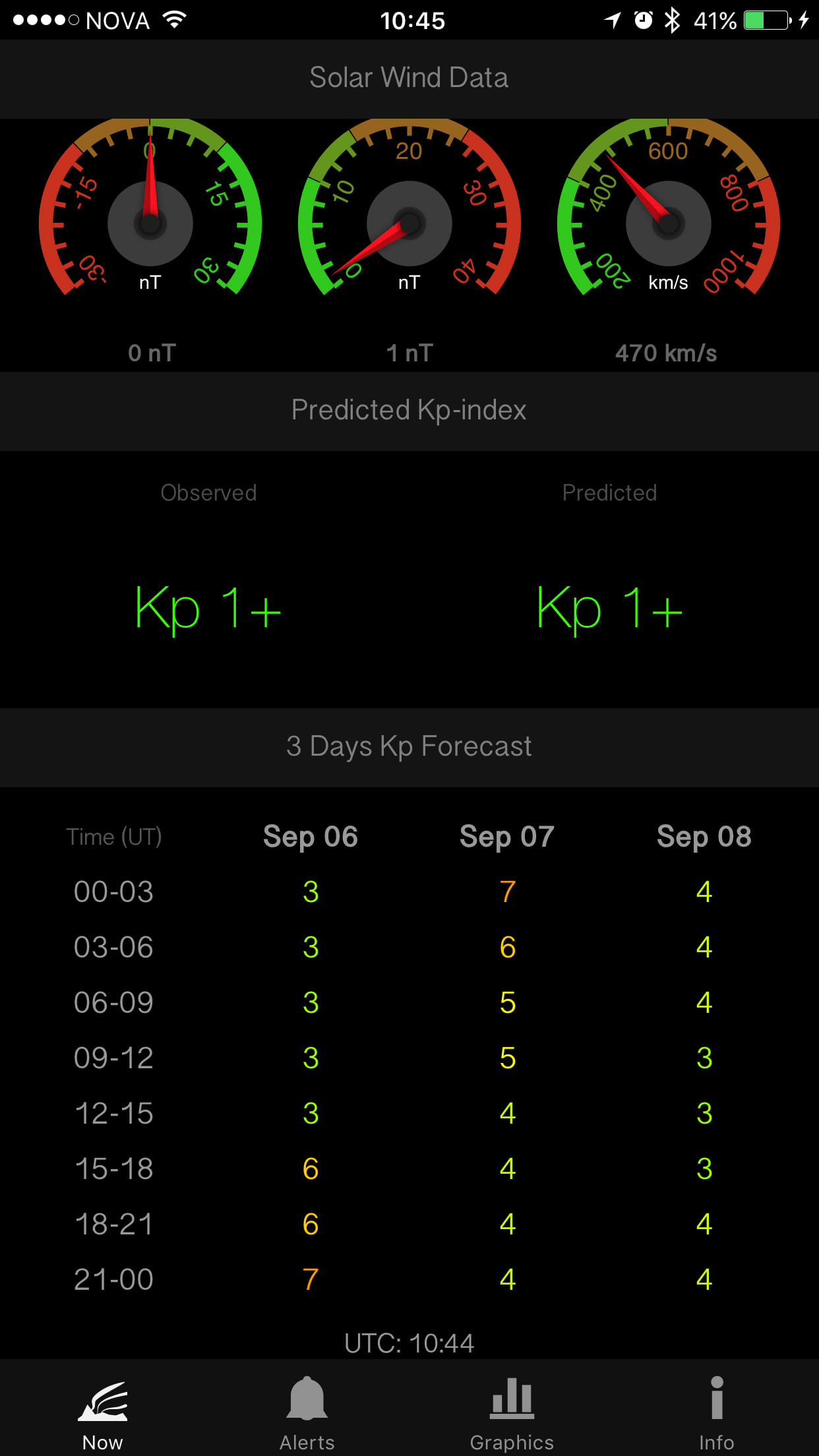 6. Solarham
Just a notable mention, we don't use it personally as it's way to complicated but for those that like this kind of stuff it could be gold :)
Conclusion
The good old Met office with the simple KPP measure and cloud forecast is really all we need. We do recommend combining some of these tools to get timely alerts and to plan ahead.
So no matter if you are booking a northern lights tour with us or heading out hunting on your own we do hope these resources are helpful.
Don't forget to check out our northern lights guide for more information