Laugavegur hike - a guide to the best hiking trail in Iceland
The Laugavegur means 'The Hot Spring Route', which is very appropriate. Thrilling landscapes of lava fields, hot springs, colorful mountains and blue glaciers, endless black deserts and moss-painted oases await to amaze hikers.
It's no wonder that National Geographic rates Laugavegur among the most beautiful hikes in the world! This trail is not one for first-timers and has been dubbed one of the most amazing adventures to be had in Iceland. The path leads 55 km (34 mi) through the southwest part of the uninhabited Icelandic Highlands.
It starts in the hot springs area of Landmannalaugar (the people's pool) and ends at the lush valley of Þórsmörk (Thór's forest). You can complete it over 2 to 4 days with stops at the mountain huts along the way. The path is open from the middle of June to the middle of September every year. The rest of the time, meters of snow covers the trail, making it impossible to trek safely.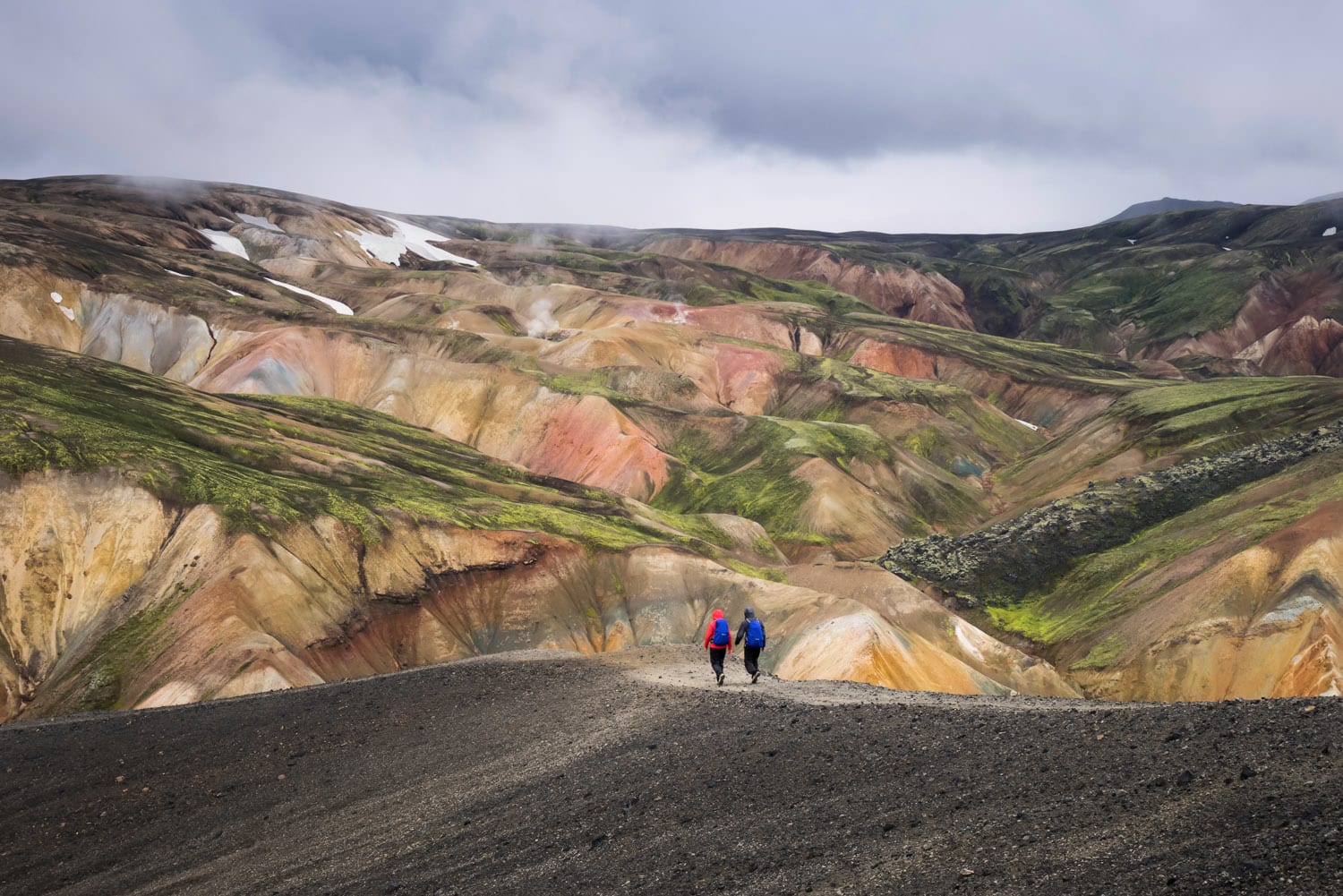 Off the beaten path in Iceland
The route begins far from the vibrant urban life of Reykjavik, some 175 km (108 mi) from Iceland's capital and isolated from any form of 21st century civilization. This trek is not for the faint of heart, many locals and experienced hikers call it one of their favorite trails of all. For those less experienced I would rather advise to hire a trained guide to keep them safe and sound on the way.
The trek starts away from any paved road. Be prepared to drive on rough gravel roads and cross several rivers. To complete this challenge, you will need a 4X4 car with very high tires - Icelanders call this a 'Superjeep'. Or take the special highland bus that departures daily from Reykjavík BSÍ central bus terminal.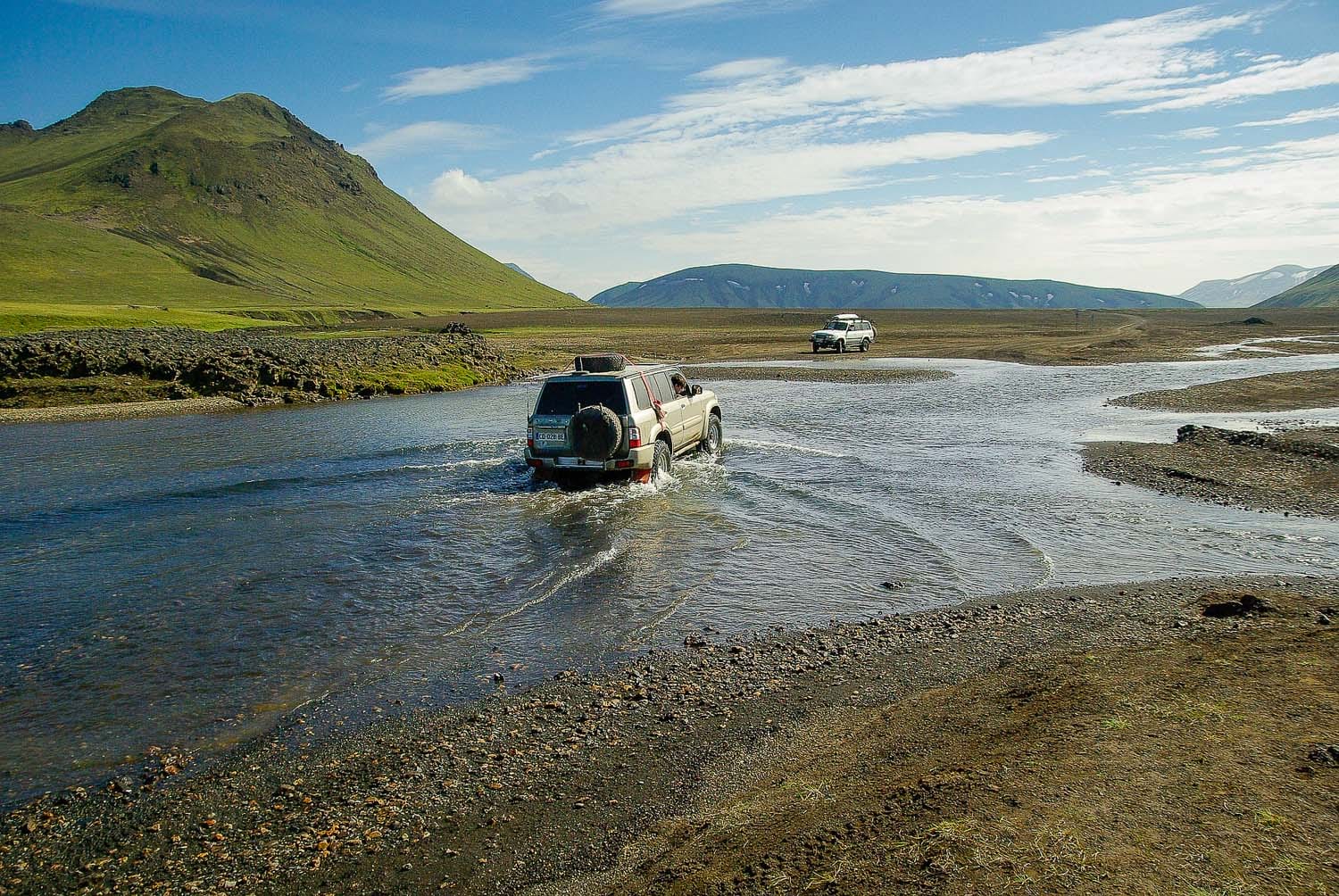 Camping in Landmannalaugar
Don't worry if you can't pronounce it, we're certain you'll enjoy your stay anyway. The Landmannalaugar valley is a well known geothermal paradise. It is famous for its steaming hot springs and colorful rhyolite mountains. It is not only a popular destination for travellers but beloved by locals as well. Some hikers prefer to begin the trek on the day of arrival. Those of us who know the area, yet, recommend spending a day in the basecamp.
There are some huts at this location with limited service and a large campsite around. Spend a day discovering the area and relaxing in the natural thermal bath. A perfect way to prepare your body and mind for the upcoming challenge!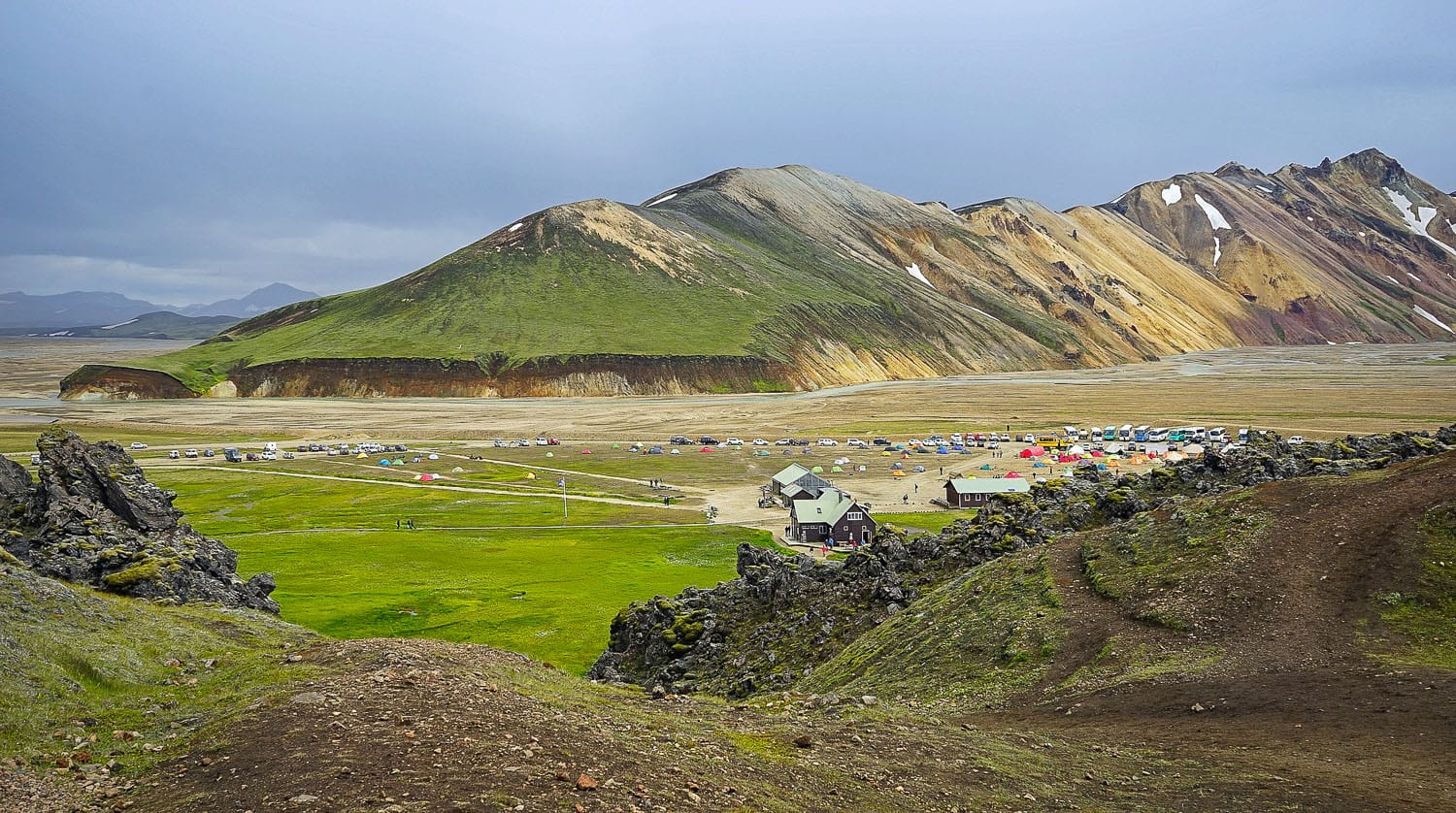 Landmannalaugar to Hrafntinnusker. Laugavegur trail - Stage 1.
Prepare yourself for lava fields and wondrous natural scenery during the first leg of the trek. It is the most demanding day of all, with steep uphills and possibly unmarked, snow covered areas. The walk from Landmannalaugar to Hrafntinnusker mountain hut is about 12 km long with an elevation of 470 metres (1540'). Estimated walking time is about 4-5 hours.
After getting through a beautiful rough lava field, you will find yourself on a volcano. This area is famous for its incredible colorful slopes. Green from the moss, black and bluish from the ash, yellow from rhyolite, red from iron - with hot sulfur springs and steaming puddles in every direction. All over the top, the landscape is usually spotted by white snow patches. The result is a panorama that looks like a beautiful painting!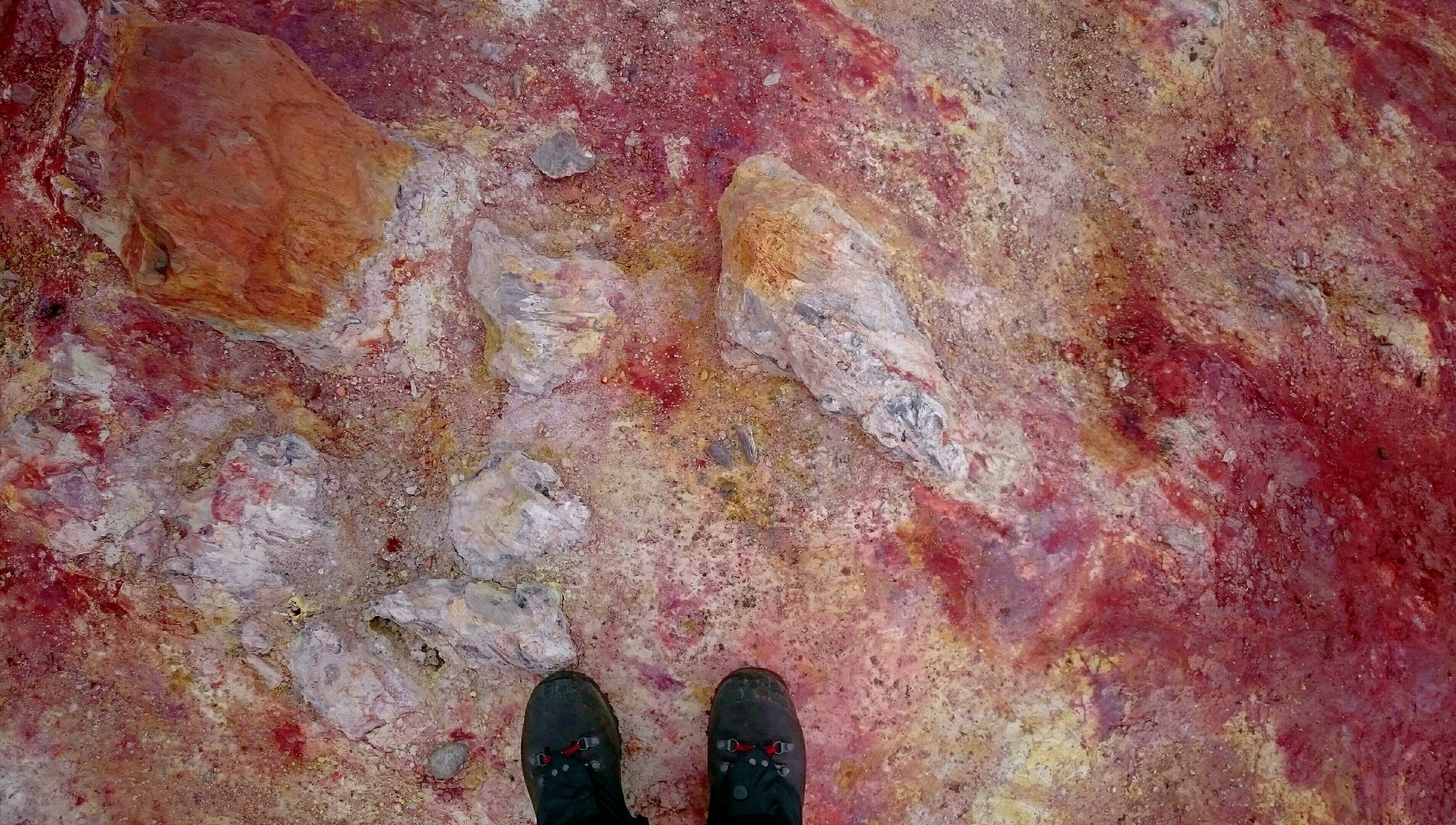 Continuing the hike the elevation rises and gets pretty demanding. You shortly arrive in a black obsidian desert, covered by snow here and there. Obsidian is a natural volcanic glass that forms when a magma cools extremely fast in a volcanic eruption. Please note is not allowed to pick up rocks and take them away from Iceland.
The first hut called 'Höskuldsskáli' will appear shortly after you reached the mountain peak. You will pass a memorial of a young traveller, who sadly died here in a blizzard in June 2004, only 1 km away from the safe hut.
There is no network in the area, electricity is powered by solar panels and used only for essentials. There is no shower or any kind of service here, only the bunks in the hut and the campsite around to pitch your tent. If you plan to sleep in any of the huts during your hike, it is advised to book your bed far in advance. Since the availability is limited, better to book it weeks or even months before your arrival.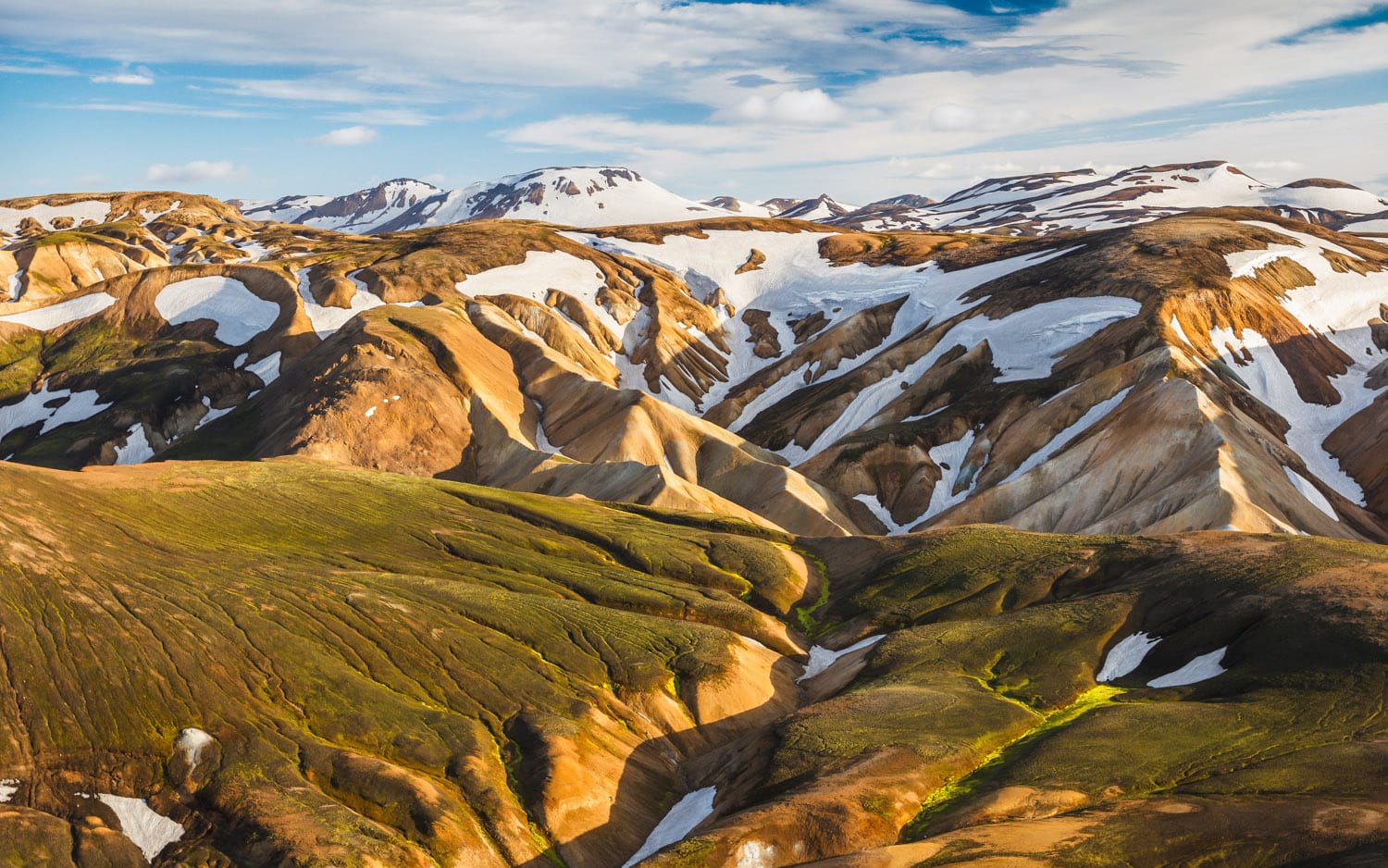 Hrafntinnusker to Álftavatn/Hvanngil. Laugavegur trail - Stage 2.
Though beautiful, the first leg of the journey is also the most demanding one. The second leg will bring some relief and more natural wonders to be seen. This part of the trail is where the saying "it all goes downhill from here" gets new meaning. You will walk 12 km (7.5 mi), estimated walking time is about 4 hrs with a descent of 490 m (1610'). The trek begins in the snow-covered caps and goes downhill on the slopes of Reykjafjöll mountain.
Leaving the the colorful rhyolite area, the trail goes up and down through breathtaking panoramas. Descending on a steep and rocky path, you will arrive into a heartwarming, green valley with spectacular glacier view.
Before reaching the next hut, you will cross an ice cold glacial river on foot. There is no bridge and the stream currents can be strong sometimes. There will be several other rivers to cross in the next few days. Extra footwear (neoprene socks or sandals) and trekking poles are highly recommended!
There are two huts in the area a couple kilometres apart. One directly at the lake shore and the other one a few kilometres further. Here you can take a shower (hot water is for extra charge).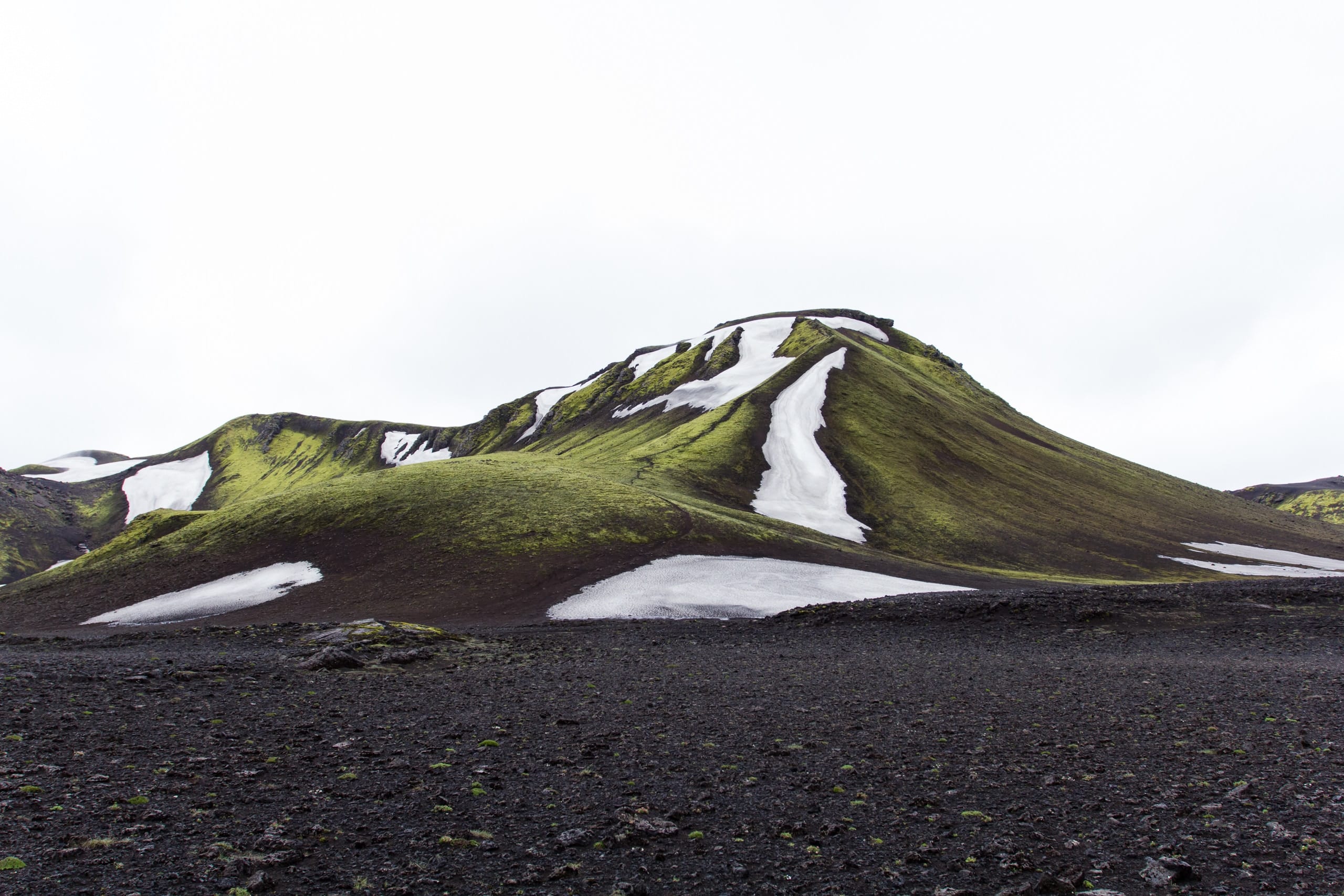 Álftavatn lake - Emstrur. Laugavegur trail - Stage 3.
There is more water to be crossed during the third day of the journey. The water, of course, continues to be incredibly cold, but the scenery will make you forget about your pain. A few free-standing volcanoes rise high above the surrounding black glacial desert. Stórasúla, a vibrant, green, peaky volcano is one of the most picturesque landmarks on the trail.
Walking through the black desert, you will follow a gravel road for quite a few kilometers. Soon you will arrive into a refreshing, green oasis with a mind blowing view over two glaciers. The Botnar are huts located in a canyon on a riverbank.
The 3rd stage is about 15 km long (9.5 mi). This is the easiest part with almost zero elevation. Estimated walking time: 6-7 hrs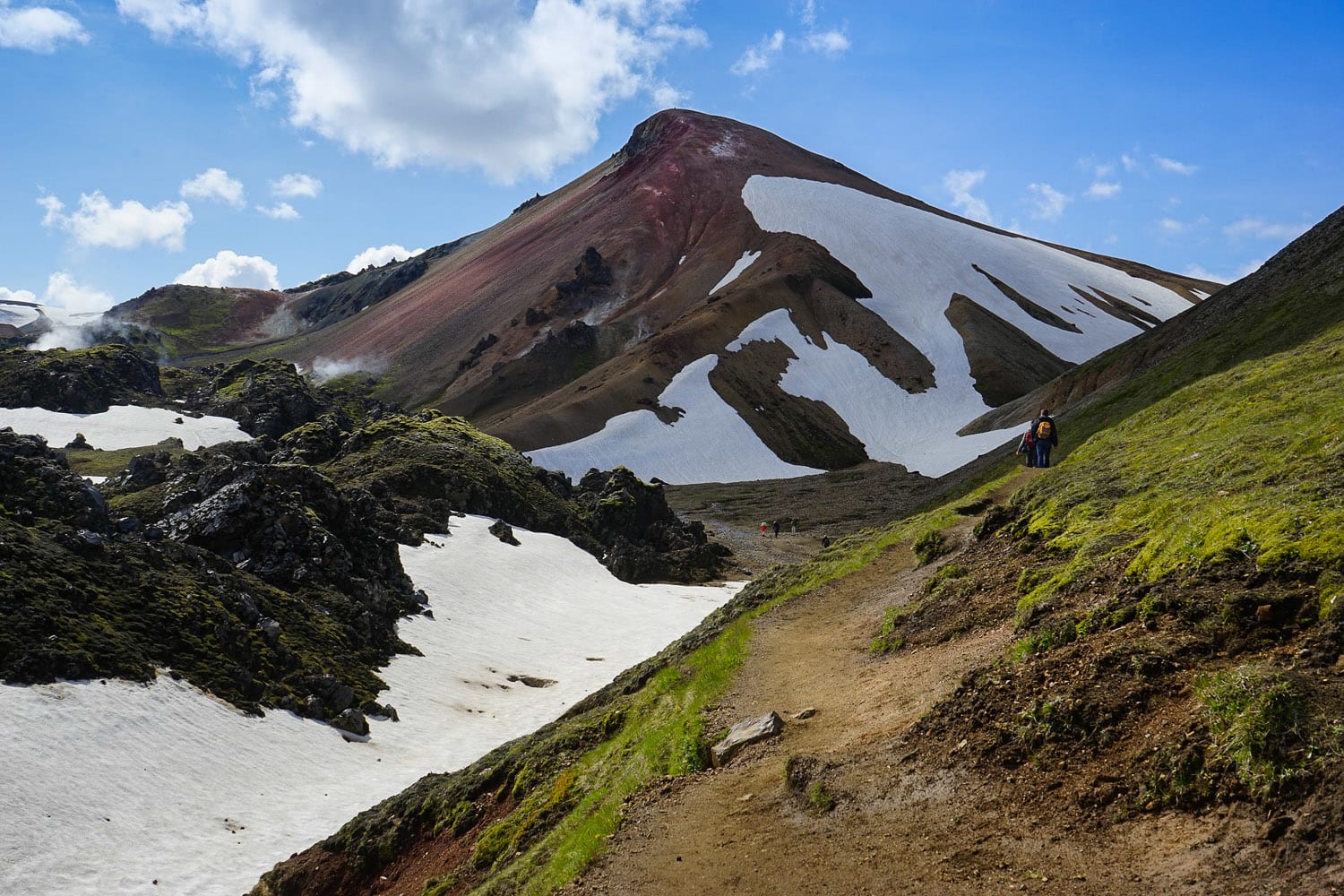 Emstrur - Thórsmörk. Laugavegur trail - Stage 4.
With the Myrdalsjökull glacier in the background, on your 4th day you will follow a wild, noisy river that flows into a scenic canyon. Leaving the river behind, the trail runs through two small valleys with little creeks. You will pass by an eye-catching, odd shaped mountain, called Einhyrningur (The Unicorn). There you'll find the last river to cross, it is pretty wide but not deep, fairly easy to get across.
Soon you will notice more and more vegetation on the way when you finally arrive into a lush birch forest. After 4 days of walking on bald mountains and lava fields, walking through this short but dense forest feels like being in a fairy tale. On the last stage you will walk 15 km (9,5 mi) with an elevation decrease of 300m (985 ').
There are 3 campgrounds in the valley of Thórsmörk, a few kilometres apart. Most likely, you want to find the one called 'Volcano huts'. A Restaurant, sauna and amazing small cabins await hikers here. If you prefer to stay away from the crowd choose one of the other campsites.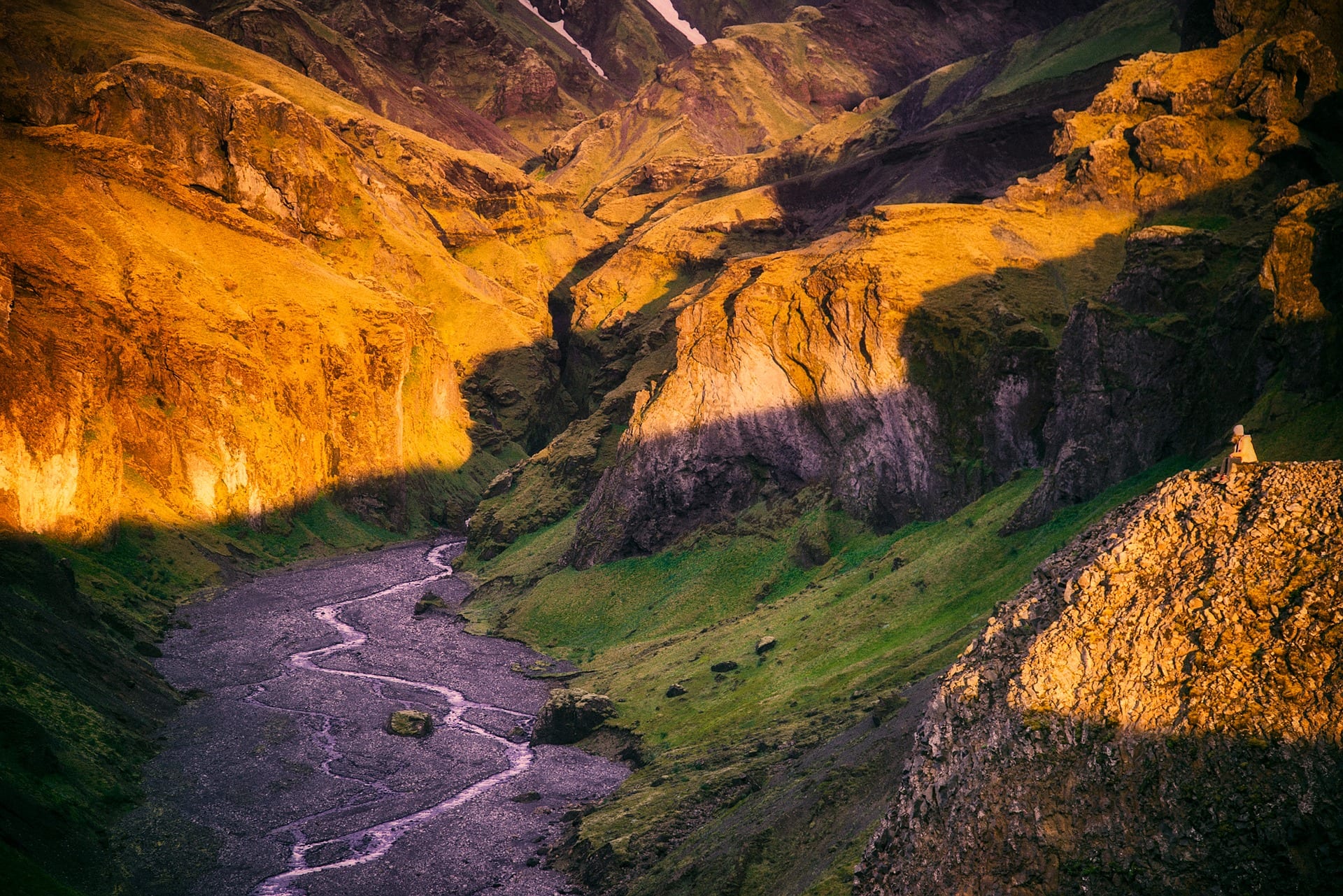 Thórsmörk, the hiker's paradise
Þórsmörk is a breathtaking nature reserve that is located in a valley between three glaciers. No wonder why it is one of Iceland's most popular hiking destinations. You can spend weeks here without having to go to the same hiking trail twice. Staying here for a couple of days to discover the area is warmly recommended.
Many hikers tend to continue from here towards Skógar on the trail called 'Fimmvörðuháls'. It is an extra 25 km with an uncountable number of waterfalls and thrilling scenery on the way. However, the elevation makes it a pretty tough feat, about 800m (2600') on a short part of the trail.
Specialized highland buses run from Thórsmörk many times a day back to Reykjavík in the summer season.
Map of the Laugavegur hike

What will you see on the hike?
Fjallabak Nature Reserve
Landmannalaugar (base camp)
Hrafntinnusker (hut)
Álftavatn (hut)
Emstrur (hut)
Þórsmörk
What to pack for the Laugavegur trail?
Good, broken-in, waterproof hiking boots with proper hiking socks (preferably wool)
River crossing shoes, neoprene socks or sandals
Dress in layers. Fast drying (no cotton) long sleeve shirt and underwear pants. Preferably merino wool.
Lightweight hiking pants and jacket
Water and windproof shell jacket and pants are absolute necessary
Sleeping bag. If sleeping in a tent, choose a sleeping bag rated for winter use. Comfort rating should be around 0 degrees (32F). If sleeping in a hut, bring a light, thin bag with comfort around 20 degrees. The huts are heated.
Compass and/or GPS (with hiking map) are absolute necessary.
Optionally: Personal Location Beacon
Hat, gloves
Quick drying towel
Drybags
Rain cover for your backpack or poncho that covers your backpack
Optionally: camping cookware, possibly windproof
Steady four season tent, if you didn't book your bed in advance. The quality of your tent is critical on this trek!
First aid kit, painkillers
Trekking poles are necessary for the river crossing
Portable charger or solar panel
Spare phone
Sunscreen
Ear plugs, if you (want to) sleep in the huts
Sleeping mask
Water bottle - always have at least 2 litres with you
Food for 4 days - you cannot buy food on the way, only in the restaurant of Volcano huts inThórsmörk
Cash or credit card. You can pay by credit card in the huts. Camping costs about 2500ISK, a bed in the hut about 9000ISK per night. Hot shower is usually for extra charge.
What you don't need:
Bug spray. There are no mosquitoes in Iceland
Bear spray. There are no bears/polar bears in Iceland
Hammock. Trees are only in Thórsmörk.
Water filters/purification tablets. It is safe to drink from running streams.
Safety notes
Gear up with proper hiking GPS or compass and a detailed map. Don't expect any network connection out there, you cannot use GPS on your mobile.
You can rent Personal Location Beacon.
Leave your hiking plan at safetravel.is.
Educate yourself about the weather before heading out! Do not start your hike if there is a weather warning.
This hike is an easy walk in nice weather but can be a nightmare in bad weather conditions. Blizzards, snow, strong wind gusts and terrible visibility can be expected anytime. If you are not experienced on mountain terrain, please consider purchasing a guided tour for your safety.
The quality and the weight of the gear is very important. Waterproof rating, breathability, drying time are important factors. Do not hike Laugavegur if you don't have the proper gear.
Take nothing but memories, leave nothing but footprints!
Please note that wild camping is strictly forbidden along the trail as well as starting an open fire.
Do not step on the moss and do not leave the marked trail.
Do not leave tissues or any waste behind.
Off road driving is illegal in Iceland and can be fined up to 500,000 ISK (4,300 USD).