Free your true-self rockstar in the Icelandic Museum of Rock'n'Roll
Having been a music lover for all my life, I got fascinated by Iceland first through the mesmerising and magical sounds coming from its shores. Sugarcubes, Björk, Sigur Rós, Dead Skeletons, Ólafur Arnalds are just a few inspirational names of what the island has to offer. They are the well-known, loved and respected flag-bearers of a reputation now spread all over the world. It's no wonder the locals cherish their heritage as much as their nature. In the end, the two relate, because Beauty inspires Art, and Art creates Beauty!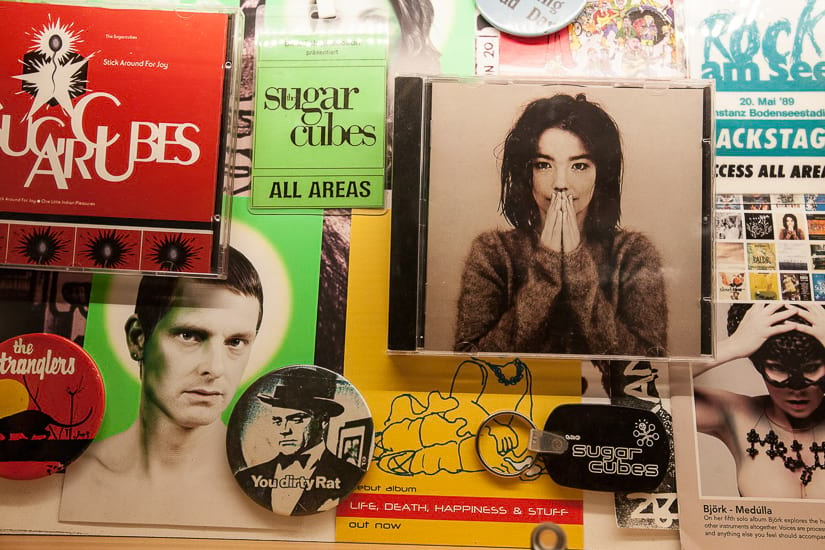 My advice is to not leave Iceland without a stopover at the Icelandic Museum of Rock 'n' Roll, the museum is only a few minutes minutes away from your boarding gate at Keflavik Airport. The Museum is at the Hljómahöll concert and conference hall in Reykjanesbær, a town located on the north shore of Reykjanes peninsula. You can reach it also by public transport with bus route 55 from the capital of Reykjavik. The man behind this venture is Tomas Young, a huge music fan. Tomas was also curator of the unfortunately now defunct ATP music festival at Ásbrú (part of the former U.S. Naval Air Station in Keflavik). When it was active, from 2013 to 2015, the festival brought to Iceland international stars such as Nick Cave, Portishead and Interpol.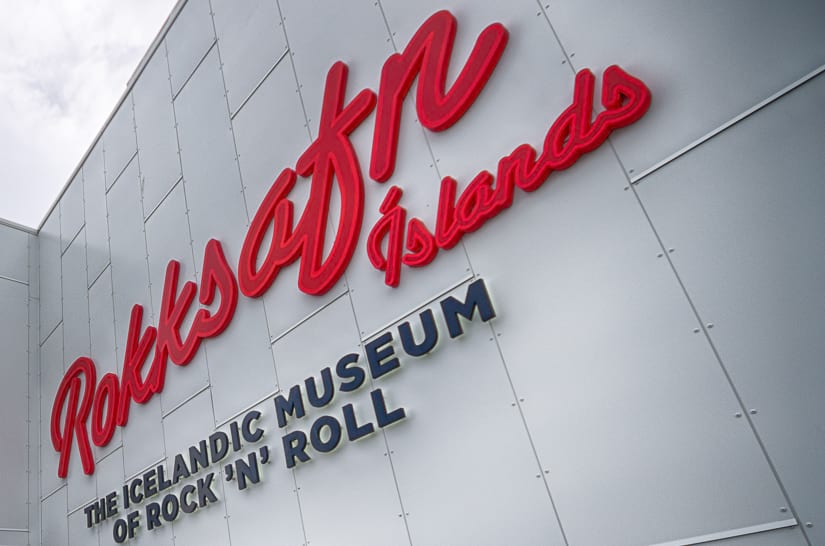 The "Beatle Town"
Keflavik and surroundings are a special place for Icelandic music. The town itself is famous as the "Beatle-town" of Iceland because Hljómar, the nation's biggest Beatle-esque band, were born and active here. And if you think about it, it's not a mere coincidence! It's the magic of cultural exchange and travelling. The Beatles formed in Liverpool thanks to its big port, bringing to England overseas people and rock'n'roll. Same way Keflavik, with its the former US Army base, introduced Iceland to the sexy and exciting moves of the youth's new sound.
"Keflavik - The Beatle Town" was actually an exhibition at a gallery back in 1997and t that time it was called "The Icelandic Pop Museum", followed an exhibition in 2005 called "Fun & Peace" and then with "Rock 'n' Roll" in 2007.
Museum of Rock'n'Roll
The official opening as "Icelandic Museum of Rock'n'Roll" was on April 5, 2014. In March 2015 the museum ran its first exhibition about Icelandic artist Páll Óskar Hjálmtýsson. The title was "Einkasafn poppstjörnu" (The Private Collection of a Pop Star"). Known also as Páll Óskar or Paul Oscar, the singer is a real favorites for Icelanders, also as disk-jockey and for his appearances on radio and television. He's not the most well known Icelandic artist abroad, but becoming familiar with his life and style will give you an insight into local popular culture. The display, narrated by the artist himself, features a timeline on his life and music career. There's a mixing board where guests can mix his songs, a karaoke to sing along and over 40 tailor made costumes from throughout his career! The oldest costume is from 1991, when Páll Óskar performed in The Rocky Horror Show in a school production at Menntaskólinn við Hamrahlíð.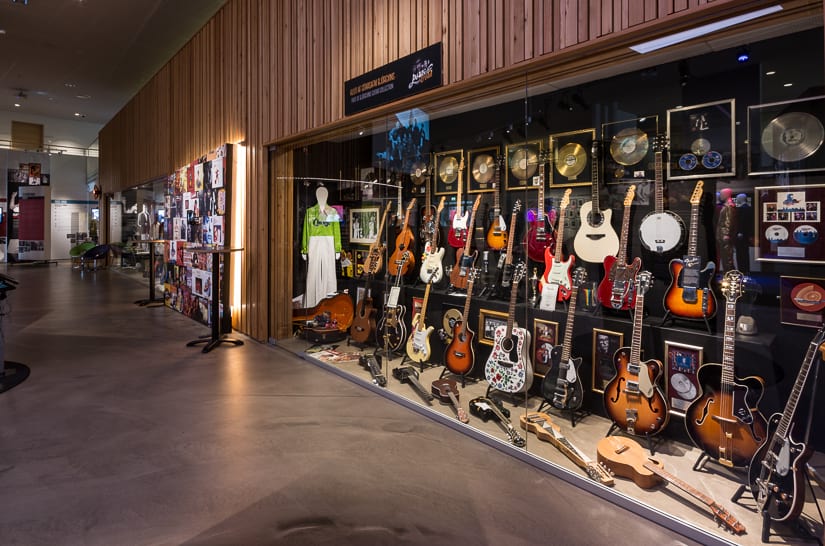 But, before you enter the door of the Museum's building, you must please revise – and heighten! - your expectations. First, you're not going to see a simple collection of memorabilia from men - and women - with electric guitars. The Icelandic name of the place is Rokksafn Íslands, and Rokk in the local language is a word related to whatever is popular music. The Museum's timeline starts from 1830, introducing to all kind of Icelandic folk and popular music, including national stars such as Elly Vilhjálms and Eurovision Contest's heroes.
Then, this is not your ordinary museum, where you must walk in silence with the "do not touch!" warning in mind. Your ticket comes with an iPad and headphones. With the Rock'n'Roll app you can have fun listening to actual music of all artists featured and watching related videos. The app works in five different languages: English, French, German, Norwegian and Icelandic.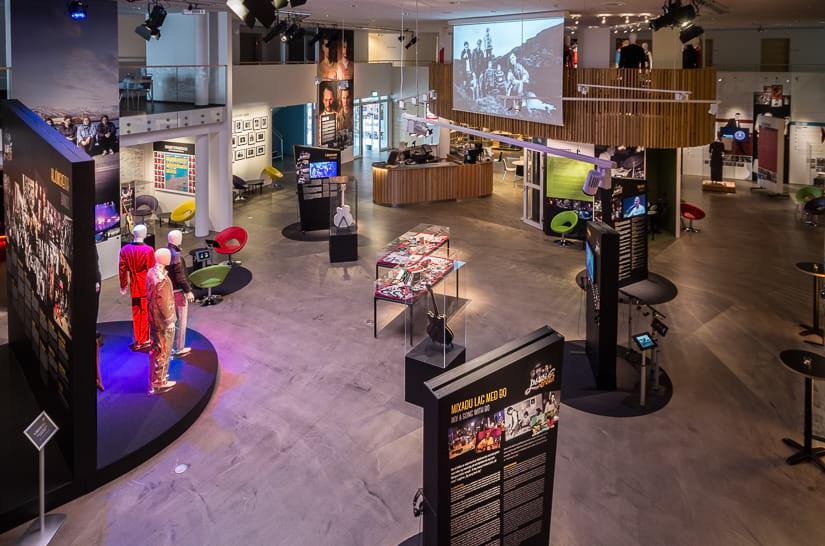 Sigur Rós, Björk, Of Monsters an Men and all the others
Well stuffed with food for your ears it's now time to walk around in the labyrinth of memories. This wonderland features many interesting items. There's the airplane suit worn by drummer Sigtryggur Baldursson for Sugarcubes's music video "Regina", an electric guitar that belonged to Brynjar Leifsson from Of Monsters and Men, the drumkit Gunnar Jökull used on the album "Lifun" with Trúbrot, the gas-masks used in a Sigur Rós video, tree sculpture of the Icelandic reggae band Hjálmar, six metre tall photographs of Björk, Sigur Rós, Of Monsters and Men and Hljómar, and much more.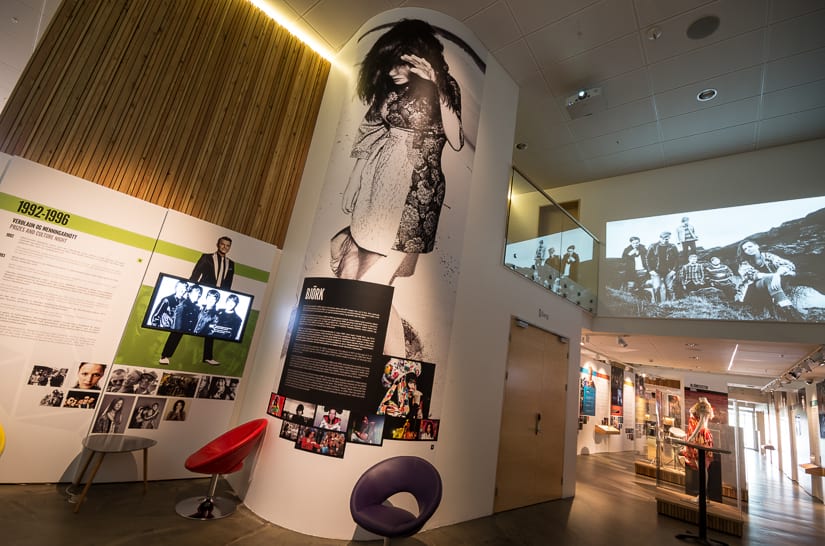 At the end of this part of the journey you can have lots of fun yourself in the Sound Lab. This is a rehearsal space / music studio equipped with real instruments and mixers. You can sing your heart out with Icelandic Karaoke or swagger like a rockstar playing keyboards, electric drum kit, bass and guitars. Mind to not get over excited and do not smash anything!
The Museum has also a little and comfy movie theatre where you can watch legendary Icelandic music movies. The choice includes "Heima" by Sigur Rós, "Rokk í Reykjavík" and "Screaming Masterpiece" by Ari Alexander, to get immersed in the local vibes.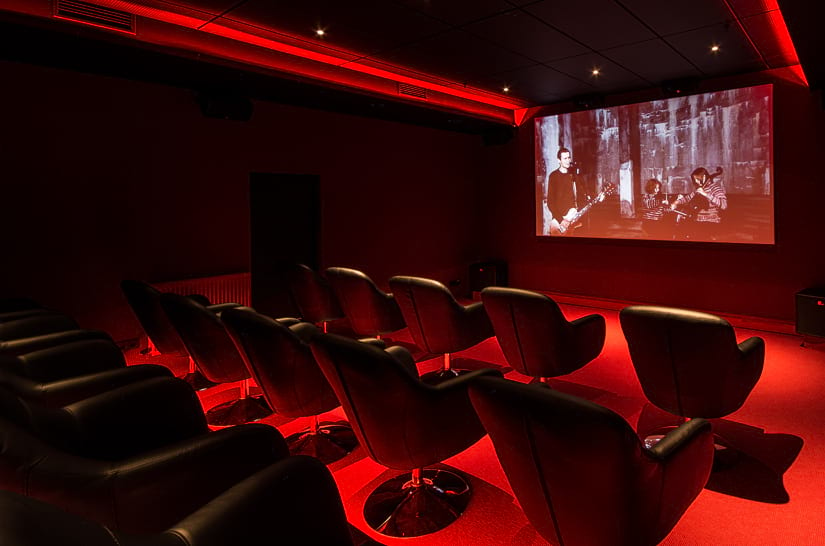 If after all these adventures you still have spare time and are still looking for souvenirs, do not forget to pop in the Museum's shop. There you will find plenty of music related merchandise, from the obvious vinyls and cd's to t-shirts, books and rare DVDs. Rokksafn Íslands has also a lovely coffee shop, with choice of tea, chocolate and any kind of fancy threats. the popular Icelandic coffee roaster Kaffitár curates the space. It's the best local brand for importing, roasting and serving the finest Arabica coffee beans. The museum is open from 11am to 6pm all year round. Closure for New Year's Day, Good Friday, Easter Day, Christmas Eve , Christmas Day and New Years Eve.
Tickets are 2000 ISK, with a 1500 ISK discount for seniors. Free admission for children 16 years and younger if accompanied by an adult.
Tickets can also be pre-booked with a 15% discount from Museum's website.
Check the facebook page for updates, photos and a virtual tour.