10 ways to do New Year's Eve like an Icelander
With this guide to the Icelandic New Year, you can experience the Icelandic New Year's Eve like a pro. Take note, most of these pointers have to do with explosives.
Every year on the 31st of December we put a lot of pressure on ourselves to have the best time ever. Some just give up completely and go to bed early.
1. Get a ticket for one of the parties being held at various bars
The best parties are the ones you need to plan ahead for. There are several to choose from: Prikið, Austur, Kaffibarinn, etc. Just pick the place you've already found that you like and contact them about getting tickets. The parties usually start at around 1AM, so you might want to nap in the day before (unless you're doing all the cooking, in which case, I recommend a nap between the brenna and the skaup - see below).
2. Buy fireworks from the search and rescue.
Most of the places to buy fireworks are operated by the search and rescue operations in Iceland. The proceeds of the sales of fireworks go toward their operations throughout the year. These kind and brave people are the ones who go looking for you in the mountains when you stray off the path (don't do that, please). Support their operations by buying lots of fireworks, which are legal in Iceland. Take care of yourselves and use goggles when making things explode.
3. Run in the last day of year run (preferably in a costume).
You don't have to run, but you can go and cheer on the poor sods who do. The race starts in front of the Harpa music theater at 12 PM and goes out the waterfront to where the ferry to Viðey docks. Although they hand out prices for first places in various age groups this run is thought to be more of a fun activity rather than a fierce competition. Some might think it's halloween based on all the costumes people wear. Don't be surprised if you see a few smurfs or even Batman skidaddle past you with a smile on their face.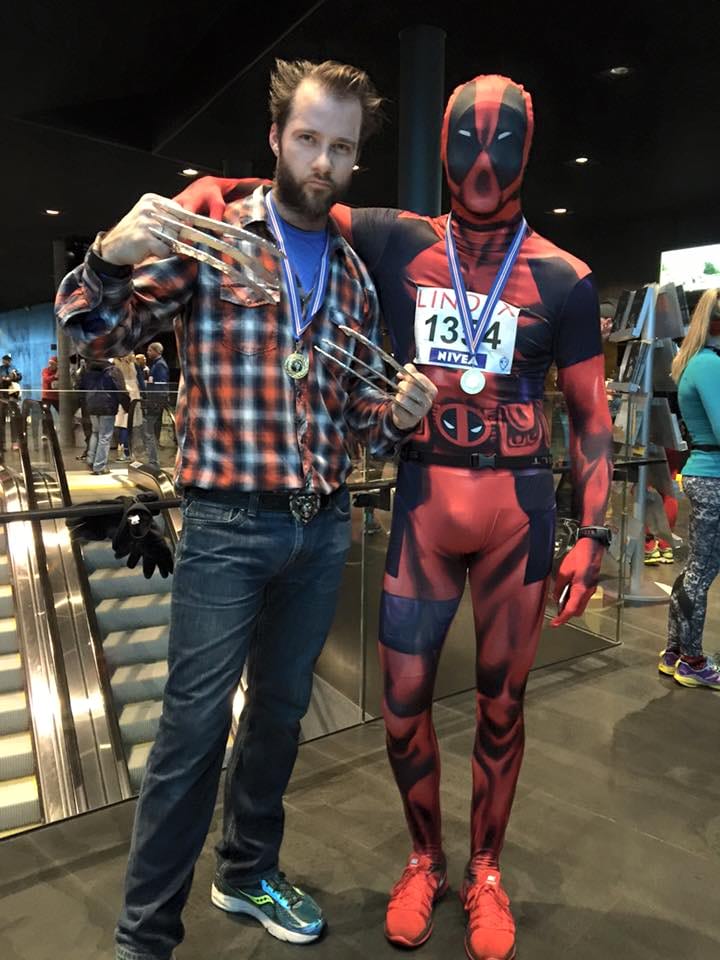 4. Have a nice dinner with friends or family.
If you are lucky enough to know locals here, then maybe you'll be having a nice turkey dinner or a nice vegan nut loaf with some friends. Otherwise, book a table at one of the world-class restaurants we have here. (You have a table booked already right? Oh well, there's always 10-11 or one of the gas stations for some quality hot dog action or an $8 sandwich.)
5. Watch the áramótaskaup with a local and get confused.
This is a critical part of the Icelandic New Year, when a group of actors put together a satirical round-up of the news of the year. It's considered a sign that you've "made it" in Icelandic society if you're lampooned in the skaup. (Or that you had millions squirreled away in offshore accounts...) This program will be obtuse to most of you unless you're living in the country and speak fluent Icelandic, but there is something cringingly amusing about having someone explain humour in another language and having all the joy and levity sucked dry in the process.
6. Go to a "brenna".
In several places around the city, Icelanders pile a bunch of euro pallets, old Christmas trees, and whatever else is lying around that looks flammable into a massive pile and set it on fire. Stand back, because this two story inferno gets incredibly hot. In 2015, the weather was incredibly bad on Ægisíða where one of the main fires is situated and everyone stood in a ring around the flames where the raging blizzard was just balanced with the fiery furnaces.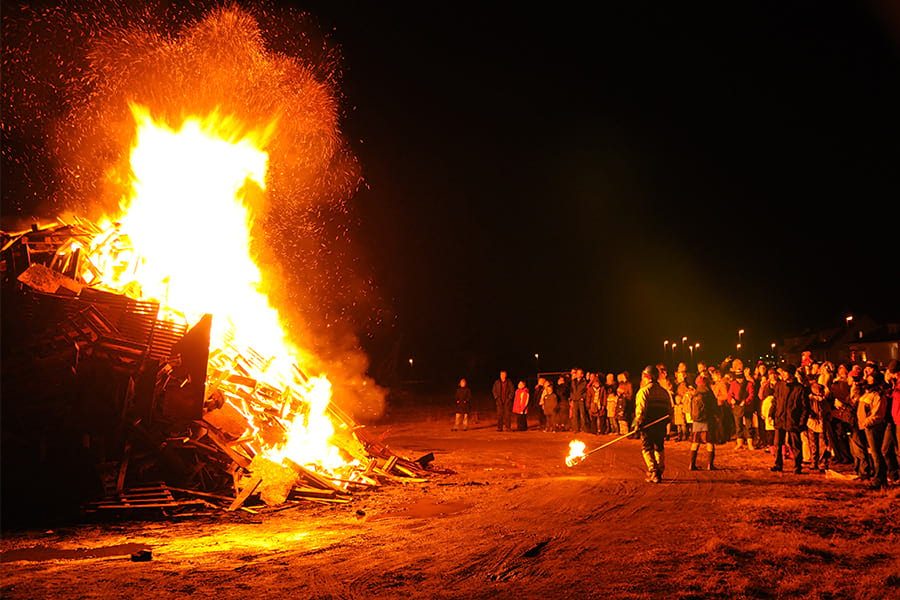 7. Blow up your front porch with explosives.
So you've watched the skaup and you've been to the brenna. You're thoroughly confused and now it's time to set off more explosives on your front porch than you've ever seen in your lifetime. There is always someone in the family who gets particularly into this. Usually the man-child youngest brother of your mother-in-law (scientific fact, I swear). The fireworks start at around 11PM, reach a fever pitch at midnight and then continue in a slow dribble for the next week afterwards.
8. Go to Hallgrímskirkja on or just after midnight.
The hill at the top of the city is a perfect spot to see the fireworks. If you're not already setting off a bunch yourself, you might want to just enjoy the display that the rest of the city is putting on. The display really gets going at 12AM, with everyone shouting and kissing and hugging and yelling "Gleðilegt nýtt ár" and setting off more explosives. Very exciting.
9. Go to the party and get home safe.
Adult humans can digest one alcoholic drink per hour safely. Otherwise we get drunk. If you choose the latter option, make sure you stay hydrated. Icelandic tap water is free and clean and will keep you from ending up in dizzy mess on New Year's Day.
10. Skip it all and go out on the 1st instead.
Alright... I know we dumped on this option in the beginning, but actually for those of us who aren't that into the whole party scene and would prefer to spend the first day of the year healthy, wealthy and wise, there are options for you. You can go to the swimming pool (Laugardalslaug, for example, has regular opening hours on New Year's Day). You can also jump in the ocean and then relax in the hot tub at Nauthólsvík with all the other Polar Swimmers.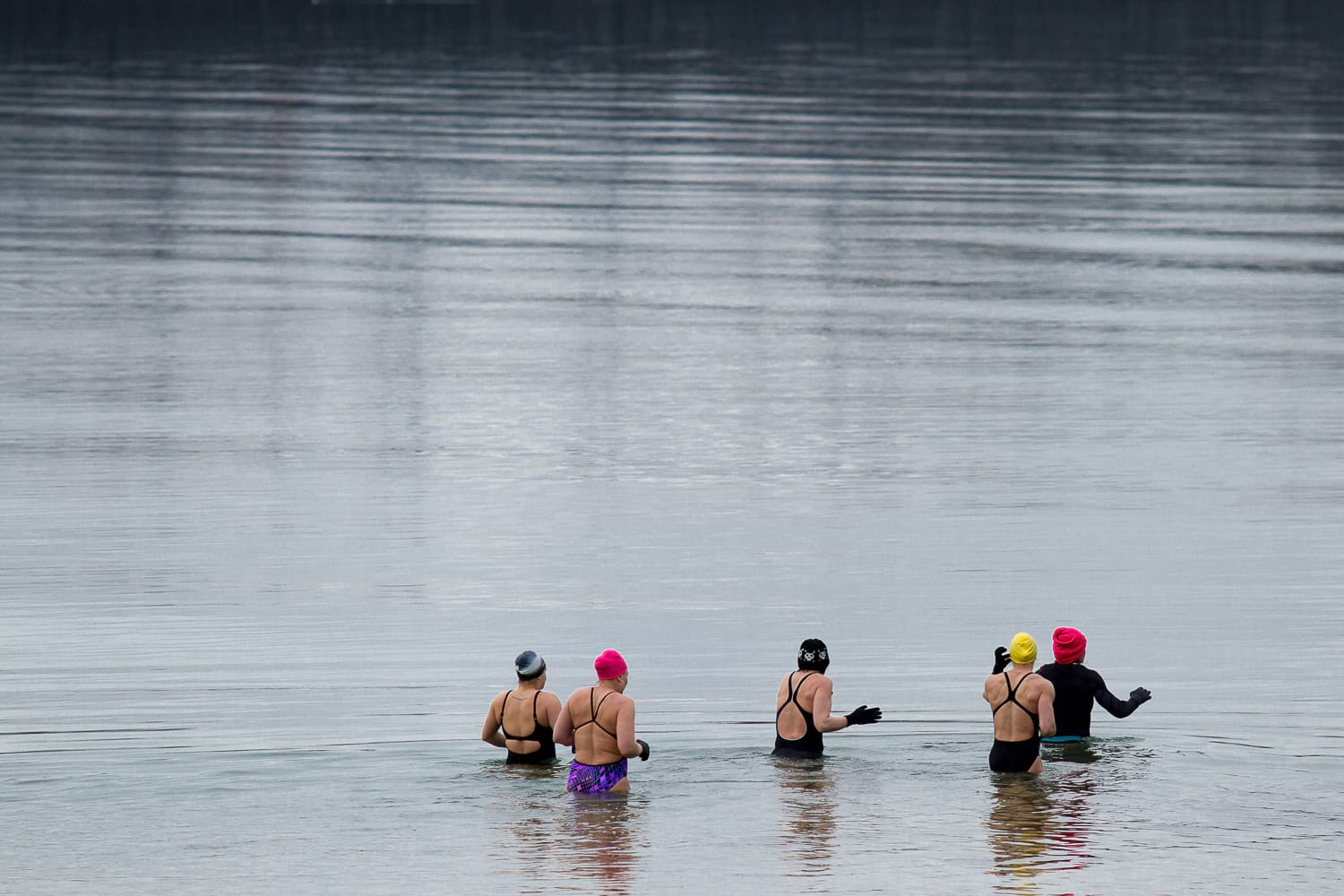 Above all, stay safe and take care of each other.