Classic Golden Circle Tour
A classic tour of the Golden Circle. See the world famous erupting geyser & hot springs, experience the magnificent Gullfoss Waterfall and follow in the footsteps of the Vikings, as you walk down the lava canyon in Þingvellir
Duration: 7,5 Hours
Very easy
Electronic voucher
Pickup available
Book online and get instant reservation confirmation
Description
The 
Golden Circle tour
is the most popular day tour in Iceland and this is the best priced Golden Circle bus tour you will find. In a single day you will see three of Iceland's most famous sights. You will see
Geyser
Strokkur
the world famous erupting geyser & geothermal hot spring area in Haukadalur. Experience the magnificent
Gullfoss
one of Icelands largest and most beautiful waterfall. Walk down the lava canyon in
Þingvellir
national park, Icelands most historic site.
Highlights
Main sights and highlights
Geysir and Strokkur the erupting geothermal geyser
Gullfoss waterfall
Þingvellir national park
GPS activated audio guide
Geysir and Strokkur the erupting geothermal geyser
Geysir is a collection of hot springs in Haukadalur, a geothermal area in the south west of Iceland. The most famous geyser Strokkur erupts every 6-10 minutes and shoots hot water 20 meters (70 feet) up in the air.
This natural phenomenon and display of volcanic power is truly amazing. Seeing a geyser erupt is a sight that can't be missed for anyone visiting Iceland.
The geysers are in an area called Haukadalur about 1 hour and 30 minutes from Reykjavik. Once you are there you will see steam rising from the ground. Many hotsprings and hot rivers are located in the area.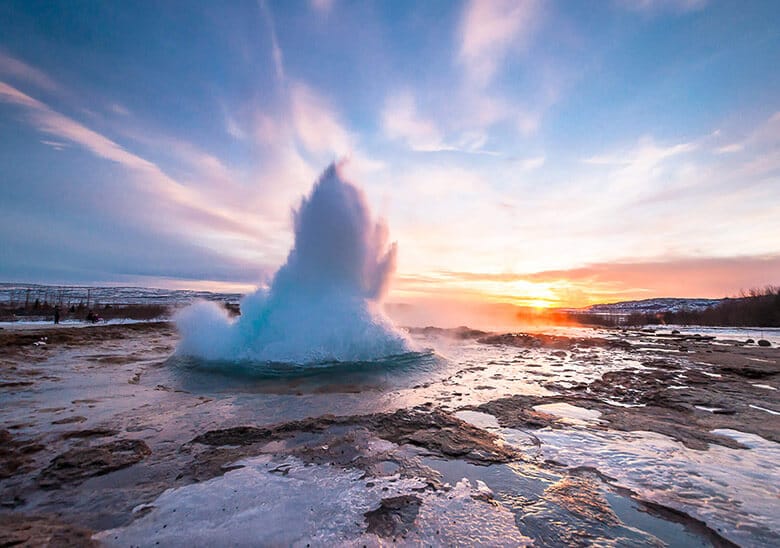 Gullfoss waterfall
Gullfoss (Golden falls) is one of Icelands most majestic waterfalls. The waterfall originates in the Langjökull glacier and gets it's name from the gold hue it gives off as it tumbles downward into the canyon.
The waterfall drops down into a crevice of 32 meters (105 ft) in two steps being 11 meters and 21 meters each. On many occasions rainbows can be observed dancing across the top of this magnificent sight. Gullfoss has an interesting history that involves investors trying to harness its awesome power.
The waterfall can viewed from a few different locations. The upper deck next to the visitor center gives a great view from above. By walking down the staircase the waterfall can be viewed from the lower deck. From there the waterfall seems to vanish into the earth.
From the lower deck you can walk a path that leads towards the first plunge of the waterfall. This will give you a great view into the crevice and a feeling of the true power of the waterfall. This path can be closed if the path is icy and conditions are not good.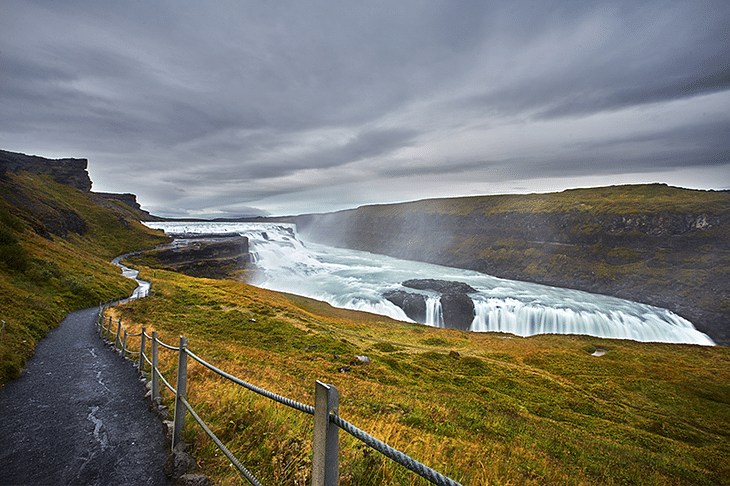 Þingvellir National Park
Þingvellir National Park (Thingvellir) is Icelands most historic site. This is where the worlds first parliament was established by the vikings in 930 AD. Thingvellir was designated as a world heritage site in 2004.
Þingvellir is also a natural treasure with it's vast lava fields and rivers leading into Icelands largest lake. The Þingvellir valley has been an inspiration for numerous painters and photographers alike.
Starting from the visitor center you walk out to the scenic deck known as Hakið where you can and witness the magnificent lava formation. You can almost witness the continental drift as you take a walk between the American and Eurasian tectonic plates.
As you walk down towards the valley you can read interesting tidbits about our history, viking era and how the laws of the land were established.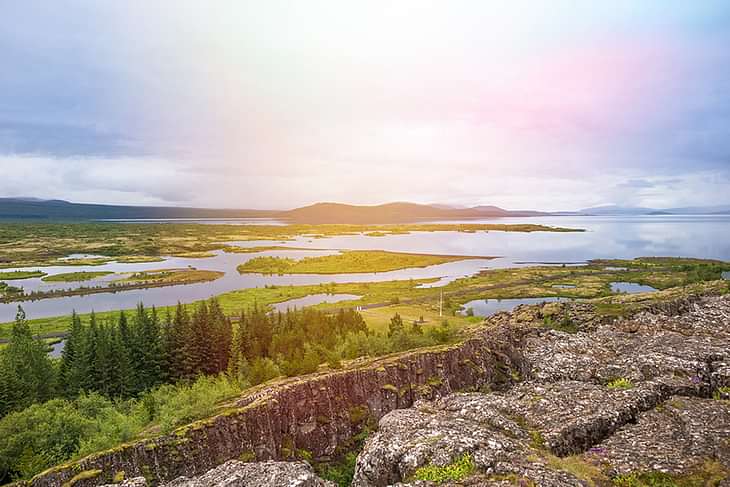 GPS Activated Audio Guide
The all new bus fleet is equipped with WiFi connected computer tablets in each seat. On the tablets you can use the Audio Guide that will will tell you interesting facts about Iceland and the places you are travelling through. The audio guide is available in 10 languages: English, French, German, Dutch, Italian, Spanish, Chinese, Japanese, Korean and Finnish.
Itinerary
Starting off in Reykjavik, you will picked up from from either your accommodation or the nearest pick up stop in downtown Reykjavik.
The tour starts with Þingvellir National Park, the UNESCO World Heritage Site. Here you walk down the path in a lava canyon and admire the view while learning about Icelandic history.
The next stop is at Geysir Hot Springs, the home of the one-and-only original geyser and Iceland's most iconic natural attraction. Steaming hot water erupts from the famous Strokkur Geyser every few minutes.
Last stop is Gullfoss Waterfall, which is an awesome sight to behold. Here a powerful glacial river cascades down 32 meters on two levels and into a narrow canyon with a thunderous roar.
We then drive you back to Reykjavik and drop you off at your accommodation or nearest pickup stop.
This tour is 7.5 hours long including travel time and the time you spend at each location. You spend at least 45 minutes at the major stops giving you plenty of time to enjoy the nature and snap some photos.
Total distance covered : 290 km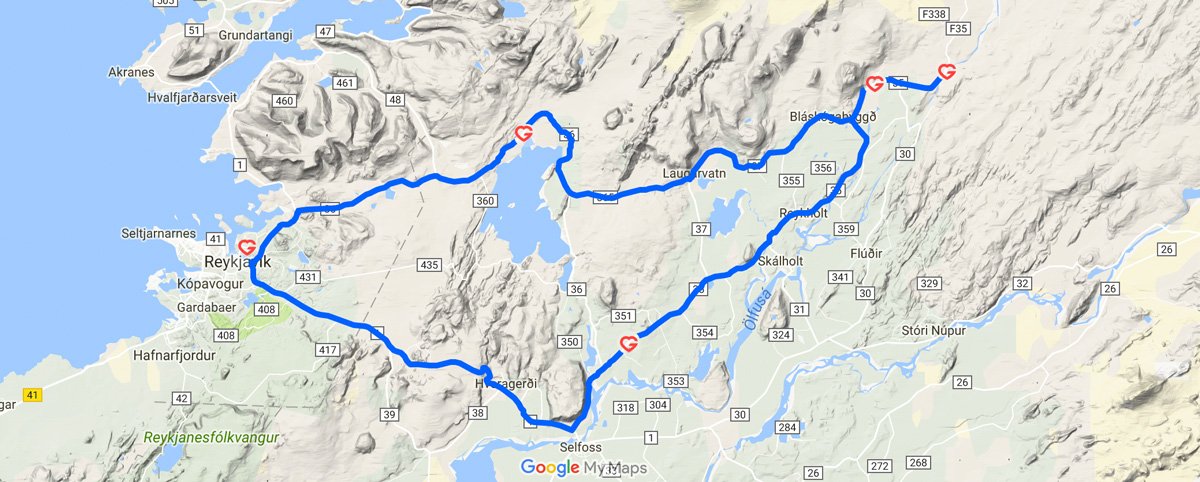 Important information
Pick-up starts 30 minutes prior to departure. Please be ready at your pick up point with your voucher, either in digital or printed form.
You will be traveling in a coach that holds approximately 40 people but is very spacious and comfortable. There is not a bathroom on the bus but there will be plenty of stops where facilities can be used. The bus offers free wifi and a USB charging port.
Lunch is not included, In Geysir & Gullfoss there are shops where you can buy food and drinks.
What's included
In-bus audio guide with a choice of 10 languages (English, French, German, Dutch, Italian, Spanish, Chinese, Japanese, Korean and Finnish)
Knowledgeable local guide
Admission to the sights
Free Wi-Fi and USB-charger for each seat
What do I need to bring
For the In-Bus-Audio-Guide: Bring your own headphones. Otherwise headphones are available for purchase in every bus from our hosts. 
For your comfort: Dress according to weather. In Iceland it is always wise to dress in warm waterproof clothes. Weather changes can be sudden so be prepared for all weather conditions. Waterproof jacket and pants, headwear and gloves, and warm socks/waterproof shoes are recommended.
$
64
7,5 Hours , Very easy