Northern Lights Tour from Reykjavík
Guided 3 hour northern lights hunt and stargazing tour from Reykjavik. Journey out of the city on a hunt for the elusive northern lights, one of the most popular things to see during the winter while in Iceland.
Duration: 3 Hours
Very easy
Electronic voucher
Pickup available
Book online and get instant reservation confirmation
Description
For many, the possibility of seeing the Northern Lights is the reason for visiting Iceland in winter. The Auroras are both wonderfully mysterious and magical. Iceland holds an excellent record for frequent sightings of the Northern Lights. Iceland also offers some of the best conditions for seeing stars, as the air is pure and the light pollution is minimal.

Travel away from the bright lights of the city, out into the countryside to hunt for the Northern Lights. You will be joined by an experienced northern lights guide but an audio guide offered in 10 languages will also be at your disposal. Together with your driver and of course a little bit of luck you will find an amazing spot to view the Aurora borealis. On this tour you will also enjoy some stargazing courtesy of a pair of astronomical binoculars.

The tour not only sets out to find the legendary Northern Lights, we also use the opportunity to pinpoint some of the stars & constellations in the sky. The guide brings along astronomical binoculars for you to try out and will assist you in finding the most known constellations and stars.
Highlights
Main highlights
Northern lights in Iceland
Stargazing
GPS activated audio guide

Northern Lights in Iceland
The amazing natural phenomenon that occurs in the upper atmosphere of the sky. Charged particles from the sun collide with the magnetic layer around the planet. Best viewed between 10PM and 2AM on a clear night! Also known as the Aurora or the Aurora Borealis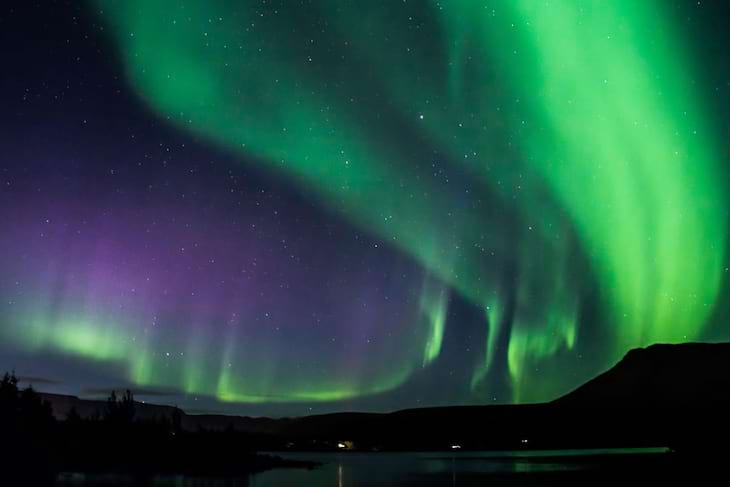 Stargazing
Being able to read the stars is an important part of Icelandic culture. Many Icelanders know how to navigate by the constellations just like our viking ancestors. Icelandic countryside can often be featureless and thus it was a vital survival skill. Enjoy learning some of this culture as you attempt to find some of the constellations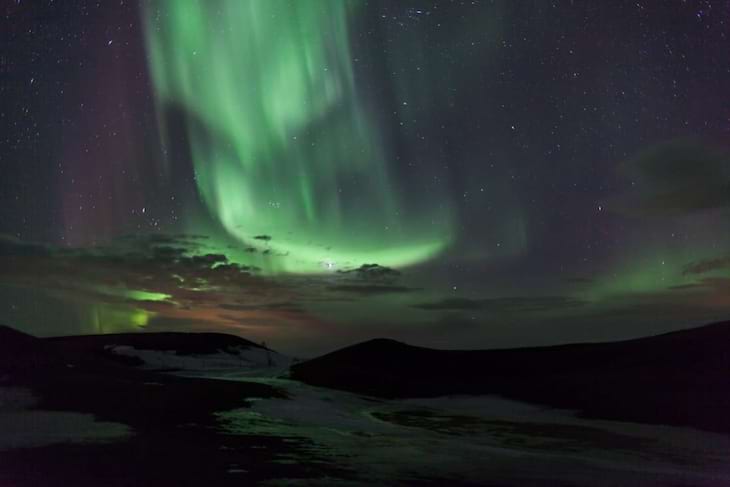 GPS activated audio guide
The all new bus fleet is equipped with WiFi connected computer tablets in each seat. On the tablets you can use the Audio Guide that will will tell you interesting facts about Iceland and the places you are travelling through. The audio guide is available in 10 languages: English, French, German, Dutch, Italian, Spanish, Chinese, Japanese, Korean and Finnish.

Itinerary
Starting off in Reykjavik, you will picked up from from either your accommodation or the nearest pick up stop in downtown Reykjavik.

You will step on board our brand new bus fleet, equipped with computer tablets in each seat. The tablets provide us with an "In Bus Audio Guide'' on the tour, which is available in 10 languages. On board you will find a USB charger and free WiFi. We will also offer useful tips on how best to capture the Northern Lights on camera.
There are a few factors that determine whether or not seeing the Aurora Borelis is possible. We're experts in reckoning our chances of seeing them. This means we have a high success rate, and we do not go out unless we feel the odds are in our favour.
All our northern lights tours are guided by one of our specially trained northern lights guides. Our guides are both knowledgeable and helpful and will even give you tips on how to take photos of the show. We offer free use of camera tripods on all tours (a must to take northern lights photos).
When you reach the location that your guide deems to be the best you will hop out of the bus to see the lights. You will have plenty of time to take some photographs and there is a handy tripod onboard that you can borrow to help you get the best shot.
If you are still struggling then your guide should be able to help you setup your camera to snag the best shot.
To search for the Auroras you need to stand outside in the Icelandic winter and you need to dress very warmly.
We then drive you back to Reykjavik and drop you off at your accommodation or nearest pickup stop.
Important information
Pick-up starts 30 minutes prior to departure. Please be ready at your pick up point with your voucher, either in digital or printed form.

Dress appropriately for the weather baring in mind that you will be out late at night so the temperatures can drop quite low. Further into winter you should also expect the possibility of snow so it's important to wear sturdy shoes.

You will be traveling in a coach that holds approximately 40 people but is very spacious and comfortable. There is not a bathroom on the bus but the bus offers free wifi and a USB charging port.

You will also be able to listen to the GPS activated audio guide (offered in 10 languages) while you travel so make sure to bring your headphones or buy a pair on the bus.

This tour is 3 hours long including travel time and the time you spend on location. In the event that you do not see the lights you will be contacted about rescheduling your trip for another night at no additional cost.
What's included
In bus audio guide with a choice of 10 languages (English, French, German, Dutch, Italian, Spanish, Chinese, Japanese, Korean and Finnish)
Free tour pick-up from your accommodation in Reykjavík 
Knowledgable Northern Lights guide 
Free Wi-fi and usb charger in every seat.
Free use of camera tripod.
Free use of astronomical binoculars.
Complimentary star map.
Photo memory of you and the northern lights (when spotted)
What do I need to bring
In-Bus-Audio-Guide: Bring your own headphones. Otherwise we sell earphones on the bus.
Dress according to weather. In Iceland it is always smart to dress in warm and waterproof clothes, weather changes are swift so prepare expect the unexpected.  Bring a waterproof jacket and pants, headwear and gloves. Good outdoor shoes are recommended. Aurora jackets and winter boots available to rent!

Customer Reviews
We went on a northern lights tour and it was amazing, first night we got there and we saw beautiful auroras over Reykjavik, then our tour guide took us to chase them, so friendly and funny, would definitely recommend.
Great job finding a break in the clouds for a nice pink and green dancing light show. Enjoyed it!!
kr
4,490
3 Hours , Very easy